Winter Recreation
Posted by Leif Olson on Monday, January 17, 2022 at 1:55 PM
By Leif Olson / January 17, 2022
Comment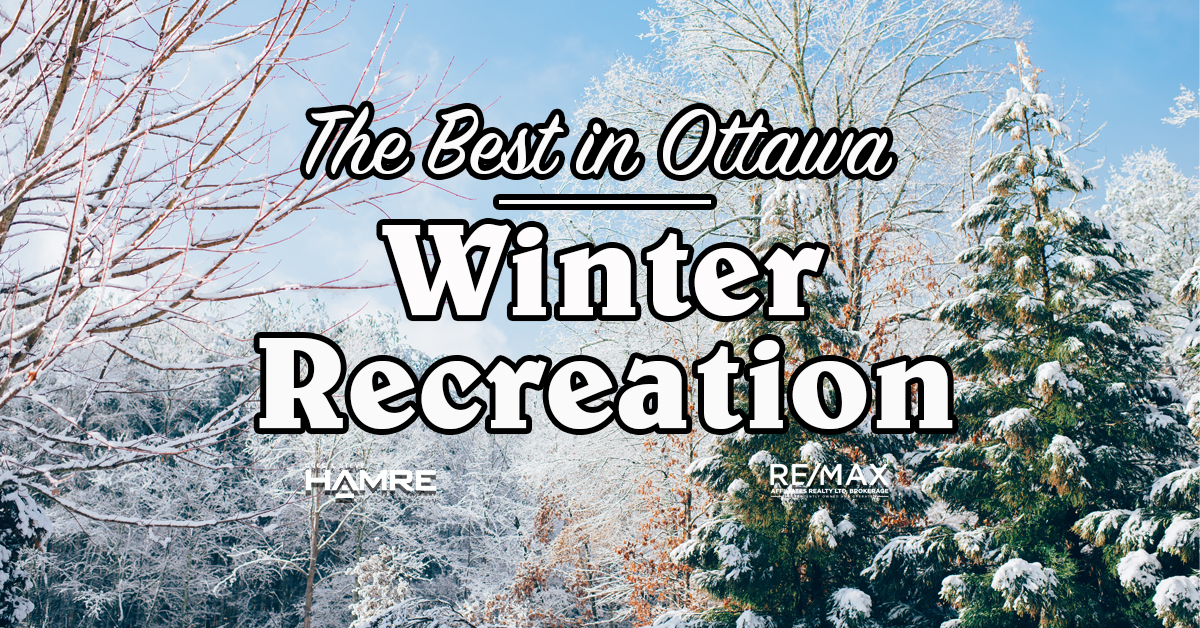 Ottawa has been absolutely covered with snow this week is more on the way! What does this mean for Ottawa? It means winter recreation! It also means some shovelling but the vast array of recreation options in Ottawa easily makes up for it. Ottawa is a four-season recreation city, there are always exciting activities to enjoy across the city.
This blog will give you lots of ideas and places to try for awesome winter recreation in our city! Looking for winter activities in Ottawa? READ ON!

Snow Shoeing
All this fresh snow leaves the perfect terrain to get out there on some trails. The piles of fresh snow will feel like your own personal world to explore. Snowshoeing is a great activity that does not require any advanced skills and is enjoyable for all age groups. Stomp around local trails at your own leisure and enjoy the winter weather and scenery. Bring a camera and grab some pictures, you'll surely enjoy this activity.
Great Location To Try: Mer Bleu Conservation Trail

Snowmobiling
Admittedly this one requires a lot of equipment, mainly a snowmobile. This is a high-speed fun activity and Ottawa is a great place to enjoy this activity. There are a wide range of great trails to enjoy snowmobiling. If you have been waiting to break out your snowmobile this snowfall is exactly what you have been waiting for.
Some trails in Ottawa can even run all the way into Quebec or across the city. You can cover a lot of ground in your snowmobile.
Great Location To Try: Russell Prescott Trail Link

Cross Country Skiing
Break out the skis! This fresh snow is going to mean beautiful smooth tracks. Glide across the snow with ease throughout Ottawa. This is a great low-impact cardio activity. This will get your body moving without putting tremendous stress on your knees than running could cause. If you have never tried cross country skiing it is a great sport for beginners. Trails are located across Ottawa from downtown to rural areas.
A short drive away, you can also enjoy some awesome trails in Gatineau Park. Some of these trails are perfect for higher skill levels and include both up and downhill stretches. Burn calories, glide around and have some fun, this is a fantastic activity for everyone.
Great Location To Try: Kichi Sibi Winter Trail

Sledding
Tobogganing, sledding, sliding or whatever you choose to call it, this is a great activity for the whole family. Head out to the nearest hill and enjoy the thrill of sliding right on down. If you do not own a sled you can find them at many stores in your neighbourhood and they're affordable for endless fun. The massive amounts of fresh snow will make this activity especially fun as the odd crash or fall will be cushioned by fresh snow. Make sure you bundle up including a scarf or neck warmer and you'll be ready to enjoy the fresh snow! You will also get some exercise walking up the hill without even realizing it!
Great Location To Try: Green's Creek

Fat Biking
This is a relatively new phenomenon and it can be a lot of fun. These bikes have large (fat) wheels that are able to push through the snow. You can use these bikes on many trails or even on the road or side of the road. They offer a great way to enjoy biking year-round. You can also rent Fat Bikes from Cyco sport located near the Rideau Canal. You can rent for an hour for $13 or $75 for 3 days.
Great Location To Try: South March Highlands, Kanata
This is a no-brainer in Ottawa. We have the world's largest skating rink the historic Rideau Canal. This spot is within walking distance of many homes and offers some great views and fun. You do not want to miss it! The canal is currently open the full length of the skateway once the fresh snow is cleared away. Grab your skates and head downtown. There is also a network of local rinks to try out. Grab the skates and get out there and carve up some ice. You probably have a rink within walking or a short drive's distance from your home in most places in Ottawa.
Great Location To Try: Rideau Canal

Snow Shenanigans
This could involve fort building, snow angels, snowball throwing, jumping into the snow, etc. Basically, any fun playing in the snow. A personal favourite is throwing around a football in the snow. You will be able to make some great catches. Playing in the snow is a great way to get outside as the whole family. Don't forget to grab some hot chocolate when you're back inside!
Great Location To Try: Your Backyard or Local Park
Recreation in Ottawa
Now you can see why so many people enjoy winter in Ottawa. The recreation options are vast. There are plenty more that were not named in this blog, get out there and discover this city.
For more blogs like this be sure to like us on Facebook and stay tuned for more blogs!