Walk To The Best Events In Ottawa
Posted by Leif Olson on Wednesday, September 15, 2021 at 10:56 AM
By Leif Olson / September 15, 2021
Comment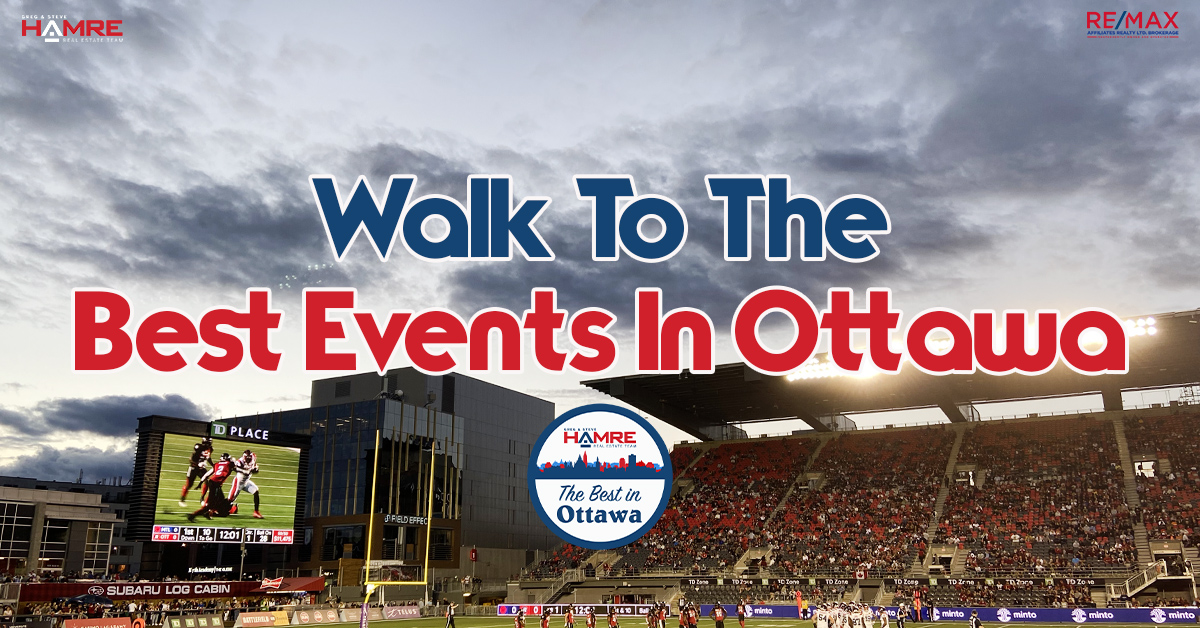 What if you could walk to the best events in Ottawa? Live entertainment, art exhibits, framer's markets, sporting events, and more! Fall is full of awesome activities at Lansdowne Park and the surrounding areas in Centretown, The Glebe, Old Ottawa South, and The Golden Triangle. This article will give you the inside scoop on the amazing events that you can walk to from Downtown Ottawa.
CityFolk
CityFolk is a general admission outdoor event held on the Great Lawn at Lansdowne in Ottawa.
We know you want the lineup:
September 16 - Charlotte Day Wilson, DVSN, Roy Woods, Töme - First Up with RBCxMusic
September 17 - Our Lady Peace, Moist, Command Sisters
September 18 - Dean Brody, The Reklaws, Sacha
Tickets are $55 for a day pass and $130 for a weekend pass! Walk to an amazing venue along the Rideau Canal with world-class entertainment, you do not want to miss this event!
Bluesfest
This event is held in the same place as CityFolk and is running the following weekend. The lineup features some classics and some great Indie bands!
September 23 - Half Moon Run, Tokyo Police Club, Aysanabee, Lauryn MacFarlane
September 24 - Jann Arden, Barenaked Ladies, Ryland James
September 25 - Tom Cochrane and Red Rider, April Wine, MonkeyJunk
Day pass tickets start at $55 and weekend tickets are available for $142. Imagine being able to walk to a concert like this in a major city. You will want to live here!
CFL Football
Lansdowne is home to the Ottawa Redblacks. That means football all Fall! Lots of great games are on the way! On September 22 we have the Hamilton Tiger-Cats coming to town. September 28 Redblacks face the Edmonton Elks. The Montreal Alouettes game is on October 16th. The Calgary Stampede are rolling into town on October 22nd. November 6th The Toronto Argonauts vs The Redblacks finishes up the regular season home games in Ottawa.
These awesome games are exciting opportunities to enjoy great football in Ottawa.
Farmers' Markets
Sundays May 2 to October 31, 2021, 9:00 AM - 3:00 PM you can find the best farmer's market in Ottawa! This awesome event features a long list of vendors from around the city.
Driving to Lansdowne Park? The market is best accessed using the entrance at Queen Elizabeth Drive. Underground parking is available underneath the market in Aberdeen Square. Underground parking is $1.50/30 minutes.
Additional parking along Bank Street and side streets is also available, free of charge, on Sundays.
This exciting event is worth visiting every weekend as different vendors and items are available depending on the weekend.
So Much To See, So Much To Do
What will you do first? All of this could be within walking distance if you live in the surrounding areas in Centretown, The Glebe, Old Ottawa South, or The Golden Triangle.
To talk about these events or the opportunities available to live in these neighbourhood please reach out through the contact form below.
The City is alive this Fall!