Things To Do In Ottawa This Week
Posted by Leif Olson on Wednesday, January 5, 2022 at 2:30 PM
By Leif Olson / January 5, 2022
Comment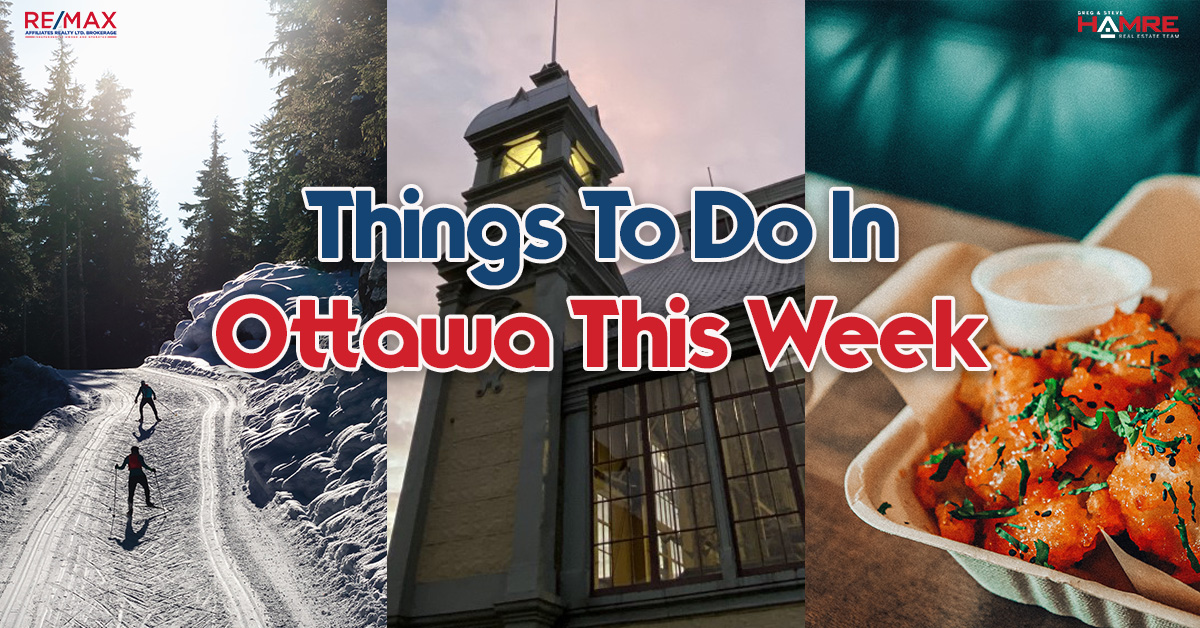 With news restrictions coming into effect this week in Ontario some are wondering how they will pass the time. There is still so much to do in Ottawa while following the current health and safety guidelines. This blog will give you the top things to do in Ottawa this week while staying safe. From outdoor activities to at-home fun this blog will give you plenty of ideas for the next few weeks in Ottawa.
Skate On The Rink Of Dreams
The Rink Of Dreams is located at Ottawa City Hall, (110 Laurier Avenue West). This refrigerated skating rink is open from 6 am to 11 pm 7 days a week! Grab your skates and enjoy the magical setting this week. You can park for a few dollars just below at Otta City Hall Underground parking. It is a great and easy trip downtown.
Order In From Your Favourite Restaurant
Dining rooms are currently closed but most restaurants are still open for take-out and delivery. Order in or grab some takeout and enjoy a delicious meal at home. Make any night special by grabbing your favourite local Ottawa food. Supporting local is especially important right now as restaurants will be enduring another period of restriction. Grab some great food and support local this week in Ottawa!
Ottawa Farmer's Market
While operating at limited capacity the Ottawa Farmer's Market should be open this Sunday, January 9th from 11 am - 3 pm. Even with limited capacity, there will be some amazing vendors for great soups, veggies and baked goods. If you have never been to the Ottawa Farmer's Market you need to head down to Lansdowne Park as soon as possible on a Sunday afternoon and check it out!
Cross Country Ski
There are so many awesome cross-country skiing paths throughout the city! This is an amazing way to stay fit and enjoy Ottawa this week.
If you are looking for a relaxed cross-country ski spot, you could try the Prescott-Russell Trail Link. The trail has many access points from Navan, Orleans, Bradley Estates and runs all the way into Quebec. The trail is mostly flat but crosses some great Winter scenery. If you're in the east end of Ottawa this is a great spot!
You may see a few snowmobilers, but other than that it is a fairly quiet trail. Grab the skis and find your closest access point and enjoy a quiet trail.
Kichi Sibi Winter Trail is a 16 km winter trail along the river parkway that is free to use and welcome to all. This is a great trail for anyone from Westboro and Downtown Ottawa. Enjoy a well-groomed trail, just bring a mask for busy areas as it is a popular spot.
Countryside Adventures Skating
This exciting ice trail through the woods is located just 40 minutes outside of Ottawa in Moose Creek. You can reserve your spot ahead of time to ensure that all health and safety protocols are being met and leave yourself lots of room to enjoy the space.
During the day you can see nature. They are also open at night and feature strands of light along the entire route. It's truly magical and you need to see it to believe it.
Perfect for all levels of skaters this is a dream destination for anyone in Ottawa.
Sledding
Tobogganing, sledding, sliding or whatever you choose to call it, this is a great activity for the whole family. Head out to the nearest hill and enjoy the thrill of sliding right on down. If you do not own a sled you can find them at many stores in your neighbourhood and they're affordable for endless fun. You will also get some exercise walking up the hill without even realizing it!
Great Location To Try: Green's Creek
Start Spring Cleaning Early
If you are going to be at home a little more this week you may want to consider taking the opportunity to tidy things up and maybe do some reorganization of your home. This could be simple things like doing a little extra sweeping or dusting. It could also be a good chance to reorganize some areas and get rid of unneeded items such as old clothes.
Numerous studies have shown evidence of the link between an organized living space and improved peace of mind. De-cluttering your house can help reduce stress and energize your home. This will, in turn, energize you. Work on some decluttering and slowly you may find that your home feels like new.
Exercise
No more excuses, you have the time now. If the weather is milder you can go for a jog. If you have any home gym equipment go dust it off and get to work. Starting your morning with exercise will energize you for the rest of the day and break up your day even if you have to stay home the whole time. A little exercise can make a big difference. If you need help getting started on your home gym head to our article on the topic here: How-To Home Gym.
Watch A Movie
Not all hours of your day have to be productive. Take time to unwind and relax with a movie or TV show. there are tons of new movies and shows on streaming platforms this time of year. Find something you like and enjoy some time relaxing on the couch. Whether it be Yellowstone, Succession, Cobra Kai or something else there are tons of new shows to watch on streaming. Give yourself a break and relax.
Go For A Walk
If all else fails, head outside for a walk. Bring your dog if you have one, take a stroll around the block and get some fresh air. Walking is a great way to clear your head and enjoy your Ottawa neighbourhood. Even a 10-minute walk will do you some good. If all else fails, go for a stroll!
If you need some help finding something to do in Ottawa please reach out to us or check our other blogs on Ottawa here. We hope to hear from you soon, enjoy your week!