Summerside West - Ottawa
Posted by Leif Olson on Monday, June 26, 2023 at 11:11 AM
By Leif Olson / June 26, 2023
Comment
Searching for a family setting with great amenities? Welcome to Summerside West! Located between Chapel Hill South and Avalon this community in Orleans is one of Ottawa's best! Full of great parks, beautiful homes, and awesome shopping you will want to call Summerside West your new home!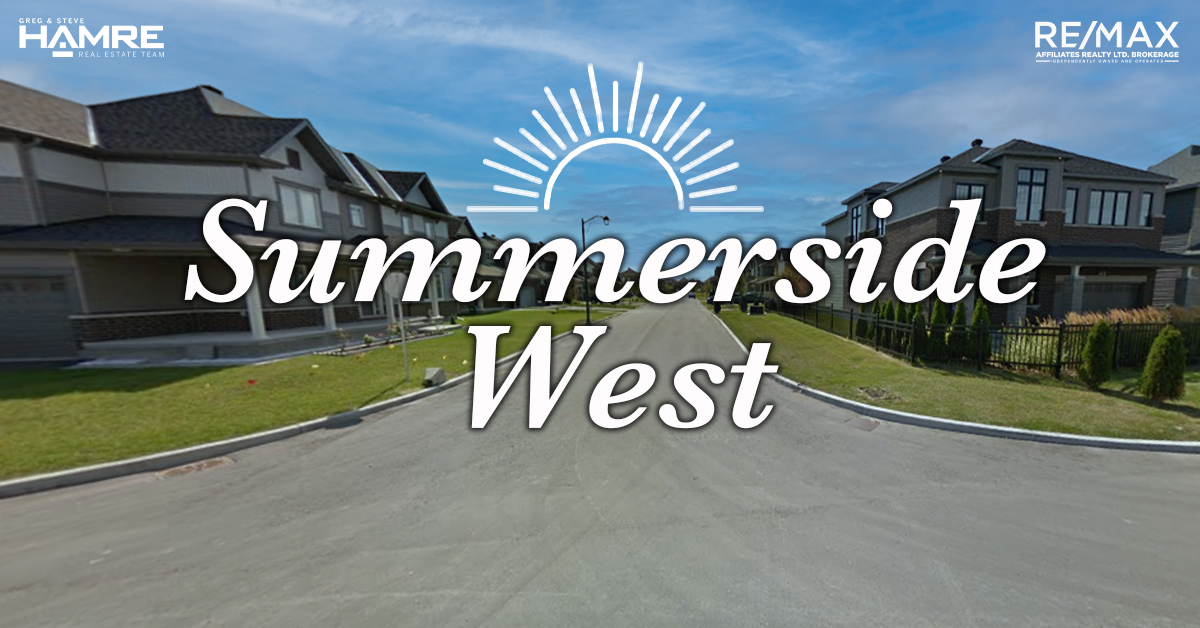 Recreation
Summerside West Pond is the focal point of Summerside West. The large pond is surrounded by walking paths. Perfect for evening strolls with your family and or dog. The neighbourhood is full of great parks including Don Boudria Dog Park. This park is fantastic for letting dogs run free and get some fresh air as well as social time with other dogs.
Summerside West also has a Trekfit Fitness circuit. Trekfit Fitness circuits are unique outdoor parks that allow for awesome outdoor exercise. A leader in outdoor fitness equipment, Trekfit develops cutting-edge solutions for municipalities through intelligent urban design that promotes universal accessibility, fitness and community building. Committed to enhancing the visual environment our products live in, as well as delivering an unparalleled user experience, we've already earned the trust of several hundred cities. We aim to become a global leader in our field, spreading positive social change in the health and well-being of residents wherever our products are found.
Shops and Amenities
Summerside West has many great shops and local amenities. Located near two Starbucks you will always be able to grab coffee in the morning. You are also near Indigo if you love to read and shop for books, perfect for gift shopping for holidays and birthdays. Trinity Crossings Mall offers a variety of shopping options from Winners, Value Village, the Shoe Company, Michael's, and even Orleans' only Sephora! Grocery stores are a short drive away no matter your preference. You are very close to Superstore, Sobeys, Farmboy, and even Wal-Mart.
You are also very close to the LCBO which is the largest and most expansive LCBO in Ottawa. With a great selection of wine and other drinks, you will always have something new to try.
Summerside West also provides easy access to the Francois Dupuis Recreation Centre. This complex features a full gym, large swimming pools, and a basketball court. Providing great programs for recreation and exercise to the community.
Restaurants and Entertainment
Summerside West is located near the epicenter of restaurants in Ottawa. There are so many fantastic nearby options to choose from. For a great atmosphere and drinks, you could head to Moxies. To watch the game or a big UFC event you could head to Boston Pizza. For great food including the world-famous Hamreburger you could head to OCCO Kitchen. For a unique flavour you could try Persis Persian Grill.
For fast food and quick eats there is a McDonalds nearby and several shawarma restaurants including Tarboush Lebanese Bakery and Shawarma Palace. Not far from Summerside West is one of the best movie theatres in Ottawa. Landmark Cinema Orleans features incredibly comfortable recliner chairs, great popcorn, and plays all the hit movies you love. Complete with an arcade and a special EXTRA screen this movie theatre creates the perfect film-watching experience for cinephiles.
Homes In Summerside West
Homes in Summerside West are spectacular. This is a newer neighbourhood, so homes in the area are typically newer and feature all the modern design choices and trending styles. Curb appeal is around every corner in Summerside West. There are a variety of homes in the area from stunning luxury single-family homes to 3 story townhouses. You will find well-manicured lawns where pride of ownership is readily apparent. People from Summerside West are proud to live there and care for their neighbourhood.
If you've never been to Summerside West, take a drive-through sometime soon. Stop at one of the many parks or even walk around the Summerside West Pond. From splash pads to great eateries there are lots of things to love about this unique family community in Ottawa.