Staging Your Home In Ottawa
Posted by Leif Olson on Thursday, March 24, 2022 at 9:49 AM
By Leif Olson / March 24, 2022
Comment

What exactly is home staging? Should you stage your home before listing on the Ottawa real estate market? How does staging affect the marketability and sale of your home? This blog will answer those questions and break down exactly how staging works and why it is so important. If you are thinking of selling your home in the Ottawa real estate market, you need to read on!
Staging is a key component of our marketing plan. Take a look at our unique storytelling video below to see an example of a home that was staged. Pay close attention to the furniture, wall art and placement of items in each room to understand what staging looks like in action.
What Is Home Staging?
Home staging is the preparation of a home for sale in the real estate market. The goal of home staging is to make a home appealing to the highest number of potential buyers. The goal is to sell a property more swiftly and for more money. The Hamre Real Estate Team RE/MAX Affiliates use the best professional stagers in Ottawa. Home stagers are professionals who understand interior design and the latest trends to create spaces that would appeal to potential buyers.
How Does Home Staging Work?
In most cases, home staging involves a professional home stager coming in and working their magic. This is accomplished by moving or in some cases removing furniture, wall art, small appliances, or other things around the house to maximize flow and appeal. The professional Ottawa home stager will come in take a look around and assess the environment. They will then start working on moving items around.
Some quick and easy things that they may do is remove appliances from countertops this could mean putting your trusty air fryer in a cabinet for a while. Other quick fixes could be placing some fruit in a bowl for interior photos to be taken or repositioning wall art. Decluttering is a big part of the process and can be accomplished ahead of time in part by sellers.
Stagers will work to create flow and limit dead spaces in the home. This could mean setting up an office space in an unused loft area. You do not want to waste any of your square footage. You want every room to have a defined purpose. That way buyers can say "This is where I will watch TV", "This is where I will host family dinners", etc... You want them to start placing themselves in the home in their mind which will begin to create a connection to the property and trigger them to put in an offer and ultimately buy the property.
Do Home Stagers Bring in Furniture Or Use Mine?
Most commonly home stagers will use the current pieces of furniture and decor that you already have in your home. They may remove certain items to declutter or depersonalize but for the most part, it will be a matter of reorganization and optimization.
In certain circumstances, home stagers will have an inventory of items that you could rent to use in your home for the duration of the home selling process or for use during the interior photography of your home. This could include furniture and decor. This is a more expensive option that is not always necessary.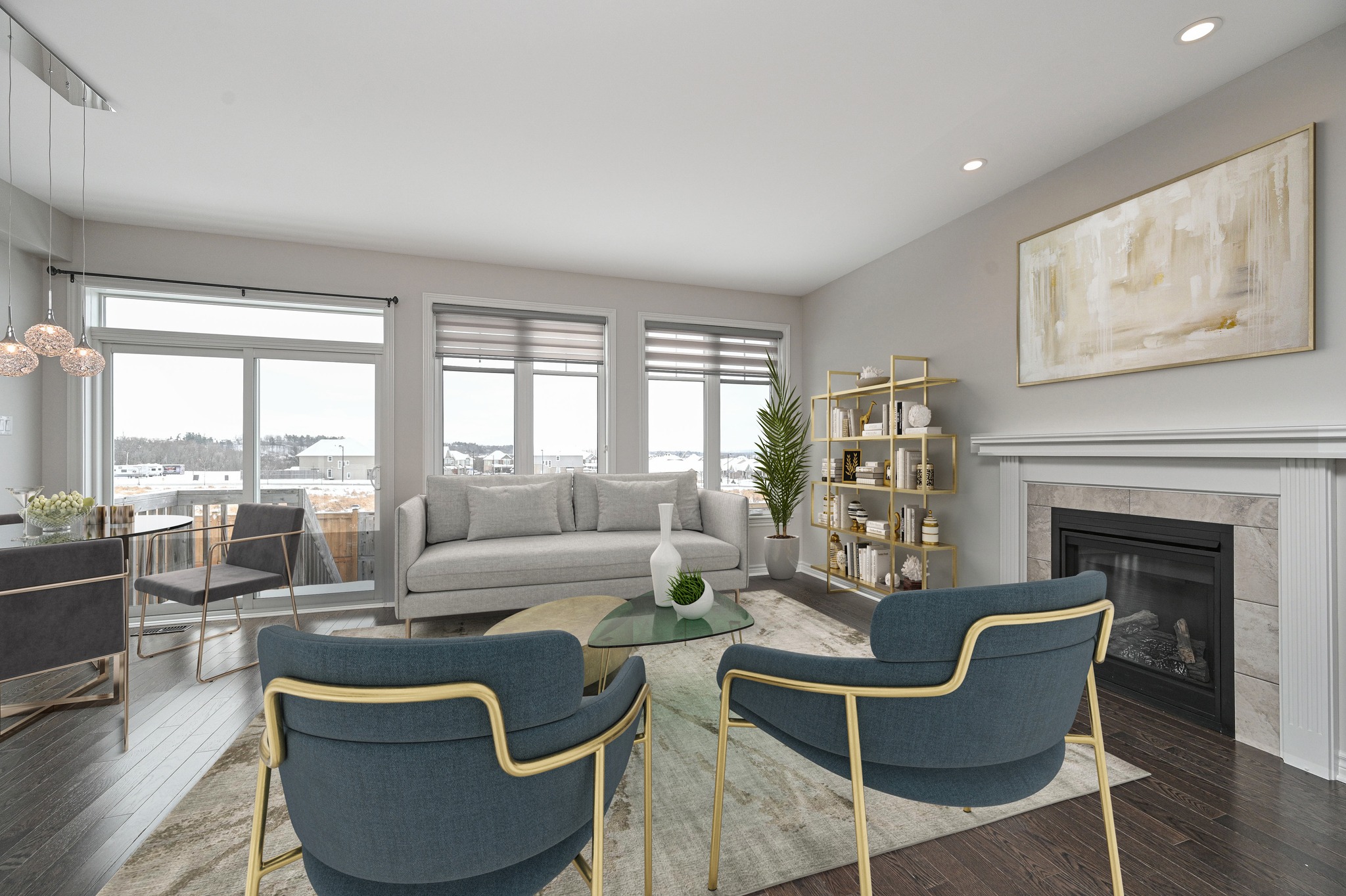 Is Virtual Staging An Option?
Would you believe us if we told you that the above photo is virtually staged? The chairs, the tables, the sofa, the shelves, even the picture above the fireplace has all been added digitally. This technique is perfect for vacant properties and can be incredibly eye-catching to Ottawa homebuyers browsing online.
We work with professional digital home stagers who add furniture items digitally to maximize the appeal of a home. Digital staging is typically added to properties that are vacant or have no furniture. Stand above the crowd with this unique option that is relatively rare in the Ottawa real estate market but all the more effective as a result.
Do You Have To Depersonalize?
Part of the process is to depersonalize certain spaces. This can be difficult for sellers at times but it is important to understand that we are attempting to sell the home to someone else. Depersonalizing allows potential buyers to envision themselves living in the home. If they can imagine life in the home they may be more likely to want to live there and put in an offer.
Should You Stage Your Ottawa Home Before Listing?
The short answer is yes. Home staging makes your home more appealing to the maximum number of Ottawa homebuyers and will therefore attract more eyeballs. More eyes on your home means more showings. More showings means more offers. More offers means more money in your pocket.
Professional home staging is just one of the many steps in the Hamre Real Estate Team RE/MAX Affiliates marketing plan. Professional Ottawa home photography, professional unique storytelling video and mass media exposure are also part of this plan. More marketing is never a bad thing when it comes to Ottawa real estate. Next time you list your home for sale make sure to have it staged to maximize the potential of your home and show it in its best light.
For any questions about home staging or the listing process please reach out via the contact form below.