Spring Ridge
Posted by Leif Olson on Thursday, February 11, 2021 at 8:00 AM
By Leif Olson / February 11, 2021
Comment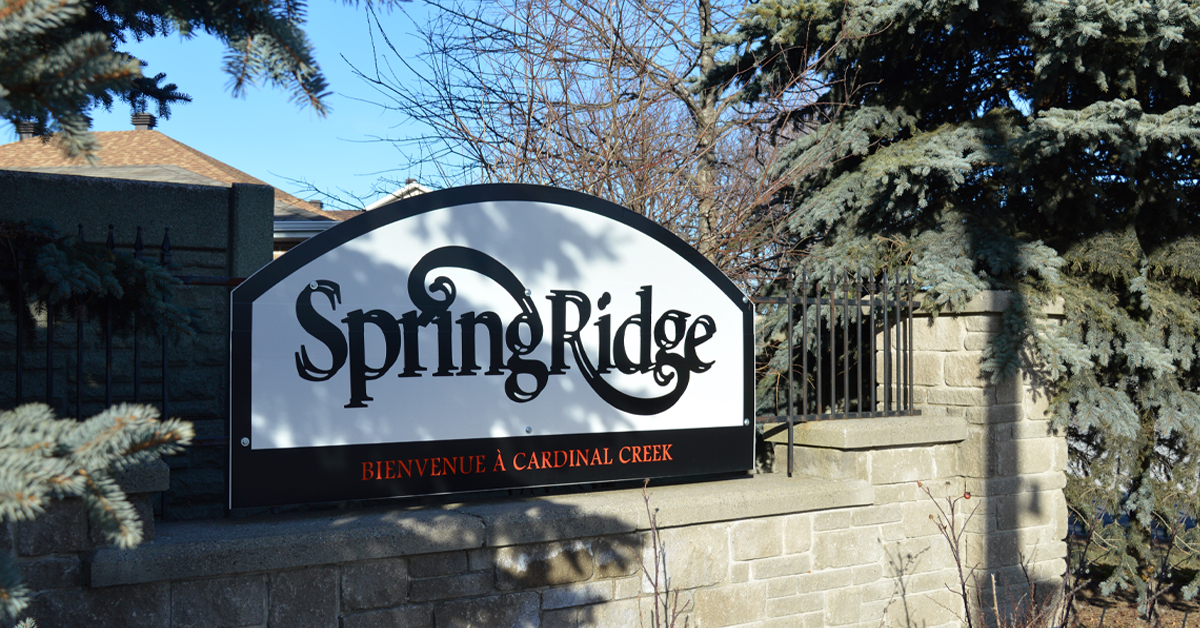 Spring Ridge
The East end of Ottawa is a great place to live, there are plenty of amazing communities. Today we are shining the spotlight on one of the best: Spring Ridge. This offers amazing homes and plenty of other great features!
Let's take a tour of Spring Ridge
Location
Spring Ridge is located in Orleans. Discover a land rich in heritage and lush with vistas, a rolling landscape of walking trails, and rugged ravines. Where the views of distant hills and nearby waterways frame each day. There is so much to discover in Spring Ridge. There are plenty of parks including places to play basketball, play structures for the kids, and wide-open spaces for the dogs. There are great walking and bike paths and you are surrounded by some fantastic schools.
Spring Ridge is also close to some fantastic eateries. You could walk or drive to Jonny Canucks, The Works, or Gabriel's Pizza just to name a few. You're also close to grocery stores and coffee shops. They are plenty of options for family fun and daycare such as Kids Kingdom. You are able to enjoy a quiet neighbourhood while also being close to some great spots to go out, and easy access to the rest of the city.
Cardinal Creek Community Association
Spring Ridge
is a neighbourhood within Cardinal Creek. It is one of the few neighbourhoods with its own Association called the Cardinal Creek Community Association.
The Cardinal Creek Community Association was formed in 2006 to represent the interests of residents along the Trim Road corridor, including the neighbourhoods of Royal Ridge,
Spring Ridge
, Oak Ridge, East Village, Kings Pointe, Queens Pointe, Cardinal Trail, and Cardinal Creek Village. They are registered with the province of Ontario as a not for profit organization.
The association represents the best interests of local residents and is the official voice for the community on issues of interest and concern. These issues include planning and development, traffic safety, development of new parks and more. Over the past few year they have added parks, ice rinks, exercise courses and dog parks. The pathways that surround the neighbourhood of
Spring Ridge
are well maintained by the city and the home owners. The association makes sure the neighbourhood is in tip-top shape.
Homes
Spring Ridge has many diverse styles of homes so you will be able to live in a home that suits you best.
There are some real luxury homes in this neighbourhood. They have all the features you could want and of course the curb appeal in this neighbourhood is always fantastic.
Take a look around one home that is currently for sale here:
Lifestyle
This community is awesome. You drive past the Spring Ridge sign and you know you are in a special place. There are tons of wide-open green spaces, great spots for recreation and enjoying the outdoors. You're also close to tons of great eateries and local businesses. Everyone that lives here takes a lot of pride in their home and you can see it in the neighbourhood.
This is a great place to make your own but it's also a great place for families. There are tons of experiences to discover all around the neighbourhood. You will love living here, and the community will love you back.
Spring Ridge is a stunning community in Ottawa that offers a lot! There are plenty of great listings that you can take a look at just below. You can also head to our community page here for more information.
To schedule a showing, or to talk to us about Spring Ridge, give us a call at (613) 841-2111 or fill out our contact form below.

For more community blogs stay tuned in on our Facebook.