Rothwell Heights, Ottawa
Posted by Leif Olson on Monday, February 13, 2023 at 2:34:09 PM
By Leif Olson / February 13, 2023
Comment
🤔Could you imagine living 🚶‍♂️walking distance from the 🌅Ottawa River and only 15 minutes away from downtown Ottawa.🏙
👀This is ⚜ Rothwell Heights
🎯It's friday and you know what that means.
🎰The weekend is just around the corner, but first the Hamre Real Estate Team needs to tell you about another exciting neighbourhood in Ottawa💎
My name is Leif Olson, Rothwell Heights is a neighbourhood that is located near Beacon Hill near the Gloucester area and is walking distance from the 🚣‍♂️Ottawa River where you'll find amazing 🚴‍♀️recreation paths, 🤸‍♂️biking running and even boating.⛵
Now Rothwell Heights is a unique community because it has larger lots.🌲
🌾It almost feels like living in the country, but you're still only 15 minutes from downtown Ottawa.
🛒You're near shopping such as Farm Boy, the 🚂Train Yards shopping center, you're close to Costco.
🚗 It truly is an amazing, unique community and there is a variety of homes available mostly single-family homes and these homes range from brand new with unique architecture to older, larger homes.🏘
🏎Again, driving through brothel heights is like flipping through the pages of 📸Architectural Digest.
There is so much to see and so much to explore.🌲
It's one of the most unique and 🤫secret communities in Ottawa that people often overlooked.
💎If you're looking for luxury homes or homes with bigger yards and you want to be near the city, but also near recreation Rothwell Heights is the place to be.💡
📞If you have any questions about Rothwell Heights, please reach out to myself or anyone on the Hamre Real Estate Team.
This is Leif Olson with RE/MAX Affiliates Ottawa. 😀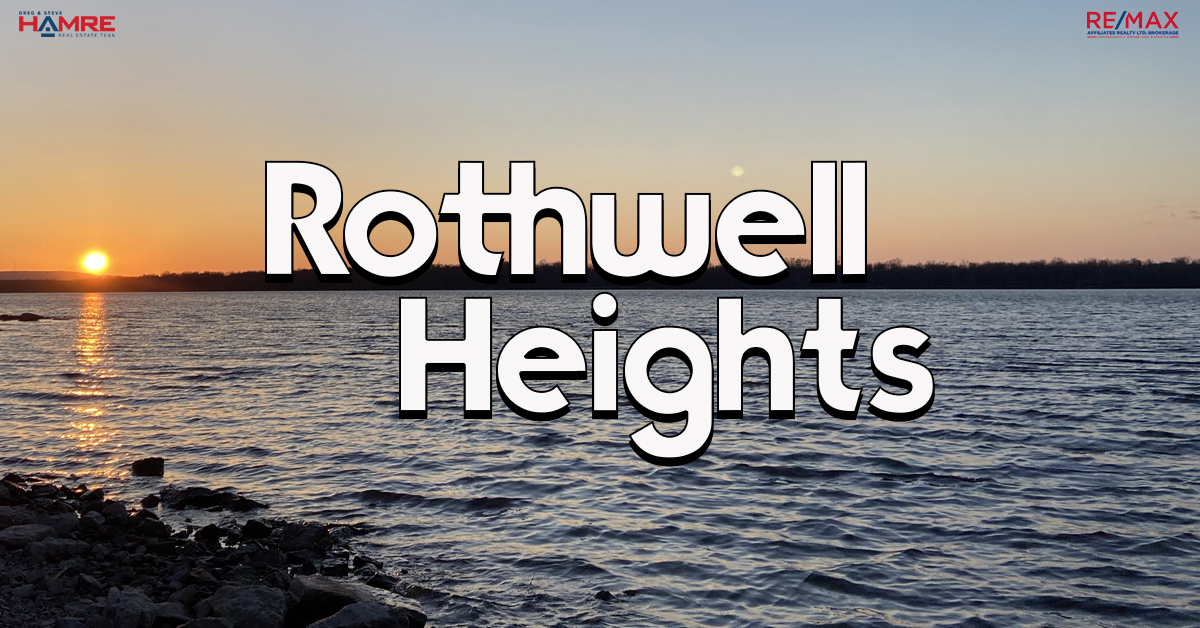 Why is Rothwell Heights known as one of the most prestigious neighbourhoods in Ottawa? This blog will walk you down the streets, and tell you the story of this impressive neighbourhood. From recreation to shopping and lifestyle we have all the details on Rothwell Heights.
Lifestyle
Rothwell Heights offers luxury homes in peaceful settings. The spacious yards give privacy and the feeling of a country home while being very close to the city. Rothwell Heights is truly the best of both worlds. City amenities + wide open spaces including easy access to the Ottawa River.
The neighbourhood is full of people walking their dogs and enjoying the wid reopen spaces. You are surrounded by great parks and recreation. This truly is a dream setting.
Recreation
Within walking distance to this neighbourhood is the Ottawa River. This walk involves some hills which is great for getting your exercise. You can also bike, run or even cross country ski to the River in winter. Do not worry driving to the River is also an easy option.
The River has a boat launch area for anyone hoping to get on the water in their boat, jetski, kayak, or canoe. The River also has great walking/biking paths which stretch all the way along the shore. You could head east towards Petrie Island or West toward Downtown Ottawa and beyond. You are never far from a beautiful view in Rothwell Heights.
Wintertime recreation means skiing along the canal. Snowy walks with your dog or skating on one of the neighbourhood rinks. This truly is a picturesque neighbourhood in winter, complete with glowing Christmas lights and beautiful homes.
Shopping
Rothwell Heights is conveniently located for easy access to shopping. You are a short drive from Downtown to access the Rideau Centre and other nearby stores.
Even closer is the Trainyards Shopping Centre. This area features some great specialty stores. For outdoor enthusiasts, there is SAIL where you can find camping, hunting, fishing, and climbing gear! Across the street you will find Nordstrom Rack, this store is perfect for deals and fashion finds. There are also some great stores such as Wal-Mart, Winners, Marshalls, EB Games and more!
You are also very close to several grocery stores such as Costco, Farmboy, and Loblaws. Grab a coffee at Starbucks shop at Nordstrom Rack and pick up groceries at Farmboy, you will love your new Saturday morning routine in Rothwell Heights.
Restaurants
The list of nearby restaurants is too long for this blog post to include all of them. The options are nearly endless. For Mexican food, you could head to La Bonita which offers authentic Mexican flavours. For pizza, you can head to Crust & Crate! For sushi head to Ten Sushi. These are just a few of the long list of great spots, not to mention you are only about a 10-minute drive from every restaurant in Downtown Ottawa.
Homes
Most of the homes in the area are luxury homes. The style of home is quite diverse, however. No two homes in Rothwell Heights look exactly alike. Many are custom built and have stunning features such as pools, professional landscaping and spectacular updates. Below are some great homes that are currently available in Rothwell Heights.
Now you know why Rothwell Heights is such a great community. If you want to live here or are looking for a market update, let's talk! Reach out via the contact form below.