Rainy Day In Ottawa
Posted by Leif Olson on Thursday, November 26, 2020 at 11:25 AM
By Leif Olson / November 26, 2020
Comment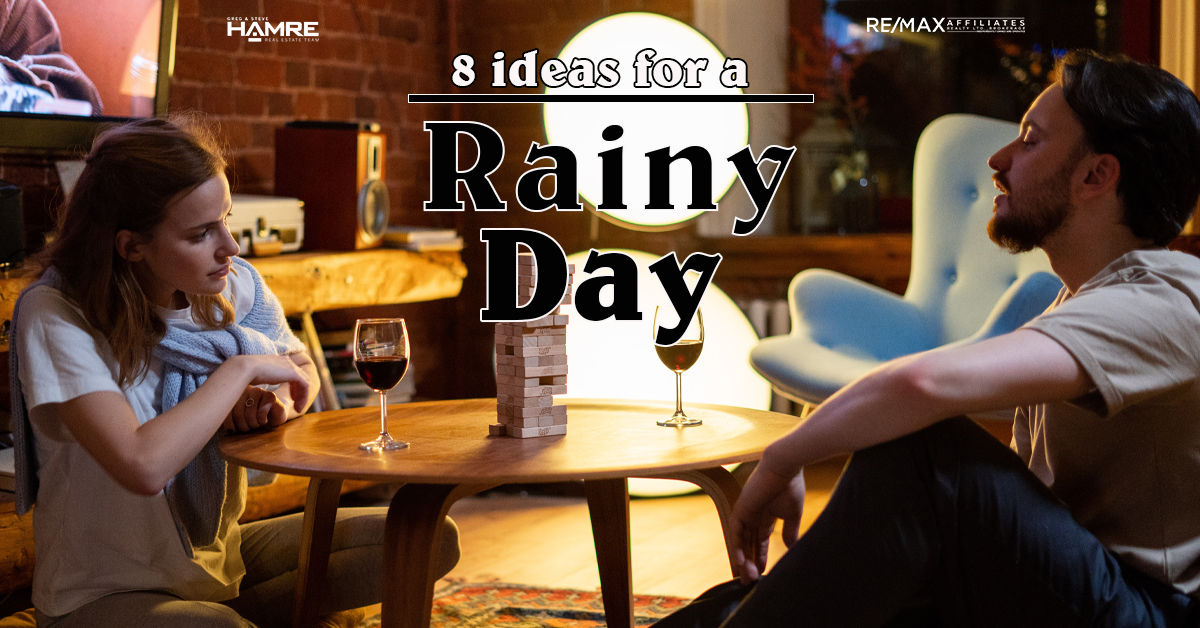 8 ideas for a Rainy Day
Here in Ottawa, we have had some snow that is now turning into rain. Days like this can feel a little dreary. Luckily for you, the weather does not have to ruin your day. Here are 8 ideas for getting through a rainy day! Some of these may be a little different but stick with me and rainy days may get a bit better!
1. Window Open, Lights On!
The sun is nowhere in sight, it is dark outside. That does not mean that it has to be dark in your home! Open the blinds, let what light is available in. Turn on some lights in your house. It may not be as good as the sunshine on a clear day but it's a start. This will help to improve your mood and mitigate how dark it feels outside.
Need some help lighting your home? We have a room by room guide that you can check out here. This will be especially helpful on rainy days like this.
2. Music on
Preferably turned up to 11 as well. Do not put on a traditional sad rainy day playlist! Put on your happy songs, whatever they may be. Sing along, get moving. There is no reason to let the weather get you down. Enjoy your tracks and dance around the house like it's a sunny day in July.
3. Grab a Coffee
Rainy weather can make people a little more drowsy than normal. Grab a coffee to boost your energy and get your day going. Don't like coffee? That's fine! Grab a tea or even a cold drink that you enjoy. Just get up and get your day going. The burst of energy and warmth will change your mood for the better.
4. Exercise
This can help you wake up in the morning or provide a change of pace later in the day depending on when you get to it. This could be a jog outside while the rain breaks or simply stretching in your living room. Whatever gets you moving and focused on exercising for a moment. This will get the blood flowing and energize you, or help you to reset and relax after a long day.
5. Board Games
These are the perfect rainy day activity. It is a great opportunity to gather your household and enjoy some time together. Spending time with family is a great way to combat the gloomy weather. Share a few laughs and see who's best at Monopoly. Turn on some warmer lighting after dinner and get cozy with some board games.
6. Jump in a Puddle or Two
I do not necessarily mean to literally jump in a puddle. The idea is to embrace the weather. This may be difficult for some, especially our lovers of the sun out there. Try to embrace the weather. Enjoy it for what it is, an opportunity to be inside and enjoy some different activities. Appreciate the rain that will help to feed that nature we enjoy in Ottawa. Itis just water after all. Jump in a puddle or two.
7. Stay Warm
Rainy days like this can feel cold, especially in November as we head into winter. Turn on the fireplace or start a fire if you have a wood-burning fireplace. This will warm your house right up and make the home feel comfy and cozy despite the weather.
No fireplace? That's not a problem throw on a sweater, grab a blanket, or whatever you need to do to stay warm. Just keep warm, being chilly on a rainy day will only make you miss the sun more.
8. Watch Something
Now that you're warm, cuddled up with a blanket, there is no reason not to watch something. Put on your favourite show, favourite movie, or whatever you feel like. Escape for an hour or two and relax with something you enjoy.
For more content like this be sure to like us on Facebook
Let's hope for some sunny days soon as we head into winter.