7 Ingredients for a Professional-Grade Kitchen
Posted by Leif Olson on Tuesday, December 8, 2020 at 3:11 PM
By Leif Olson / December 8, 2020
Comment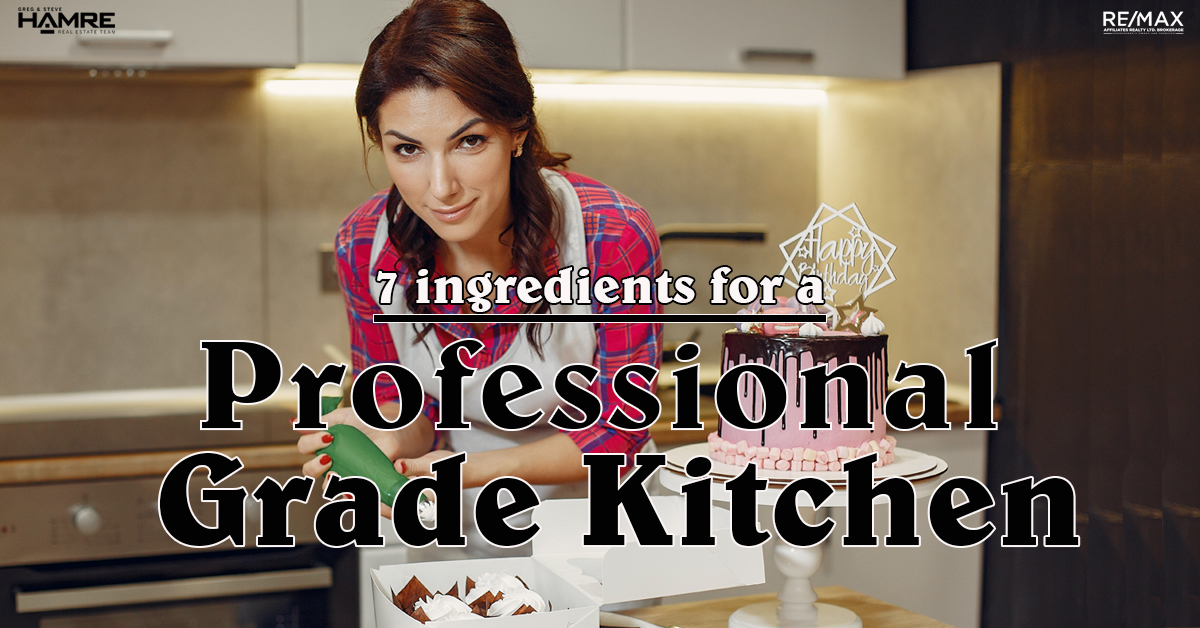 7 Ingredients for a Professional-Grade Kitchen
Here are some ideas to create a gourmet kitchen in your own home. You could take some of these tips to fix up the kitchen or build a completely new kitchen. These are for cooking enthusiasts that want to take their cooking to the next level. You could also look for some of these features in a kitchen when choosing your next home. These tips will increase efficiency and make you a better cook.
If you're looking for tips to make your kitchen re-model into a great return on investment you can check here.
Organization
The simplest way to think about this is creating a place for everything. Make sure that every item in your kitchen has a spot. A spot for spices, a spot for spatulas, a spot for knives, etc..
This will keep you organized. You can do this by getting new cabinets or re-organizing existing ones.
For tips organizing your home check here!
Improve your workflow in the kitchen by placing your flatware cabinets next to the dishwasher. This will make putting dishes away easier. Place knives near cutting boards, you know you're most likely to use them together anyway. Things like this can really improve the organization of your kitchen and make you a more efficient cook.
2. Surfaces
Kitchens covered in marble can be a bit too fancy and are not as practical as other stones. These can be great choices aesthetically but if you're looking to create a professional-grade kitchen you may want to try something else. Might we suggest heat resistant, tough wearing Hastia quartzite. This is a natural stone that is almost immortal.
3. Sinks
You want to pick something that goes with the rest of your kitchen but does not have to match everything as that might get a little boring. You also want to place the sinks in good places to make them effective tools for your kitchen. Consider a sink on the island to be used for washing fruits and vegetables. If you're sticking to one sink I would suggest keeping it near the dishwasher to allow for quick ringing and placing it in the washer.
4. Proportions and Placement
You want to create a work area that is scaled for meal prep. A massive island may look impressive but there is only so much practical space that is required. Opening up the floor can allow you to move more freely and quickly. You also want to have space to move while still being close to everything. Having a massive pantry is great but you don't want to have to go down a flight of stairs to get to it.
5. Cabinets
There are a lot of options here and you can really go based on personal preference. To maximize efficiency for a professional-grade kitchen we would recommend transparent glass doors. This forces you to keep your shelves neat and tidy and prevents situations where items are all jammed into a shelf. This can also prevent the familiar sight of a mountain of Tupperware from falling down onto you.
6. Lighting
Now you want different lighting options for your kitchen. For the professional-grade kitchen, you want strong bright task lighting. The kitchen is also the gathering place in many homes so you want some softer mood lighting. Picking options such as dimming lights or multiple light sources will allow you to shift between task and mood lighting.
For more on lighting check our blog on the topic!
7. Fast Access
Having spices near the stove for easy access is a great way to speed up cooking. You can also mount a pot rack above the stove to make grabbing your most used and best pots and pans easy. This is all about efficiency, keep whatever you need to use most often near the corresponding appliance. Keep the baking sheets next to the oven for example.
For more home-owning tips make sure to like us on Facebook.