Prepare Yourself For a Rental Bidding War
Posted by Leif Olson on Tuesday, August 3, 2021 at 1:00 PM
By Leif Olson / August 3, 2021
Comment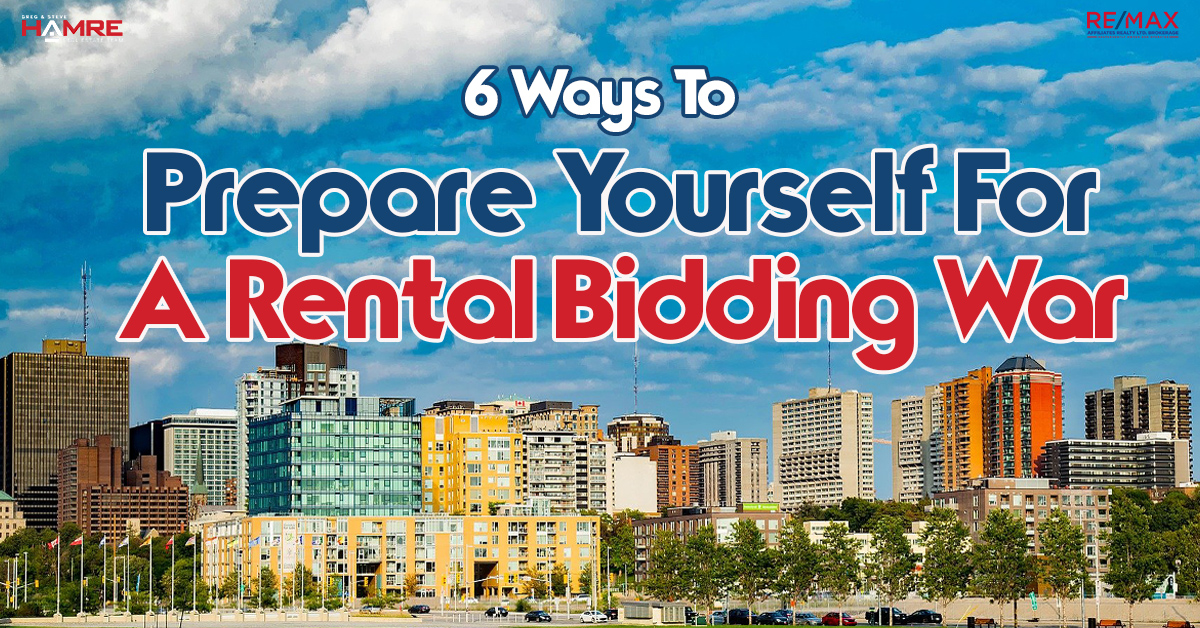 As vaccinations spur economic recovery from COVID-19, renters — including thousands of international students — are searching for living space in Canada's urban centres and Ottawa is no exception. The problem is, however, that many potential renters find themselves in the same nauseating position as today's homebuyers: battling it out in bidding wars.
A rental bidding war is no joke. If there's a property you want, you'll need to bring your A-game to land it.
Luckily got you this article and the Hamre Real Estate Team have the experience and tools to help you win your bidding wars! Read on for the tips and strategies that will help you WIN.
What's driving today's rental market?
In addition to people who'd been working remotely during the pandemic – some in rural areas – now heading back to cities, another source of increased rental competition is the return of university students, including international students who were forced to return to their home countries last year.
Ottawa features several universities and colleges which will drive this rental market especially in popular student locations such as Sandy Hill.
Prepare Yourself
Don't expect rental markets to cool once classes begin in September. The Canadian government's plan to welcome 1.2 million immigrants into the country by 2023 will add constant pressure on both rental supply and rent values.
White says high housing prices, which aren't expected to recede any time soon, will also play a factor, as more buyers who cannot afford homes will have no choice but to continue renting.
If you're planning a move to a new rental in the next few years, the best approach is to expect a bidding war. Here's how to prepare yourself for battle.
1. Get your paperwork in order
If your application package is shoddy or incomplete, don't expect to get called back. Chances are someone else provided the kind of detailed information that gives landlords an accurate picture of who they're renting to.
We suggest an application package that contains all of the following:
- Credit checks for every person who will be occupying the property
- Employment letters – with salaries, bonuses, titles, and tenures – for all occupants
- References for each occupant
- Letters from past landlords and their contact information
- Copies of recent pay stubs
- Screenshots of your bank account balances
BONUS TIP: Provide a link to a LinkedIn profile to stand out and provide more information that looks professional.
2. Cool it with the conditions
When it comes to filling a vacant apartment, landlords have most of the power, and they'll happily pass over applicants who seem hard to please.
Limit the number of clauses and conditions within your offer. The cleaner the offer, the more appealing it will be to the landlord.
That being said, it's still important to protect your rights as a tenant. To ensure you know what those rights are, it's not a bad idea to seek professional help.
Your real estate agent will be able to assist you with deciding on what clauses and conditions are worth including or excluding.
3. Get ready to be judged
Looking like an A-plus tenant to a prospective landlord isn't all about your income and credit score.
Be aware that things that shouldn't matter – your appearance, the persona you present on social media, what turns up in a Google search – matter. If you're serious about finding an apartment in this climate, treat a meeting with a landlord like a job interview. This is not entirely fair but it is the reality of the market and the people making the decisions.

4. Make it personal
Including a personal letter with your application that explains why you'd be the perfect tenant, along with a photo or two.
Many landlords are concerned about who will be living in their investment property. If you can provide them with some additional comfort by providing some personal information and putting a face to a name, it's more likely your offer will stand out from the others, even if it isn't the highest offer.
Another possibility is to introduce a guarantor into the equation this may leave the landlord with a better sense of trust in you.
5. Bring a large deposit
Back up the Brinks truck!
First and last month's rent isn't going to cut it in this market.
There are sometimes instances when tenants have offered to pay six-to-12 months of rent up-front. This is often desirable to the landlord as it will reduce any concerns of not receiving the rent.
Having four, six, or 12 months' rent on hand is a tall order, but landlords don't have an obligation to hand their keys over to just anybody. With the market as tight as it is, they want to be blown away. That might require you to build more of a nest egg.
6. Be careful
Today's rental market is teeming with scammers, who are using fake listings, fake names, and fake business websites to take advantage of unsuspecting renters.
Do not hand over any kind of a deposit until a legal agreement has been made between you and the landlord. And never agree to rent a place you haven't seen in person. Avoid anyone advertising a rental unit who says they can't show it in person because they're out of the country – but who insists on receiving first and last month's rent before "getting you the keys."
You also need to make sure any offer you make is one you can afford. Fleming says affordable rent has traditionally been pegged between 32 percent and 36 percent of your gross income, but with prices on the rise, 40 percent might be more realistic.
This is when working with a trusted realtor can help. We can navigate tricky situations and point you in the right direction.