Canadian Real Estate Prices Expected to Rise 9.2% in 2022: RE/MAX
Posted by Leif Olson on Tuesday, December 7, 2021 at 11:52 AM
By Leif Olson / December 7, 2021
Comment

RE/MAX is anticipating steady price growth across the Canadian real estate market in 2022, with inter-provincial migration continuing to be a key driver of housing activity in many regions, based on surveys of RE/MAX brokers and agents, as reflected in the 2022 Canadian Housing Market Outlook Report. The ongoing housing supply shortage is likely to continue, putting upward pressure on prices. As a result of these factors, RE/MAX Canada estimates a 9.2-per-cent increase in average residential sales prices across the country.
This brand new report has just been released by RE/MAX and is already drawing attention from outside sources and home buyers who are hoping to get into the Ottawa real estate market or make a move. We will break down the full report and explain why this information is crucial for anyone considering buying or selling real estate in Ottawa. We will look more in-depth at the Ottawa Real Estate Market as it relates to this new article. We will also draw from our own experience working in the Ottawa Real Estate Market every single day. If you are thinking about making a move in 2022 you need to read the rest of this article.

As you can see from the chart above the current estimates indicate that there will be a 5% price increase in the Ottawa Real Estate Market. That may not seem like a lot but that can add up quickly. A $500,000 today could cost $525,000 next year. We are expecting to see multiple offers in the early part of next year, Ottawa REALTOR® Greg Hamre said in his recent video, "All the economists are saying that the first quarter of next year will be just like it was in 2020 and 2019 multiple offers." We are even seeing multiple offers right now as we close out 2021. Buying a home now could be the best decision you make all year. Imagine watching your wealth grow 5% in the next year. That is what could happen if you were to purchase a home today and the prices trend upwards on the estimated trajectory. "I can tell you, we're seeing multiple offers right now," said Greg Hamre about current market conditions.
What is Fueling This Growth Nationwide and in Ottawa?
The trend that the RE/MAX 2022 Housing Market Outlook is picking up on is interprovincial relocation. We see this often in Ottawa where there is an abundance of jobs that are worth relocating for. We have such a strong government and military sector in Ottawa that people are often moving in and out of the city which will continue to fuel inventory as well as the demand for favourable neighbourhoods. RE/MAX asked brokers nationwide for their opinion based on trends they were seeing in their markets.
Migration between provinces is expected to continue in 2022, potentially impacting local Canadian real estate conditions, according to 53 percent of RE/MAX brokers (20 out of 38)
49 percent of Canadians believe the housing market will remain steady in 2022 and view real estate as one of the best investment options over the next year
Some of the highest outlooks are anticipated for Atlantic Canada, with Moncton and Halifax projecting average residential sales prices to increase by 20 percent and 16 percent respectively in 2022
95 percent of regions (36 out of 38) surveyed are likely to remain seller's markets in 2022
"Based on feedback from our brokers and agents, the inter-provincial relocation trend that we began to see in the summer of 2020 still remains very strong and is expected to continue into 2022," says Christopher Alexander, President, RE/MAX Canada. "Less-dense cities and neighbourhoods offer buyers the prospect of greater affordability, along with liveability factors such as more space. In order for these regions to retain these appealing qualities and their relative market balance, housing supply needs to be added. Without more homes and in the face of rising demand, there's potential for conditions in these regions to shift further."
Despite the global pandemic, many Canadians still feel confident in the real estate market. According to a Leger survey conducted on behalf of RE/MAX Canada, 49 percent of respondents believe Canadian real estate will remain one of their best investment options in 2022 (59 percent of homeowners vs. 34 percent non-homeowners which included renters, those not looking to buy, and those currently looking to purchase). Additionally, 49 percent of respondents are confident the Canadian real estate market will remain steady next year.
"Canadians recognize the value and investment potential in their homes. However, market challenges such as rising prices and limited supply have impacted local markets from coast-to-coast, causing angst this past year among those looking to get into the market and those hoping to move up in it," says Elton Ash, Executive Vice President, RE/MAX Canada. "Despite this, it's encouraging to see that many are feeling confident in the housing market in 2022 and view Canadian real estate as a solid investment."
People continue to see real estate as a solid investment that can be made to advance your future. This confidence in the real estate market is also going to continue to fuel pricing.
How Does The Ottawa Real Estate Market Compare To The Rest Of Ontario?
According to the RE/MAX broker network in Ontario, market activity across the province is anticipated to remain steady in 2022, with continued average price growth, although at widely varying degrees. RE/MAX brokers anticipate average sale price increases in smaller markets such as North Bay (four percent); Sudbury (five percent); Thunder Bay (10 percent); Collingwood/Georgian Bay (10 percent); and Muskoka (20 percent), where the move-over trend has remained strong. Meanwhile, in larger markets within the province, there's a possibility that more immigration could weigh on supply levels and prices, including Ottawa (five percent); Durham (seven percent); Brampton (eight percent); Toronto (10 percent); Mississauga (14 percent).
When it comes to price appreciation year-over-year, there are a few regions that stood out in 2021 for their exponential increases across all property types, including Brampton, which rose from $869,107 in 2020 to $1,085,417 in 2021 (25 per cent); Durham from $706,818 in 2020 to $914,48 in 2021 (29 per cent); and London from $487,500 in 2020 to $633,700 in 2021 (30 per cent). In comparison, Toronto experienced a modest seven-per-cent increase year-over-year ($986,085 in 2020 to $1,054,922 in 2021).
When we look at Year over Year numbers we can see that Ottawa was just outside of the standouts compared to other places that saw a massive change. That is because Ottawa has often had steady growth rather than peaks and valleys. Nevertheless, Ottawa did see a 22% increase Year over Year in 2021. If you bought a home in 2020 the value of your home could have increased by 22% and could increase another 5% next year. That could be a 27% increase, or if you bought a $500,000 home in 2020 that could be a $135,000 increase. Some of this is speculation at this point but think about how much equity you may have been able to build up in the past 2 years. Could now be the time to use that equity to make a move? We are not holding back any listings in fact we just listed 2 homes this week and 1 investment property. There are opportunities out there to improve your life. Take a look below at one of our recent listings that just sold in Avalon.
Ottawa Real Estate Market Trends
Low inventory has been and will continue to be the trend in Ottawa. Since February 2019 Ottawa has only never had more than 2 months' worth of inventory on the Ottawa Real Estate Market. That means that demand has been outpacing supply for almost 2 years now. This has lead to the seller's market that we are seeing right now. Current projections expect to see a seller's market throughout 2022.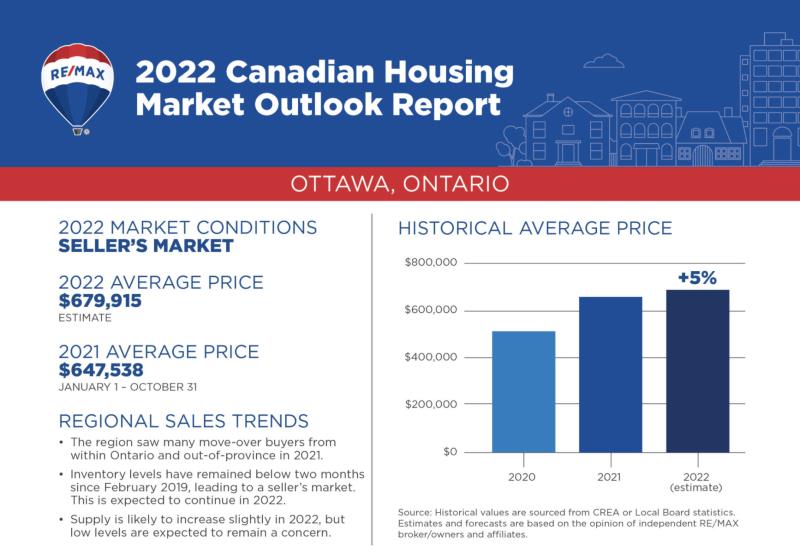 What Is A Seller's Market?
A seller's market happens when there's a shortage in housing or more potential buyers than homes. A buyer's market, on the other hand, occurs when there is a surplus in housing or more homes for sale than buyers. A balanced market happens when there is the same number of homes for sale as there are buyers.
This means that you can expect multiple offer situations in listings as the demand for homes is higher than the available supply for potential buyers. This is when working with a professional real estate agent can make the biggest difference. Having someone representing you in negotiations can make all the difference. Hamre Team Agents are working in the market every single day and truly have a sense of the pulse of the market and can use this to win deals. Buyer agents are true advocates who have only their buyer's best interest in mind.
Our unique buyer advantage program gives you the biggest available selection of homes for sale including exclusive listings, coming soon listings and priority access to the most desirable listings. This is your unfair advantage, even in a Seller's Market, The Hamre Real Estate Team can give buyers an advantage.
Should We Wait Till Spring To Look For A Home?
Right now is the time to start your search.
Prices are going to rise in 2022, the REMAX Housing Report projects next year's home prices to rise 5%. Compound the with the rise of interest rates and you could be paying a whole lot more for a home in March than you would be right now.
It's December but it's not a normal December, the market is alive. Our team had new listings come on the market this week. We are continuing to see sales and all signs are pointing to right now being the most wonderful time to buy.
The Holiday season is upon us, while you're shopping for Christmas gifts start shopping for a new home a new lifestyle and save yourself from paying more next year.
We see it every year. Somebody wants to move but they want to wait until next year for whatever reason. Are you not ready to move? Are you simply hesitating? Start your search today, see what is out there and then make your decision. We would love to help get you started on your personal home search. Click here to contact us and get started.
What Will Happen in 2022?
You have seen nothing yet! 2022 will be a very exciting real estate market in Ottawa. Here are our predictions and what we expect to see happen. If the 2022 Canadian Housing Market Outlook report is telling us anything it is that Ottawa is on the move. They are predicting another 5% increase of the average price of homes in 2022. There are a few trends that are driving this growth.
Interprovincial Relocation - Ottawa is an affordable major city. We saw that a lot this year, and as buyers become more and more frequently priced out of the GTA and other more expensive regions, Ottawa is top of mind. The Hamre Team has high credibility w/ relocation clients given our knowledge of the city, the market and the industry.
Inventory levels remain low - this started early 2019 leading the seller's market and this is expected to continue into 2022.
There's no spring market - sellers aren't holding off until March or April and neither are buyers. It's going to be a busy Q1 as talks of increases in mortgage interest rates rise changing the affordability range of buyers.
Overall - 2022 will be healthy and strong in regards to the Ottawa Real Estate Market. If you're looking to Buy and/or Sell next year - especially if you're thinking both - let's chat about your home goals and get your home road map started.
What Has 2021 Looked Like?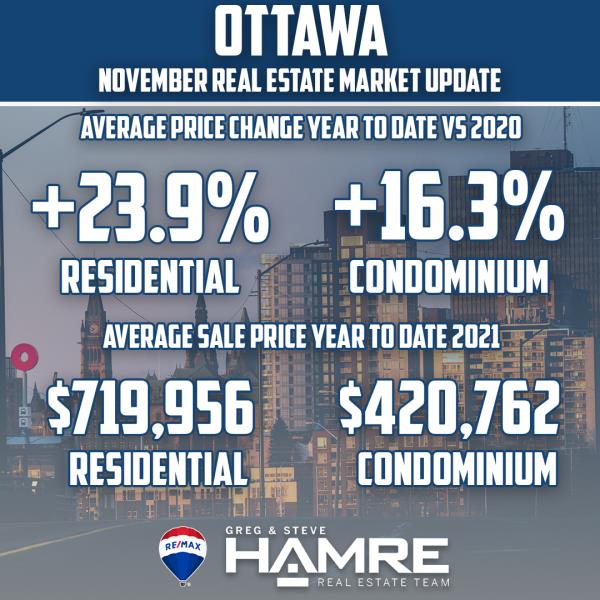 Year to date as of the end of November we can see that Residential Home Prices have gone up 23.9% compared to this point last year. That is a massive increase. Think about how much equity you may have built up in the past year alone! Even condominium prices have increased a substantial amount. They are up 16.3% compared to this point last year. These trends will likely continue in 2022.
The good news: You have built up substantial equity if you are already a homeowner. If you want to talk about your Ottawa real Estate Market and receive a personal market Update, please reach out to us today.
Final Wrap Up
The Ottawa Real Estate Market is on the move! This has not been a normal year and with the combination of inflation and rising mortgage rates, you can expect pricing to head North as well. The seller's market conditions will likely continue especially in the first quarter of next year. Some of this may sound intimidating but it does not have to be. Working with the right agent can make navigating this market a smooth and easy process for potential buyers. Pricing in Ottawa is also still substantially more affordable than what we are seeing in Vancouver and even closer to home in Toronto and the surrounding areas.
If you are thinking about making a move next year, let's move up that conversation and start looking now. There are opportunities to be had and there is no such thing as the "Spring Market" anymore. Reach out to discuss your real estate market!