Ottawa Museums
Posted by Leif Olson on Monday, September 18, 2023 at 11:11 AM
By Leif Olson / September 18, 2023
Comment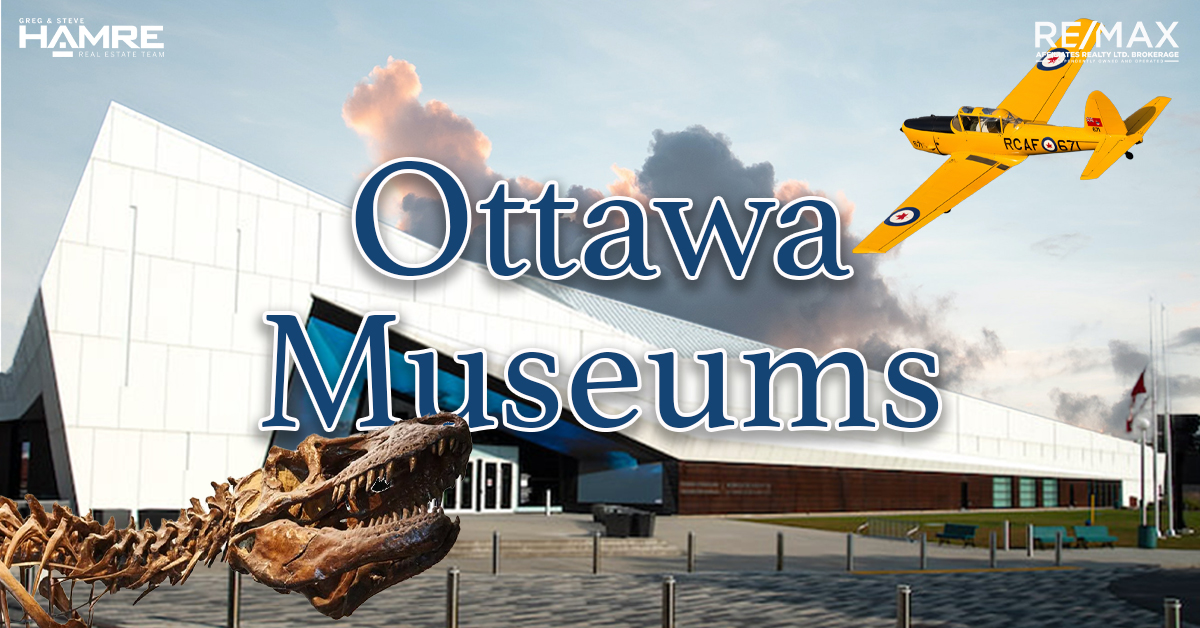 The capital city of Canada is renowned for its rich history. At the heart of Ottawa's cultural tapestry lie its museums, which offer visitors a unique opportunity to delve deep into the country's past and present as well as learn more about the world at large. From art to biology, history to science and technology, Ottawa's museums cater to a wide range of interests. In this blog, we'll give you a peek at some phenomenal museums and encourage you to check them out for yourself.
1. Canadian Museum of History
Situated in Gatineau, just across the Ottawa River in Quebec. This museum is a treasure trove of Canadian heritage, with a diverse collection that spans the country's history, culture, and traditions. Known across Canada for its unique architecture and for housing some of Canada's most treasured artifacts.
The Grand Hall, with its stunning architecture and totem poles, is a highlight of the museum. It provides an immersive experience, transporting you back in time to explore Canada's Indigenous cultures. Another highlight is the Children's Museum. This area allows children and their parents to walk across exhibits that span the globe. From a miniature pyramid to a loading dock with a working crane and many other buildings this is probably the most fun museum in Ottawa.
This museum is also home to an impressive IMAX theatre. This sphere-shaped screen offers an immersive experience that screens documentaries and films.
The museum also hosts rotating exhibitions that delve into various aspects of Canadian history and contemporary issues as well as exhibits that explore the world. Whether you're a history enthusiast or just curious about Canada's story, this museum is an absolute must-visit.
2. National Gallery of Canada
For art aficionados, the National Gallery of Canada is an oasis of creativity. This gallery has an impressive collection of Canadian and international art, including paintings, sculptures, photography, and more. The gallery's stunning architecture, including the iconic spider sculpture "Maman" by Louise Bourgeois, makes it a work of art in itself.
The Canadian and Indigenous Galleries showcase the best of Canadian art, from the Group of Seven's iconic landscapes to Indigenous masterpieces. The European and Contemporary Galleries feature works by renowned artists like Monet, Picasso, and Warhol, offering a global perspective on art.
The National Gallery also hosts temporary exhibitions. Past exhibitions have even included art from the likes of Vincent Van Gogh. There's always something new to discover.
After exploring the galleries, take a moment to enjoy the breathtaking views of Parliament Hill from the Great Hall's windows or continue your day by taking a stroll down to some of the fine restaurants in the area.
3. Canadian Museum of Nature
Locally known as "The Dinosaur Museum" to children who remember growing up and visiting the museum on field trips.
Nature enthusiasts will find their haven at the Canadian Museum of Nature. Located in a magnificent historic building, this museum is dedicated to showcasing the wonders of the natural world. From dinosaurs to gems, minerals, and wildlife, it offers a diverse range of exhibits that will captivate visitors of all ages.
One of the museum's standout attractions is the dinosaur gallery, which features awe-inspiring skeletons and fossils. The mammal gallery is home to an impressive collection of animals from around the world including a large whale skeleton. While the Earth Gallery educates visitors about the planet's geological history. Each level of this unique building offers a new theme to explore. Move up from each level to experience the full scope of nature. The museum even has exhibits with live animals like snowy owls or small reptiles.
For a more interactive experience, the museum's NatureLive presentations provide insight into current scientific research and conservation efforts. The Butterfly Pavilion, a seasonal exhibit, allows visitors to get up close and personal with these delicate creatures.
4. Canada Aviation and Space Museum
Do you have a need? A need for speed? The Canada Aviation and Space Museum, where the history of flight and space exploration takes center stage. This museum is home to an extensive collection of aircraft, from the earliest pioneers of flight to modern marvels. Bring your favourite wingman and enjoy the incredible gallery of planes.
Visitors can marvel at iconic aircraft like the Avro Arrow, the Lancaster bomber, and the famous Canadarm used in the Space Shuttle program. The museum's interactive displays and flight simulators provide a hands-on experience, making it a hit with aviation enthusiasts and families alike.
The Space section of the museum takes you on a journey through Canada's contributions to space exploration, including the Canadarm and the Alouette and Radarsat satellites. It's a testament to Canada's significant role in space technology. Perfect for any Top Gun fanatic looking to get closer to the action.
5. Bytown Museum
Return to the heart of Ottawa, we find ourselves at the Bytown Museum, a charming historic gem located at the historic locks of the Rideau Canal. This small museum packs a punch, offering a glimpse into Ottawa's early days as Bytown, a rough-and-tumble lumber town.
The museum is housed in the Commissariat building, a historic stone structure that dates back to 1827. Inside, you'll discover artifacts and exhibits that tell the story of the canal's construction, the lives of early settlers, and the transformation of Bytown into Ottawa, Canada's capital.
The Bytown Museum is a perfect starting point for a stroll along the picturesque Rideau Canal, where you can enjoy the scenic views and watch the iconic Rideau Canal locks in action.
6. Canadian War Museum
Another essential stop on your museum tour of Ottawa is the Canadian War Museum, an institution that pays tribute to Canada's military history and the sacrifices made by its soldiers. Located just west of downtown Ottawa, this museum offers a profound and thought-provoking experience.
Inside the museum's striking building, you'll find an extensive collection of artifacts, military vehicles, and interactive exhibits that span Canada's military involvement from early conflicts to modern-day missions. The museum's galleries cover various aspects of war, including the impact on soldiers and civilians, the technology of warfare, and the country's role in international conflicts.
One of the museum's most moving exhibits is the Hall of Remembrance, a solemn space that honors those who have lost their lives in the service of their country. The Canadian War Museum provides an opportunity to reflect on the nation's history and the enduring spirit of our military personnel.
7. Canada Science and Technology Museum
For those with a curious mind and a fascination for innovation, the Canada Science and Technology Museum is a must-visit destination. Located just a short drive from downtown Ottawa, this museum is a celebration of human ingenuity and technological advancement.
Inside its modern and interactive galleries, you'll discover a wide range of exhibits that explore the evolution of technology in Canada. From steam engines and locomotives to space exploration and communication, the museum showcases the pivotal role technology has played in shaping the country.
Highlights of the museum include the Crazy Kitchen, where optical illusions will boggle your mind, and the iconic trains on display in the Train Hall. The museum often features temporary exhibitions that delve into specific areas of science and technology, making every visit a unique experience.
Whether you're interested in the history of transportation, the marvels of modern science, or simply looking to spend an afternoon somewhere different, the Canada Science and Technology Museum offers an engaging and educational experience for visitors of all ages.
Conclusion
Ottawa's museums are not just repositories of knowledge and history; they are living, breathing institutions that bring Canada's diverse heritage and culture to life. Whether you're fascinated by history, art, nature, aviation, or the mysteries of space, Ottawa's museums have something extraordinary to offer.
This blog has only scratched the surface of the city's museum scene. Ottawa's cultural treasures are waiting to be explored, and each museum offers a unique window into the rich tapestry of Canada's past and present. So, plan your visit to Ottawa's museums and embark on a journey through time, art, and science as you immerse yourself in the captivating world of its museums.