Ottawa Condominium Report 2021
Posted by Leif Olson on Thursday, October 21, 2021 at 11:00 AM
By Leif Olson / October 21, 2021
Comment

The Ottawa Condominium Market is firing on all cylinders! Real Estate prices in Ottawa are increasing. With an expected increase of 4% in the final quarter of 2021 as we head into 2022. The increasing prices have been the headline for the past 18 months. People see this and can sometimes miss the less obvious trends and statistics. In this article, we examine the market trends that we are seeing in the Ottawa Condominium Market. This article is heavily informed by the 2021 RE/MAX CONDOMINIUM REPORT.
We will break down the key findings from this report, talk about the neighbourhoods with the most condo sales, and summarize what this could mean for you! Affordable price, lifestyle, and single-family home prices are creating more condo buyers.
WATCH: Condo Lifestyle In Downtown Ottawa
The 2021 RE/MAX CONDOMINIUM REPORT looked at the average price of condos across Canada from January 2021 to August 2021. This report looked at cities across Canada: Calgary, Vancouver, Toronto, Halifax and Ottawa. The major finding across this report was that people are turning to condominiums in 2021. This is due potentially to a number of different factors. One of the major factors is pricing. Ottawa condominiums offer affordable living for First Time Home Buyers and people looking to downsize. This is due in part to the dramatic rise in price for freehold residential properties. Another major factor is the reopening of many businesses and city centres as vaccination rates have increased. We saw early on in the Pandemic that home buyers were interested in finding more space either in the suburbs or in rural settings. After a year of living away from city centres, we are seeing people interested in returning to the city to be closer to work and lifestyle opportunities. Condominiums across Canada and especially Ottawa Condominiums offer great locations for lifestyle and work. 2021 has for these reasons been seen as a year where the demand for condominiums has increased.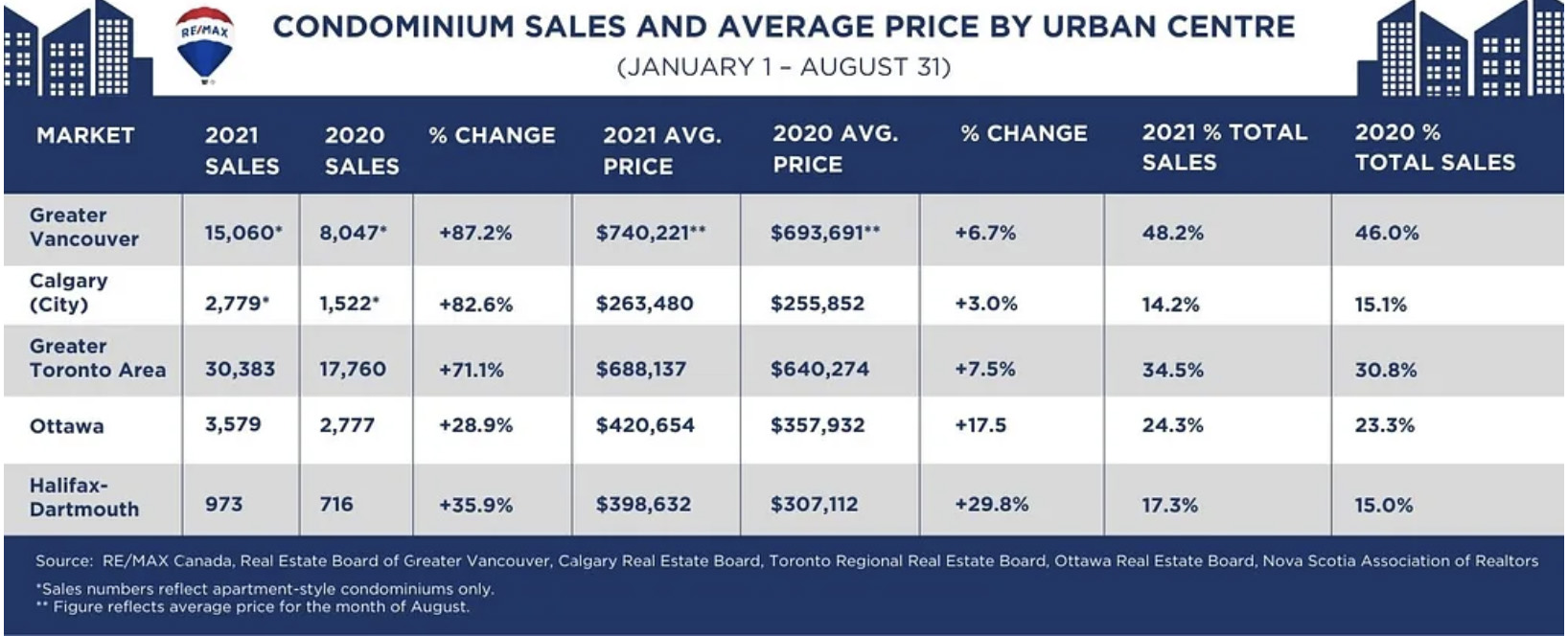 How do Ottawa condo sales rank against the other major Canadian cities in the 2021 RE/MAX CONDOMINIUM REPORT? As you can see in the graphic above, Ottawa Condominiums rank third in total unit sales. This is to be expected as we are the third largest city that was ranked. One of the interesting things to look at is the average condominium price for 2021. Ottawa condominiums have an average price of $319,567 less than the average condominium price in Vancouver. Ottawa is also $267,483 less than the average sale price in Toronto. This is a great indication of the affordability that still exists in Ottawa. All 3 of these cities are major Canadian cities but Ottawa condominiums have the most affordable price regardless of any annual increase that may come.
Ottawa condominium prices and sales have increased significantly in the Nation's Capital. The average price increased 17.5% in 2021 compared to 2020. The total units sold in 2021 increased 28.9% compared to 2020. This is demonstrative of a market that is trending upwards. Buying now could mean seeing the value of your home increase in 2022. For investors who want to get into the housing market, now is the time, and condo apartments are the product to buy! These can be turned into rental apartments that generate income for investors while the property itself gains value!
If you recently bought an Ottawa condominium in 2020 this could mean that the value of your home is up 17.5%. That equity is amazing if you are looking to make a move or upgrade your living situation. This could mean changing property types or increasing your square footage. The potential to purchase your next home could be well within reach and it is even possible that your monthly mortgage payment may not change thanks to the incredibly low-interest rates. This is how you can take advantage of an increased desire for condos in Ottawa with the help of real estate professionals.
Ottawa is full of incredible condominium buildings and incredible neighbourhoods. There are also a variety of different types of units from studio apartments, one-bedroom apartments, and two-bedroom apartments. The 2021 RE/MAX CONDOMINIUM REPORT examined which neighbourhoods in Ottawa had the most condo sales and the highest demand for condominium real estate. Neighbourhood can greatly effect the price per square foot of Ottawa condominiums We will talk about these neighbourhoods and what increases the demand for condominium living.
Centretown
This is one of the most sought-after neighbourhoods in Ottawa real estate. Centretown is located centrally in downtown Ottawa. It is just West of The University of Ottawa and just north of The Glebe. This location also offers easy access to the rest of Downtown Ottawa. It is within walking distance of many surrounding neighbourhoods, while remaining a distinct pocket of Ottawa.
Centretown is also very close to Lansdowne Park which offers incredible restaurants and lifestyle. There are also some great sporting events from teams such as The Ottawa 67's, Ottawa Redblacks, Ottawa BlackJacks, and Ottawa F.C.
Centretown is home to the spectacular Canadian Museum of Nature this museum features incredible exhibits featuring nature's very best from throughout all of recorded history. The museum is famous for its incredible dinosaur bone displays and bird gallery. This location makes for a perfect family visit or even an interesting date spot. Everyone loves dinosaurs.
Centretown also features homes along the Rideau Canal. In the summer there is an awesome walking and biking path along the water. In the winter the Canal itself becomes the world-famous skateway. Living in Centretown gives you access to this incredible 4 season recreation space.
This is a desirable location for condominiums because of the lifestyle that is available. You are always close to great eateries, live entertainment and scenic Downtown Ottawa. Public spaces in the building and nearby are always drawing factors for potential buyers. Many of these building also have parking garages that offer underground parking which is incredibly valuable. Modern Ottawa condo buildings can offer great amenities and stylish architecture that is desirable to condo buyers and especially first-time home buyers.
Sandy Hill
This is a great place to buy if you are an investor. Sandy Hill is located within walking distance of the University of Ottawa and still relatively close to Carleton University as well as being right Downtown. This makes for a desirable location as it is always easy to find tenants for rental apartments. This popular location has even had rental bidding wars occur for the more desirable units.
The location is fantastic for lifestyle. Imagine being able to walk to the Rideau Centre. Walk to world-class restaurants for dinner. Jog or bike down to the locks by Parliament.
Downtown Ottawa has so much to offer and soo much to enjoy. You could live like you're on vacation every single day.
Lowertown
Lowertown is popular for a combination of the same reasons as Sandy Hill and Centretown. The location is near the major Universities and the Downtown core. Lifestyle sells and Lowertown has plenty to offer in that department as well as boasting some beautiful properties.
The lesson in all of this is that when it comes to condominiums, location matters. It can be the biggest selling point in some cases. People want to be close to their jobs, close to the Downtown core and amenities. If you are looking to purchase a condo and want to see the value increase, your best bet is to buy for location.
What Advantages Do Condos Offer?
We have detailed some of the reasons that condominium sales and prices have gone up but many may still be asking why someone would choose to live in a condominium. The main answer is usually affordability. Prices are significantly lower for a condominium than for a residential property in Ottawa. If we look at Ottawa Real Estate Year to Date sales from September the average price for a residential property was $720,492 vs $421,062 for a condominium. This is a massive difference and pricing. This will continue to be a major factor fueling the demand for condominiums in the Ottawa Real Estate market as we close out 2021 and head into 2022.
Pricing is not the only factor. Lifestyle and investment opportunities are other major factors that have increased the demand. The lifestyle is something that we can see all ages of people interested in. Retired people can see condos as a logical move. Their children have left home, they no longer want to deal with shovelling the driveway, mowing the lawn or require the extra space they find in a residential home. People had different reactions to the pandemic for some it was a real opportunity to look in the mirror evaluate their situation and decide that they wanted a lifestyle change. Condominiums can offer that lifestyle change. they want to live close to the Canal, close to eateries, close to the action. For young people, these same things can be appealing. they want to walk home from the night out or bike to work every morning. Lifestyle and location are always huge factors when choosing a home but 2021 has put a magnifying glass on these desires.
Finally, investment opportunities are also fueling demand. The lack of good quality rentals means that there is a demand and investors are providing these rentals by purchasing condos and renting them out. For investors, it is a perfect situation. They can afford to make the down payment and have tenants pay the mortgage while they build equity. The tenants also benefit by having quality affordable housing while they work towards their own purchases in the future.
If you are in the market for a condominium now is a great time. Ottawa is an amazing city and condominiums are on the rise here. We currently have several great locations available for sale right now. These continue to be viable properties for entry-level purchasers to build equity and for people chasing a new lifestyle to fall in love with their city again. Below is an example of a great unit in Ottawa.
If you want to talk about Ottawa Condominiums and receive your market update, please reach out to us via the form below. If you want that lifestyle change, that first home, that investment, why not make 2021 the year?
Right now we are seeing the lowest rates ever for mortgages. These rates will not last long. Many are expecting the rates to double by as early as March 2022. That makes the next few months the best possible time to buy and Ottawa condominium in the Ottawa real estate market. If your annual payment for your mortgage interest is $5,000 right now and that rate doubles, you will be paying $10,000 dollars. That is the difference buying now versus buying in the spring can make. That is thousands of dollars gone. Lock in at the current rates and save yourself thousand sin the future. Why not now?
What is holding you back? Sometimes we encounter situations where people are not ready to move. This happens. You want to wait for the kids to be done the school year or for your start date for a new job. But most of the time people say they are not ready simply because they are scared or nervous to take the leap. Working with a professional real estate agent like the member of the Hamre Real Estate Team takes away that fear. We are here to help and guide you through the Ottawa real estate market. Whatever you are looking for whether it be a one-bedroom apartment, two-bedroom apartment, single family home, bungalow or anything else. We are the Ottawa real estate agents that are going to help you make the best possible choices and the best possible move. Inspiring dreams is our mission and our profession but it is also our passion. We want to help, if we can make your dreams come true before the end of 2021 please reach out to us.
For more blogs like this please be sure to like us on Facebook. We hope to hear from you soon.
To stay up to date and for more on the Ottawa Real Estate Market be sure to read our Market Update Blogs.