Orleans
Posted by Leif Olson on Tuesday, March 16, 2021 at 12:00 PM
By Leif Olson / March 16, 2021
Comment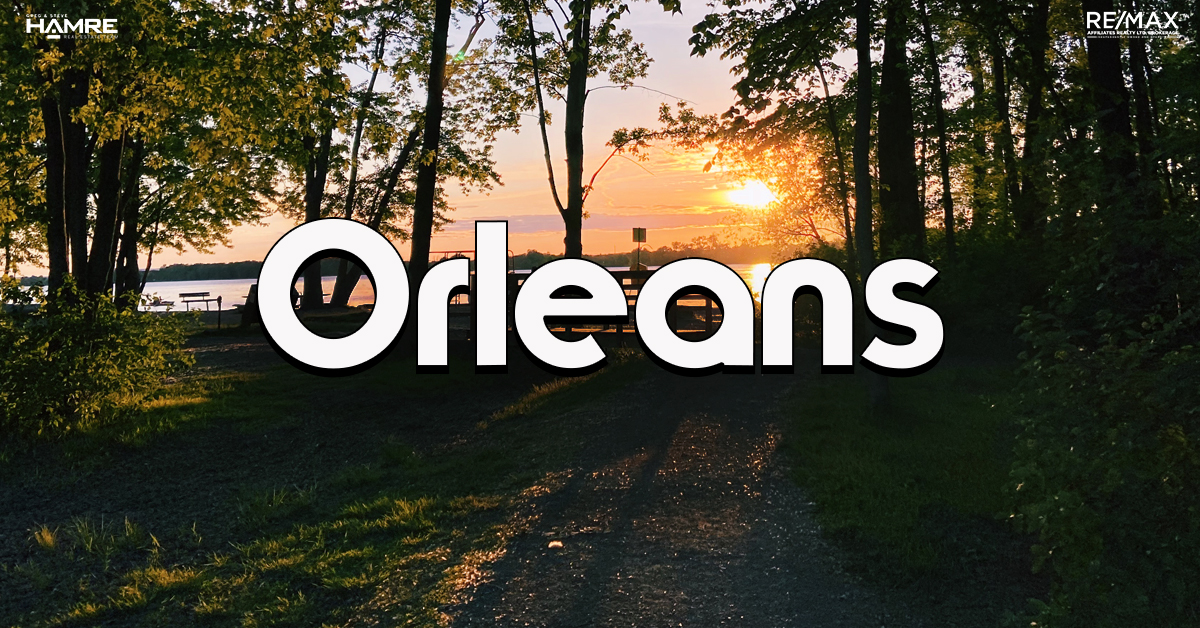 Orleans
The buzz is real!
Orleans is the most googled location in Ontario and 2nd most in Canada when it comes to buying a home! This community in Ottawa is made up of several neighbourhoods and is one of the most exciting places in Ottawa.
Let's take a look at what makes this one of the best places to live in all of Canada!
Location
Orleans is located in the east end of Ottawa. It has easy highway access which can take you downtown in 10 minutes. It also stretches along the Ottawa river at points. This location means that it is far enough away from the city to feel like its own special community. While being close enough to make for an easy commute to work or downtown for an afternoon.
The location also means wide-open spaces, recreation, and fun. There are so many activities in Orleans it is impossible to get bored! The area is made up of several neighbourhoods from Avalon to Fallingbrook to Springridge to Convent Glen, just to name a few. Each neighbourhood offers its own unique lifestyle while being close enough to each other to enjoy the benefits of the community as a whole.
Recreation
The opportunities for recreation in Orleans are abundant. You are near the Ottawa River which means, swimming, boating, walking paths, and more beautiful sunsets than you can count. You are also always near parks and greenery. There are soccer fields within walking distance from most homes in Orleans. The soccer fields include Ottawa's largest park/soccer field Millennium Park. This field features state-of-the-art astroturf as well as large lights which means sunset doesn't stop the football or soccer game.
Indoor recreation is also plentiful! There are tons of local gyms like Goodlife Fitness, Fit 4 Less, Movati, Anytime Fitness, and more! There is also the Ray Friel complex which features 3 hockey rinks and a large wave pool. Looking for more swimming? You could also check out the Francois Dupuis Recreation Complex in Avalon. For our basketball and badminton fans, you can check the YMCA near Place d'Orleans. There is always a great game going on there to get into, and you can cool off in their large pool after.
Shopping
Orleans is a shopping destination for Ottawa. Forget driving far away to shop, Orleans has an abundance of shopping right here! Looking for that vintage find? You can check out Value Village. Looking for a great deal? You can check out Winners or Marshall's right next door. Not sure what you're looking for? Place d'Orleans has it all! From H&M, Boathouse, The Bay, and more you can find whatever fashion fits you best. They also have a newly renovated food court as well as specialty shops such as Entertainment Ink and Joe's Barbershop if you need a quick cut.
There are also all of your essential and specialty food stores. Grocery stores include Metro, Sobeys, Farmboy, and Independent. There are several pharmacies including Shoppers Drug Mart and Rexall. There are big box and hardware stores like Wal-Mart, Home Depot, and Lowes.
Entertainment
You will never be bored here! There are so many new things to try in the area! Looking for Laser Tag? You can check out Laser force at Kids Kingdom. Down the road from there, you can go bowling and sing karaoke at Orleans Bowling. There are multiple movie theatres in the area including a state-of-the-art Landmark Cinema with the most comfortable chairs in Ottawa. There are multiple driving ranges. For live entertainment, you can head to the Shenkman Art Centre which features plays, musicians, and stand-up comedians showcasing some of the best talents in the world.
Restaurants
From fast food to world-class dining and everything in between you can be sure you'll find your new favourite restaurant here. Looking for a great burger? You can head to the Works or go for the very best at OCCO Kitchen, home of the Hamreburger! There are also familiar options like Boston Pizza, Lonestar, and Montanas. You can watch the game at Johnny Canucks and grab pizza at Gabriels. Specialty local take out options include Hidden Taste, African BBQ House, and Tarboush Lebanese. You'll never run out of new options to try!
Lifestyle
Orleans features a combination of homes from new builds to older homes with real charm. There are standalones, townhomes, condos, and bungalows. There are tons of options in what is a real family-based area with lots of options. You can find local listings below!
Are you looking for homes in Orleans? Looking to sell your home in Orleans? Please reach out to us below.
For more blogs like this please Like us on Facebook or click here for all of our community spotlight blogs!