Orleans Craft Beer Festival - Hamre Team RE/MAX
Posted by Nic Hamre on Tuesday, June 7, 2022 at 1:11 PM
By Nic Hamre / June 7, 2022
Comment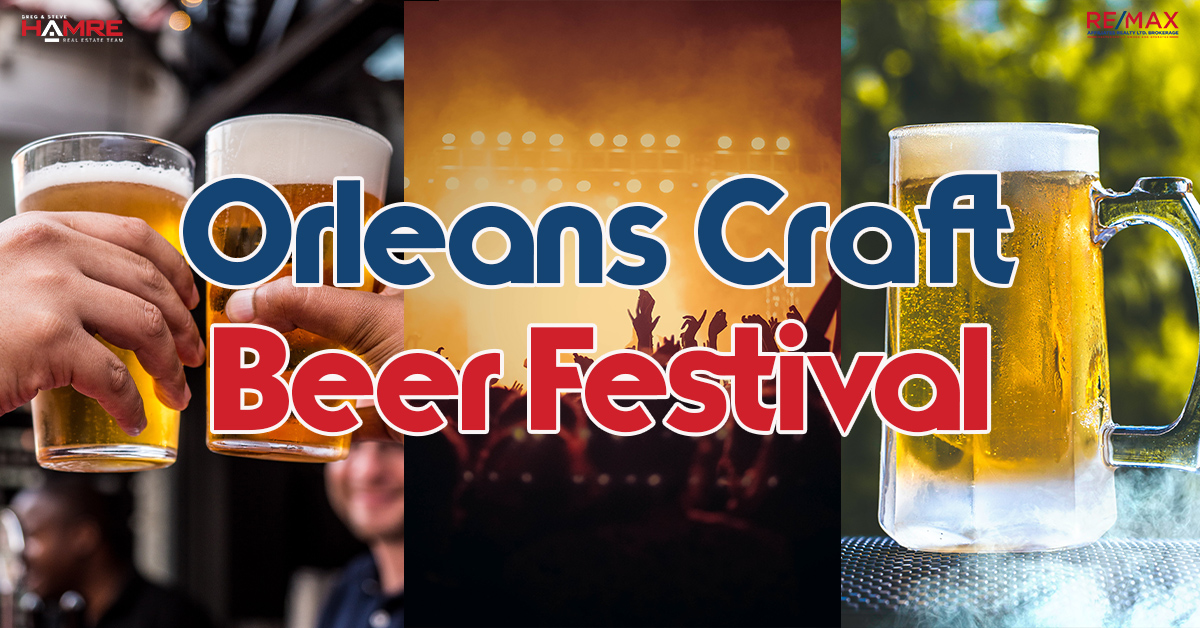 Orleans' Largest Festival, The Orleans Craft Beer Festival (19+)
Cheers to the return of the Orleans Craft Beer Festival! Get your tickets before it's too late, you're going to want to be a part of the electric and vibrant atmosphere. Local Breweries and a community gathering - rocking out to live music, cold beers & more. Enough to be hoptimistic eh!
Support local, embrace local. There's a reason it has had a history of selling out - because the people love it. You want to act fast to get in on the action in Orleans.
A champion pour - Thursday, June 9th - a winner will be declared since hosting a small event leading up to this. The assembly crew that occurred in May, consisted of brewmasters and local public figures, judging distinguished and various flavours / blends.
A surprise recognizable public figure will be making the drum-rolling announcement of the best tasting local beer. This is a notable and honourable award to receive which includes the immense benefit of having their beer commercially sold through Broadhead Brewery - wicked.
BEER & MORE!
Wine + Spirits will be made available for purchase. Food Venues will also be found on site varying options for snacks and meals.
Local Breweries Participating:

Broadhead Brewery
This local craft brewery first opened their doors in 2011. Over 10 years later they have created 103 different craft beers. Constantly innovating there is always something new to taste at Broadhead Brewery. Give one o their classic brews a taste at Orleans Craft Beer Festival.

Cameron's Brewing
This Oakville-based brewery features a dedicated team of beer experts committed to brewing beer of exceptional taste and quality. They have been in business since 1997 and are noa staple of the craft beer community. They create classic ales and lagers using the world's finest all-natural ingredients. Give their signature recipes a try at Orleans Craft Beer Fest.
Covered Bridge
This brewery is a small, independently-owned craft brewery located in Stittsville, Ontario. Established in 2013, they strive to bring you high-quality, flavourful craft beers brewed with only the best ingredients. Look for their Covered Bridge logo and try some tasty beers this weekend.
Flora Hall
This classic Ottawa brewery is Located on Flora Street in Centretown. They are described as a brewpub with a creative menu offering craft beers plus a full bar & beer to-go. Try some of their delicious beers at the Orleans Craft Beer Festival.
Spark Beer
This is one of the most unique breweries in Ottawa. Located on Somerset Street W in Chinatown, Spark Beer is an Ottawa craft brewery making unique hoppy, brett and sour beers all served in an amiable tasting room located in Chinatown. Save the trip and visit this brewery in Orleans this weekend!
Ridge Rock Brewing Co.
Located just West of Kanata this brewery is known across the city for the incredible quality of beers. Ridge Rock Brewing Company is a brewery, eatery, beer store and favourite hang-out spot in the village of Carp Ontario. They brew high-quality beer that is meant to be shared with friends. Share a few this weekend in Orleans.

Brew Revolution
Craft Brewery and Beer Hall in Stittsville, Ontario. 30 taps offering a huge variety of house-made beer plus numerous guest taps. We also offer cider, mead, wine and craft soda. Add in delicious eclectic food and live entertainment and you've got a little something for everyone. Give their house-made beer a tasting this weekend at the Orleans Craft Beer Festival.
Sandbagger
It's not just beer. Sandbagger is a craft gin-based, lemon-lime seltzer. Their refreshing recipes will be sure to delight and surprise you. Any fans of seltzer are not going to want to skip their booth at the Orleans Craft beer Festival.
Magnotta (Wine - Beer - Spirits)
As the name suggests this Winery has more than just wine. Magnotta is Ontario's third-largest winery with over 180 world-class wines including one of the largest portfolios of VQA wines in Canada.
Nickel Brook Brewing
Coming from Burlington and Etobicoke all the way to Orleans. Since 2005 Nickel Brook has been a leading player in the Ontario Craft Beer industry. They use only the finest, natural ingredients from all over the world, and produce small batches to the highest standard of quality every time. From Pale Ales and IPAs to sour and wild ales to stouts and porters, their product line is deep and diverse.
Dunrobin Distilleries
Ottawa's newest craft distillery focused on producing artisanal spirits including single malt whisky, gin, vodka, rye, limoncello, and all-natural bitters. Also carrying gin goblets, cocktail glasses and whisky glasses. Don't miss out on your chance to enjoy some of their high-quality items at the Orleans Craft Beer Festival.

Burst Cider
Burst Cider is Orleans' own Cider manufacturing company. Try a refreshing Cranberry Apple Cider or Peach Cider. Both are made with fresh Ontario fruit.
Clocktower Brew Pub
OTTAWA'S ORIGINAL The Clocktower Brew Pub is Ottawa's longest established full service craft brewery. They make great craft beer in house and fresh original food served in a comfortable and upbeat atmosphere. Happily serving Ottawa since 1996.
Small Pony BarrelWorks
Crafted in ultra small batches, this unique brewery from Kanata has some of the most exclusive brews in the world. This is your chance to try their very best. Their booth at Orleans Craft Beer Festival is absolutely "Can't Miss".
Dairy Distillery
Known for their famous Vodka Vodka. You need to try this Diary Distillery to believe it. Creators of Vodka vodka and Vodka cream liquor. Crafting superior spirits from unused milk sugars. Do not miss it!

Blackfly
From Long Island Iced teas to pre-mixed vodka drinks. This beverage company has something for everyone. If you're looking for something sweet to drink, this is the place to go at the Orleans Craft Beer Festival.
Brauwerk Hoffman
This Rockland-based brewery epitomizes everything that the beautiful area has to offer. They look to showcase local products to create a unique beer production experience. They also look to serve our customers with only the finest products.
Evergreen Craft Ales
Evergreen Craft Ales is a craft brewery located in Kanata. They boast an impressive patio and awesome atmosphere. If you miss them at Orleans Beer Festival you should definitely visit their brewery for some tasty ales.
Dominion City Brewing
Swing by to enjoy a beer in the Dominion City Beer Garden, browse cans and bottles to-go at the all-new DCBC Corner Store, or order ahead on our website and pick-up via their contactless drive-thru. They also offer $5 flat rate shipping in Ottawa and $10 for Ontario. Try some of their awesome beers at Orleans Craft Beer Festival and order yourself a full supply when you get back home.
Calabogie Brewing
Located in Calabogie near beautiful mountains, lakes and forests. This local brewery is known across Ottawa for amazing brews. This brewery also has a second Kanata location, both feature a brewery, kitchen & taproom, and are a celebration of the beauty and spirit of Calabogie, and the spectacular land and people on which it was founded. Give their beers a try at Orleans Craft Beer Festival this weekend!
Broken Stick Brewing Company
Brew inspiration. Craft community. Fill mugs. 10 minutes from Rockland, Ontario and 15 minutes from Orleans, Ontario. They will be setting up a special booth at Orleans Craft Beer Festival.
Big Rig Brewery
Named after former Otatwa Senators longtime Defencemen Chris Phillips this fast growing brewery has firmly established itself as part of the Ottawa community. Visit their booth at Orleans Craft Beer Festival.
Bicycle Craft Brewery
Do not bicycle and drink, but do drink Bicycle Craft Beer. Bicycle Craft Brewery was created from humble beginnings, much like many of the craft breweries before us. It started with a home brew kit, a passion for craft beer and a love for creating something delicious out of all-natural ingredients. Try some of their fantastic cold beers at Orleans Craft Beer Festival.
Skeleton Park Brewery
Dedicated to crafting old-world ales and celebrating life. Keep an eye out for them and all the wonderful things to come. They'll be at Orleans Craft Beer Festival.
Whiprsnapr Brewing Co.
Offering a unique and tasty twist on craft beer yet easy drinking. Beer store Taproom Brewery in Nepean is absolutely worth trying. They will have their booth at Orleans Craft Beer Festival.
Whitewater Brewing Co.
Where it all started: right by the Ottawa River. Their Riverside Brewery, where the brew some of they offer fantastic seasonals. Their Riverside Brew Pub, located in the same building, is open seasonally (generally Spring–Fall), and is the perfect stop after a trip on the River or through the Valley. Try it for yourself without making the trip at Orleans Craft Beer Festival.
Overflow Brewing Co.
One of the newer breweries in Ottawa. This fantastic brewery is located in the Alta Vista / South Keys area. Try their fantastic creations at Orleans Craft Beer Festival.

Lake of Bays Brewing Co.
Coming to Orleans Craft Beer Festival all the way from Muskoka this brewery offers a "Taste of nature" straight from Muskoka.
Vimy Brewing Company
​Our founders are two brothers, both former reservists in the Royal Canadian Navy and proud Canadians. During their careers, they visited cities across Canada and noticed one thing in common: the majority of beer served in bars, restaurants and venues across Canada doesn't even come from Canadian companies! They wanted true Canadian beer that celebrated everything great about Canada.
At Vimy Brewing Company, we brew with only the finest ingredients in small batches to produce beer of exceptional quality and taste. The brewery is named after the Canadian victory at the Battle of Vimy Ridge in 1917, a truly Canadian achievement, seen by many as a defining moment when Canada came of age and demonstrated its independence.

Orleans Brewing Co.
Behind every beer poured is a curated food menu item that focuses on the community. Whether it is a way of gathering our neighbours or supporting our local farmers and small businesses, they try to showcase the freshest and best ingredients in everything they do. Visit Orleans Brewing Co. at the Orleans Craft Beer Festival.
Stray Dog Brewing Company
Small dogs with big dreams. The symbolism of a Stray Dog is the will to break free from these chains and venture out into the unknown. It represents freedom and defiance of a life of confinement and taking the risk to do something great even if it means leaving the security of the current life you're living. The road ahead is unknown, but you'll never know what possibilities lie ahead unless you venture out.
FOOD:
MEATINGS
Real Deal Barbecue and Meats. Meatings Barbecue was built on a love for the community, and creating great food. With refined techniques and the finest equipment, these dishes are piled high with the delectable flavours of our expertly cooked meat. Smoked, grilled, and handcrafted into the tasty creations.
Located on Canitek Rd, Sensplex East, Broadhead
Golden Fries
Voted "Ottawa's Best Poutine" 2022 (Ottawa Awards 2022) This classic Orleans food truck is known for its incredible Chicken Parm sandwich. You have to try it! They also have incredible french fries and poutine. Usually Located 6505 JEANNE D'ARC BLVD N, ORLEANS near Metro.
DOTTIE'S
Try out some awesome snacks! Located in the Village of Navan Ontario, neighbouring the community of Orléans this establishment has great snacks, sandwiches and more. You'll be glad you tried it!
Live Music Lineup For Orleans Craft Beer Festival
Thursday June 9th
5:00pm - 6:00pm: Hearts & Mine
6:30pm - 7:30pm: Double Experience
8:00pm - 10:30pm: Little Bones
Friday June 10th
5:00pm - 7:30pm: Dueling Pianos
8:00pm - 10:30pm: Honest Heart Collective
Saturday June 11th
3:00pm - 4:00pm: East Coast Experience
5:00pm - 7:30pm: The Derringers
8:00pm - 10:30pm: Disco Inferno
WHERE IS IT EXACTLY?
( Centrum Plaza - 255 Centrum Blvd, Orléans, ON K1E3X7 )
PARKING:
Yes, there is! Available to first-come-first-serve guests and participants.
LAST CALL:
Time flies when you're having fun! Last call will be made @10:30pm - Just a half-hour before 11:00pm closing time. Additionally, access to entry ends @ 9:30 pm
NO SMOKING:
By-Law states no smoking of any kind in outdoor public areas, in this case, Plaza grounds. Though, volunteers will kindly assist with information regarding the surrounding areas that do allow smoking, if questioned.
RAIN OR SHINE!
Do not worry about the weather, rain or shine you will have a great time. Massive tents have you covered! Do not stress.
WASHROOMS:
Porta-Potties will be accessible on-site.
Have You Got Your Tickets Yet?
Time is running out to get your tickets to Orleans Craft Beer Festival. You can get your tickets HERE. Do not miss your opportunity to enjoy Orleans' biggest festival and try some incredible tasty craft beers. We'll see you there!