Navan Fair 2022
Posted by Leif Olson on Wednesday, August 3, 2022 at 3:42 PM
By Leif Olson / August 3, 2022
Comment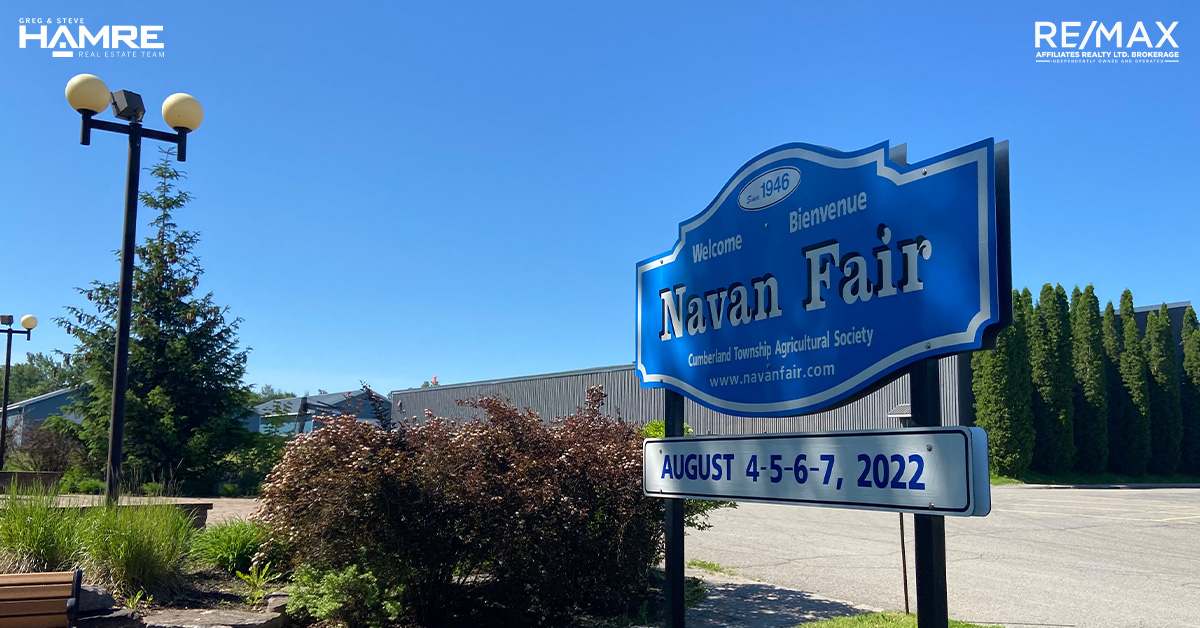 Navan is a small town, a small & strong community located just 15 km southeast of Ottawa made of 1,290 person population. Since 1946 The Navan Fair has been the favorite weekend of the summer for thousands of local residents that come to enjoy the hospitality of the people of Navan and the incredible entertainment and exhibits.
Celebrating 75 years of awesome, family-friendly fun, the Navan Fair is back in person this year! The summer country festival and its main motives are the tradition and the culture of the farmers rsquo life. During the four days of the festival, the visitors can enjoy entertainment shows, live music, riding on horses rsquo competitions, agriculture exhibition, ancient agriculture machines exhibition, competitions of handling animals and a marvelous colourful parade that ends the festival.
Navan Fair FunFacts
Where The Domes Are Born - You can t miss them when you're there. The big white domes are arguably Navan's most historical pieces.
In 1994 Pope John Paul II visited Ottawa. After landing in our nation's capital international airport, he attended and officiated an outdoor mass of roughly 300,000 people on LeBreton Flats, just west of the Parliament Hill.
The setting consisted of these massive white doms. Where would these spiritual structures end up? The Cumberland council passed a vote to rescue it on Navan soil.
The Navan Beer tent is now protected and covered by this historical piece. The agricultural society and fair celebration lives on to this day. Cheers to that.
The Navan Fair has used revenue towards a leading horse show venue in eastern Ontario
The Store & Forster Hall where the Navan Fair ended with a Dance - Burnt down in 1948
Beer Tent fits 5,000 people
Johnny Cash's brother once performed at Navan Fair
A shift in music when from fiddle country, blues & rock
2011 large screen were added for the bands
Navan memorial centre & Arena is home to the Navan Grads, a Tier 1 Junior (A) Hockey Team of the CCHL
-Midway
(Thursday : 4 pm-11pm Friday & Saturday: 11am –11pm Sunday: 11am – 5pm)
**Tickets & Bracelets are purchased directly from the Robertson Amusements**
*MIDWAY SPECIALS*
Toonie Thursday, Aug 4th – Ride any ride for just a Toonie Tickets purchased from Midway
FRIDAY Bracelet Day – ONLY Friday, Aug 5th (11am-11pm) Purchased directly from Midway $40.00
Ride Ticket Prices
Advance Ride tickets 35 coupons for $40.00 (Available at the office until 9:00 pm Wednesday Aug 3rd)
During the Fair: 16 coupons $25.00 / 26 coupons $40.00
Alpaca Show
Alpacas are cousins of the llama, but smaller in size. Originally from South America, they were introduced to North America in the late 80's. Today they number over 120,000, with approximately 20,000 in Canada. Alpacas produce luxurious fiber valued by the textile industry for its softness, warmth and strength. Their natural colours range from white and fawn to brown, black and grey.
Annual Fleece Judging Show: Thursday, August 4, 2022
Annual Composite Halter Show: Friday, August 5, 2022
Ambassador Competition
An ambassador will be selected for this year's 2022 Navan Fair. The chosen ambassador will be between the ages of 18-23
Applications were completed for Friday June 10th… Missed this year? Consider it for 2023!
This is a great opportunity to make tons of new friends and make Navan proud in many ways! All contestants are required to attend the duration of the Fair to assist in event presentations, etc. Be there to support and experience the atmosphere!
For future applications email: [email protected] stating your interest in competing. Include your resume/Interviews will be held mid June, they will contact you to confirm.
Antique tractors & machinery
This display continues to grow and attract vintage farm machinery enthusiasts from far and wide. All antique/ vintage tractors, machinery, small engines and other agricultural equipment are appreciated. Entries must be restored or in good original condition. The intention is to showcase as many agricultural artifacts as possible. Entries will not be judged. Involvement in the parade or tractor pull is encouraged!
Baby Show (Sunday August 7th 11:00am 10-18 months 12:30pm 0-9 months)
Entries CLOSED Monday, August 1st, 2022.
BACK by popular demand the baby show will return to the fair this year!
Everyone is welcome to come and join in the fun. Whether you decide to participate or cheer on a family member or friend you'll be sure to have a great time.
There is no membership required and no entry fee (parents must pay fair admission). Babies aged 18 months and younger are invited to come and strut their stuff on stage, and be given a chance to talk about some of their interests, favourite foods and hobbies.
Some of the categories the judges will be using include chubbiest cheeks, curliest hair, best dressed etc. Each participant will receive a special gift bag and certificate.
Please email the following information to the [email protected]
Baby's First & Last Name

Baby's date of birth

Parent(s) name(s)

City

Telephone number
As we introduce the babies during the show, we like to say something about them. To help with this, please also include at least three of the following:
Baby's favourite food

Baby's favourite animal

Baby's current hobbies

Baby's newest discovery

Favourite part of the Navan Fair

Other character trait or interesting tidbit of your choice
Participants are asked to arrive approximately 10-15 minutes before the show start time (10:45am for 10-18 months, and 12:15pm for 0-9 months).
Cattle Show
Jersey Dairy Cattle Show & Ayrshire and Holstein Cattle Show
Traditionally over 30 exhibitors and 150 head of cattle complete yearly. The host location for Eastern Ontario and West Quebec "All Canadian Jersey Show". This show is among one of the largest Jersey shows in Eastern Ontario, where all 4-H members are encouraged to participate. The Ayrshire show is run in partnership with the Ottawa Valley Ayrshire Club, and the Jersey Show is in partnership with the Jersey Ontario. Holstein breeders exhibit in the Black & White Regional Heifer show.
Purebred Beef Show
We host our Purebred Beef Show – Angus and Simmental cattle – with well over 20 exhibitors from all of Ontario participating. The opportunity and interest at this show is the groomed presentation of these large animals, with at times, their junior partner. The junior farmer is given an opportunity to practice and hone their showmanship skills at a young age. The animals are judged on a conformational basis.
Demolition Derby (Thursday, August 4th : 7pm – Mini Cars Friday, August 5th : 7pm)
Action filled event!! An absolute classic for the fair venue... The demolition derby consists of cars in battle action form and is certainly not meant for the weak. If you have never experienced a demolition derby, the Navan fairs demolition derby is elite. The crowd and atmosphere is electric.
Ecumenical Church Service (Sunday, August 4th, 2022 at 10:00 am)
@ St. Mary's Anglican Church - Located @ 3480 Trim Rd
Contact Ron Smith @ 613-835-4260 for more information!
-Education Bar
(Friday August 5th & Saturday August 6th – 11:00am to 8:00pm; Sunday August 7th – 11:00am to 5:00pm)
The Agricultural Education Barn has a wide variety of agricultural activities and exhibits to offer our children. See farming demonstrations up close; view agricultural movies; see and learn about many other farm animals on-site.
Featuring:
Petting Zoo

Meet the Keepers

Egg Farmers of Ontario Demonstration Kitchen

Sheep Shearing demonstrations

Tilecroft Farms

Grain Farmers' of Ontario

Museum of Agriculture

Dairy Educator

Alpaca Exhibit

Farm to Table

education agricultural information and displays
-Exhibits in the blue building
Take a stroll through the exhibit hall, also known as the Blue Building. This is where you will find out who bakes the best butter tarts, sews the most beautiful quilts and grows the best veggies, hay and flowers. You will also be able to see all of the hard work the children have put into their crafts.
2022 Theme: 75 Years of Family Traditions
Culinary Arts
The Navan Fair Culinary Arts Division welcomes you to stop in and see the upstairs in the blue building to be amazed by all of the local talent. All ages are encouraged to enter one or more classes. Let's get baking, pickling, preserving, and decorating.
Entries from adults & children of items they have made themselves in different types of craftwork. Knitting, quilting, sewing, artwork, jewelry, photography etc; all displayed to the best advantage for your viewing pleasure. Every item is judged based on criteria from the association governing Ontario fairs and exhibits by an independent judge, and prizes are assigned for those deserving.
Floriculture
Categories are judged on Thursday and the exhibits remain until Sunday for viewing. Judging categories include cut flowers, potted plants, and floral arrangements. This is an all age's event.
Vegetables, Fruit, Field Crops & Commercial Features
A wide variety of vegetables are judged. Also in this division are scarecrows, centerpieces and posters..
Crop areas are judged on site and are not less than 5 acres. Sections include: oats, barley, corn, soybeans, winter wheat and spring wheat.
Education
The intention of our division is to encourage children to participate in the Navan Fair and make them aware of the agricultural community. We hope that those who take part in this section will first and foremost have fun! So gather pencils, paints, pens, crayons, scissors and your imagination. We can hardly wait to see what you and your peers create!
-Horse Pull
Sunday, August 7th, 2022
at 11:00 am, Outdoor Ring
-Horse Shows
Navan Fair International Heavy Horse Show
The Navan Fair hosts one of the largest draft horse shows in Eastern Ontario and Western Quebec.
Confirmation Classes
On Thursday, Purebred Percheron, Belgian and Clydesdale horses compete for individual Championships culminating with the Eberglo Draft Horse Challenge!
Exhibitors from across Ontario, Quebec and Northern New York State take part.
Hitch Classes
Experience the power of the Draft Horse as exhibitors compete in Hitch classes on Friday night, Saturday and Saturday night.
From cart classes to the ever popular North American Six Horse Hitch Classic Series competition is tough and energy is high.
WESTERN HORSE SHOW
This competition will be running from 11am, all day Sunday in the Arena.
The show consists of five races, Barrels, Pole Bending, Flag, Keyhole and Dash. with different age divisions, from 3 years old to 65 years young.
The object is that the rider and horse together must run as fast as possible without dropping an obstacle, if so they are disqualified, and the fastest time wins.
LIGHT HORSE SHOW
The Light Horse Show is a complete show with ten divisions including children's pony, harness pony, hackney pony, roadster horse, miniature horse and Morgan/Arabian horse
- Navan Fair Parade
Saturday, August 6th, 2022 @ 10:45 a.m.
Held on Saturday morning, our parade has grown to include several bands, (including the award winning RCMP Pipe band) numerous floats from local business members, entertainers who are appearing during the fair, and animals of all kinds. There is a panel of 3 judges who decide on winners based on certain criteria such as originality, crowd appeal and interpretation of the "theme" for this years fair.
Children and adults alike enjoy this event immensely, and the local Fire Department collects for the Muscular Dystrophy society in a "boot drive" as an added bonus.
Parade Breakfast
Come early to get the best viewing spot and enjoy a pre-parade breakfast with friends and neighbours at St. Mary's Hall, 1171 Smith Road. Breakfast is served from 8:00am – 11:00am
full breakfast (eggs, ham, hash browns, toast, and drink) is $10

sides available individually for $2 each

take out is available if customers bring their own containers.
The Café
The Café! Go and enjoy homemade sandwiches, salads, desserts, cold drinks, pie & ice cream, tea and coffee in the air conditioned Navan Curling Club Hall. Gluten-free & vegetarian options are also available.
Various community groups will be serving up these tasty meals.
Friday, August 5th – 10:00am to 5:00pm
Saturday, August 6th – 10:00am to 5:00pm
Sunday, August 7th – 10:00am to 4:00pm
Truck & Tractor Pulls
Competition is now an all-weekend event!
Committee: Hank Bakker, Glen Edwards, , Jon Lowe, Darcy Newman, Kevin Lawlor, Lee Watson, Mark Ash, Brad Findlay, Mario St Denis, Chris McWilliams, Shawn Edwards, Brent Magladry
Saturday, August 6th, 2022 at 1:00 pm until done (approximately 4:00pm)
Registration starts at noon (located at the rear track of the fair grounds)
The Navan Fair is happy to announce a modified truck pull with gas and diesel trucks.
The professional pull sled "The Executioner" out of Peterborough will be on site and Marc Chartrand will be announcing.
Street trucks are welcome to participate with a 30$ per hitch fee, proof of insurance is mandatory and helmets are recommended.
Looking forward to seeing everyone participate and enjoy in the excitement
Sunday, August 7th, 2022 starting at noon until done (approximately 4:00 pm)
Registration starts @ noon
The tractor pull features tractors of all ages and makes competing to see who has the ability to pull the most weight over the longest distance. Always a large draw with an average of 75 participants, it allows the members of our communities to display their proud machines. (Bleachers are required due to the number of patrons). We are proud to say that we are continuing to grow in participation and excitement.
4- is a grassroots organization of leaders building leaders. 4-H emphasizes the importance of looking at the big picture; that youth need to see beyond themselves and focus on how their actions affect their relationships, their community, the environment and society as a whole.
For 100 years, 4-H Ontario volunteers, members, and staff have worked together to create one of the foremost leadership programs for youth. In 2015, 4-H Ontario marks its century year, celebrating the remarkable success of a program that remains as popular today as it was back in its earliest years.
- Softball Tournament
Running from Thursday, August 4th until Sunday, August 7th, 2022
For more information/registration, please contact Sylvain Boivin at 613-850-4074
***Players will be required to pay gate admission***
Additional information and features for the 2022 TRUCK RAFFLE:
2022 GMC Sierra Limited 1500 1SACrew Cab with standard box
5.3L V8,

8 speed automatic

4 wheel drive

White exterior/black interior

Power window, locks and cruise with keyless entry

Steering wheel mounted controls

Teen Driver Mode

7 inch diagonal colour touch screen with Bluetooth, Carplay and Android Auto
Sierra Value Package includes:
Heated outside mirrors

Tinted glass

Cargo bed light

Trailer package X31
Off-Road Package includes:
Off-Road suspension

Skid plates

Locking rear differential
GMC Protection Package includes:
All-Weather Floor Liners

Moulded Splash Guards

18inch aluminum wheels with grey metallic pockets

Spray in liner

Black side steps
Thursday Night - 9 pm
The County Lads
The County Lads were formed in 2015 by brothers Alec (lead vocals, Guitar) and Hamish (fiddle) McDonald, where they began playing their take on everything from Celtic to Country music in the SD&G Counties. Quickly adding two close friends, bass player Nolan Laframboise and drummer Joah Vaillancourt completed the band they are today and their unforgettable sound. Throughout the years these young lads have had the chance of sharing their tight harmonies and energetic performance all over Eastern Canada from the East Coast to Toronto, From Landsdowne Park on New Year's Eve to Sudbury. While always remembering their small town roots, The County Lads keep writing and performing their music for everyone to enjoy.
Friday Night
**NOTE: There is a $10 Domes admission Friday & Saturday night starting at 7pm. Must be age of majority (19 years of age) to enter the Domes/Beer Garden on Friday & Saturday night**
Jade Eagleson 10:30 – midnight
At just 27 years of age, Jade Eagleson has made quite the mark on the international country music scene…
Boasting 185+ Million Global Streams and 87M+ views on YouTube since the debut of his self-titled album (2020), which holds two GOLD-certified singles ("Count The Ways," "Close") and one PLATINUM-certified single ("Got Your Name On It") as well as the title of most globally streamed debut album by a Canadian-signed country artist in history, Jade has also landed two #1s at Canadian Country Radio ("Lucky" + "All Night To Figure It Out") and a 2019 CCMA Award for Rising Star.
Since day one Jade has had his sights firmly set on re-establishing neo-traditional country's place at the top of the charts and hasn't stopped working toward this goal ever since. In 2017, Jade decided to step away from some of his duties on the family farm to pursue a long-time dream as a country music artist. With the release of his debut single "Got Your Name On It" (2018), Jade was featured as a YouTube Trending 'Artist On The Rise' and appeared on the website's homepage, marking the first time a Canadian-signed artist in any genre has received such an honour. Today, the music video for "Got Your Name On It" has 6x more views than any other domestic country music video, ever (67 million and counting). "Got Your Name On It" has also recently become the first debut single by a Canadian artist to go PLATINUM.
2021 has been a landmark year for the Ontario native. Jade kicked off the year with his first-ever JUNO nomination for Country Album of the Year and followed that up with 2 nominations for the upcoming 2021 CCMA Awards (Male Artist of the Year and Fans' Choice). His recent single 'More Drinkin' than Fishin' ft. label-mate Dean Brody recently reached #1 on the Canadian country radio charts.
Young Bucks 9:00 -10:00
Saturday Night
**NOTE: There is a $10 Domes admission Friday & Saturday night starting at 7pm. Must be age of majority (19 years of age) to enter the Domes/Beer Garden on Friday & Saturday night**
Tyler Joe Miller 10:30 – midnight
Signed to MDM Recordings Inc. in 2019, Surrey, BC's Tyler Joe Miller quickly began to make a name for himself in Canadian country music and continues his meteoric rise with the release of his latest single 'Wild As Her'. After releasing his gold-certified debut single, 'Pillow Talkin'' at the end of 2019, the catchy tune quickly earned him the title of iHeartRadio Future Star and became his first #1 single at Canadian country radio. What followed was an unprecedented and record-breaking climb with follow-up single 'I Would Be Over Me Too', which steadily rose on the charts and earned Miller the distinction as the first
independent Canadian country artist to reach #1 at radio with their first two singles. His debut
EP Sometimes I Don't, But Sometimes I Do has amassed over 20 million combined streams to
date, with sophomore single 'Fighting' hitting the Top 10 and title-track 'Sometimes I Do'
reaching the Top 5 respectively. Most recently, Miller was named SiriusXM's 2021 Top of the
Country winner and was nominated for four 2021 CCMA Awards including "Album of the Year",
"Male Artist of the Year", "Rising Star", and "Fan's Choice"
Check out: https://tylerjoemiller.com/site.php/
Chris Labelle 9:00-10:00 pm
Former lead singer of River Town Saints, Chris Labelle is no stranger to musical success. With multiple songs that hit Top 10, Top 20 and Top 30 on the Canadian country music charts, Chris is back and excited to share his new music!
The pandemic may have put a hold on live shows, but it didn't stop Chris from continuing to write and create great new music. Chris' hit, "Frontliners", went viral and brought people across Canada together during a very difficult time.
The ultimate "guy's guy", Chris loves sports and making good music. He's always laughing and having a good time, and his fun-loving and charismatic energy resonates with fans, on and off stage.