Luke Combs in Ottawa
Posted by Nic Hamre on Thursday, November 10, 2022 at 7:00 AM
By Nic Hamre / November 10, 2022
Comment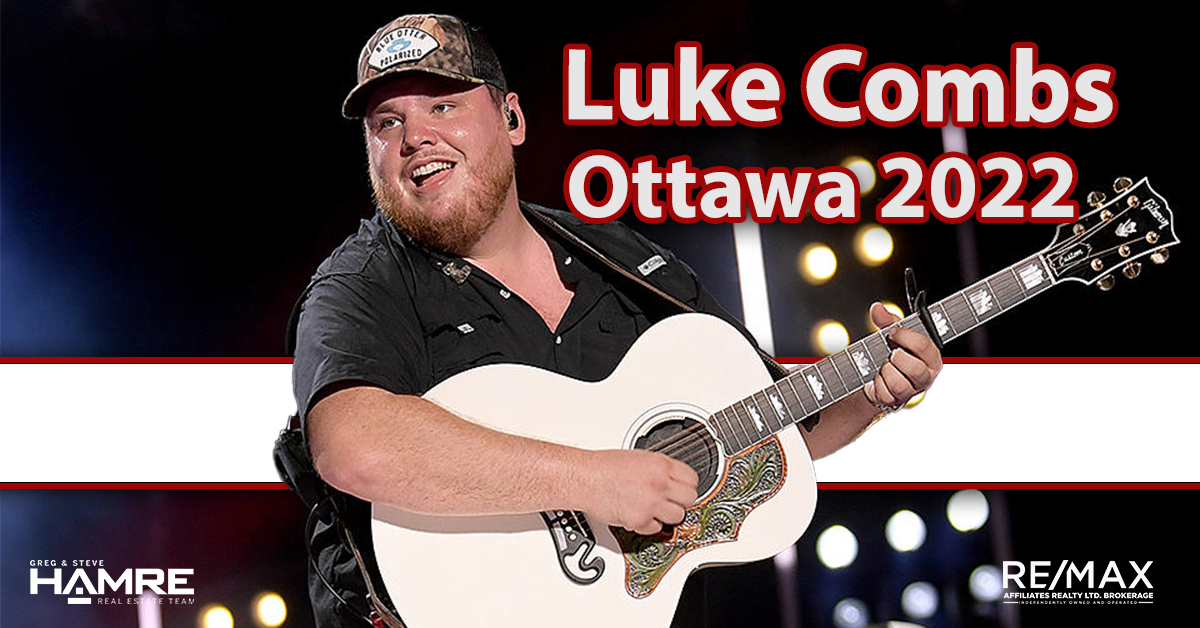 - Luke Combs Canadian Tour 2022 -

Luke Combs is about to be back in Ottawa!
- Thursday, November 17th / Jeudi le 17 Novembre, 2022 @7pm
Just five months after making an appearance at Ottawa Bluesfest where he performed in front of a sold out crowd! A rare occurrence where a night at Bluesfest sells out of tickets, days in advance. This was the case for Combs as an estimated 30,000 people turned out to see the 32-year-old Nashville star light up the grounds of the Canadian War Museum, his first show in the nation's capital.
This time, the concert will be held at the CTC, Canadian Tire Centre, home of the Ottawa Senators. Note, this concert is a make up for having to previously postpone the event.
The build up is real and the opportunity to hear one of Country's Hottest current artists lies ahead. A spectacular performer who has made a name for himself as one of the greats in this current era as both a singer and songwriter.
If you didn't know, Combs will be accompanied by additional talent starring Riley Green, 34 year old from Jacksonville, Alabama and Chayce Beckham American Idol Winner, 26 year old from Apple Valley, California - as openers for the big upcoming event.
Get excited. Resale tickets are for sale and available for purchase across various web services. But surely, they will likely be in high demand as they have been leading up to it.
You will likely hear his music on Pure Country 94 in the meantime and get a chance to hear our latest Radio Ad endorsed by Rascal Flatts lead singer, Gary LeVox. Or our latest Snowsuit Fund radio ad which promotes and advertises the need for support of underprivileged kids in need of a Snowsuit for the cold long winters we experience here in Ottawa.
"the most promising and influential new country star of the last five years"—The New York Times

7 Fun Facts About Luke Combs
- He went to Appalachian State University in North Carolina, which is the same school as one of his music idols, Eric Church. While attending App State, he played at local bars
- When his first paycheck from music was $10,000, he quit his two side jobs to focus on music after realizing he could make a living out of music.
- His middle name is Albert
- The song that introduced many of us to Luke was "Hurricane," which was released in 2015. The timing of this song coming out wasn't ideal since Hurricane Harvey had ravaged parts of Texas. Therefore, he decided to donate money made from the single to help out with Hurricane relief
- He's a huge Will Farrel fan and he hopes to have him in a music video one day. He loves Old School and Stepbrothers.
- Luke once lost a bet on a football game with a band member so he had to go vegan for three months. He says, "it's been horrible."
- Combs claims he is really good at playing NBA 2K, which is a basketball video game. The sporty country boy grew up playing football and rugby, and he also enjoys playing this electronic form of basketball.

Canadian Tire Centre Location:
1000 Palladium Dr.
Ottawa, Ontario,
K2V 1A5
Canada.