Kanata
Posted by Leif Olson on Friday, November 12, 2021 at 10:24 AM
By Leif Olson / November 12, 2021
Comment
Kanata
Do you love your neighbourhood? If you live in Kanata you likely answered yes! Ottawa is full of amazing neighbourhoods and spectacular communities, today we shine the Hamre Real Estate community spotlight on Kanata.
Kanata is one of Ottawa's largest neighbourhoods. This Ottawa community is full of amazing lifestyle, fantastic recreation and excitement that you simply cannot find anywhere else in Ottawa. This article will walk you through Kanata, tell you the story of Kanata real estate, Kanata recreation, Kanata shopping and Kanata lifestyle. We will also talk about the history of Kanata and the benefits of buying a home in Kanata as well as living in Kanata.
If you are thinking about moving to Kanata or just want to know more about this Ottawa community, this is the article for you. If you have never been to Kanata you are going to want to visit immediately and maybe even take up a permanent residence.
History
Kanata was amalgamated into Ottawa in 2001. Located just west of the greenbelt it is a fantastic neighbourhood that offers a lot. The fact that Kanata used to be its own city is part of what makes it such a distinct and vibrant part of Ottawa. Full of office buildings with unique architecture and modern city planning, this community has been spectacular long before it was even an official part of Ottawa.
This history is so rich that it has its own Wikipedia entry. Kanata was originally part of the township of March which was established in the early 19th century. In the 1960s it became a location of heavy development and was completely redesigned and uplifted. The community was envisioned as a model community that mixed densities of commercial and residential properties.
This has allowed for Kanata to develop as a unique location for commercial and residential life. Modern city planning also helps blend public spaces and private areas. This means that Kanata homes are close to shopping, dining, and other amenities. It also cultivates a unique culture and community that differentiates the area from other parts of Ottawa.
Kanata became its own city in 1978 before joining Ottawa in 2001. The history of Kanata is part of what allows it to feel like a unique part of the city. There is a lot of pride for people who call Kanata their home.
Location
Kanata is located in the west end of Ottawa. Its northern boundary is just west of the Ottawa River. Kanata touches the greenbelt which means there is plenty of nature to explore nearby. This means easy access to hiking and other recreational activities all year round. Just to the south of Kanata is Stittsville.
Kanata is about 20 minutes west of Downtown Ottawa. Kanata is close enough to easily get Downtown but also far enough away to be its own unique community. This really is the best of both worlds in many ways. It has the convenience of nearby shopping and recreation but is also connected to the rest of Ottawa.
Being on the west end of the city also means you are closer to cottage country. You could be about an hour away from Big Rideau Lake or even less to some other common cottage locations. If you have a cottage and love to head up there on the weekends, living in Kanata will save you money on gas and let you get up to the lake much quicker. Imagine being able to get to your cottage in half the time you normally would. Even if you do not have a cottage, this means being able to leave the city in a heartbeat. The opportunity to explore nearby areas of Ontario is within reach. There are some great Ontario hiking spots that you will be a quick trip away from. The ability to access great recreational experiences with ease and without having to navigate city traffic is one of the advantages of buying a home in Kanata. Make weekend getaways easy and cut your travel time in half by living in Kanata!
Location is crucial to Ottawa real estate. You really cannot look at real estate prices in Ottawa and not consider the location. Your cost per square foot is always going to be tied to the location. Access to public spaces, types of homes in the area and nearby amenities are key selling factors. They also contribute to the type of lifestyle you can expect to find in any given neighbourhood in Ottawa. Kanata's location means that there is a diversity of home styles. You can find single-family homes, townhomes, condominiums and luxury homes all within the same general location. There are even some new builds on the way! This means that Kanata is a destination for all potential Ottawa homebuyers. The Kanata real estate market is one of the most popular in the area due in large part to the location.
Entertainment

Is Kanata the entertainment centre of Ottawa? While Lansdowne Park in Centretown also makes a strong case, Kanata has some spectacular events! Kanata is home to the Canadian Tire Centre. This is the home arena of the Ottawa Senators. This means you can easily attend every game. Go and see your favourite NHL teams in Ottawa! With newly anointed captain of the Ottawa Senators, Brady Tkachuk and young stars Thomas Chabot and Tim Stutzle the future is bright for the Ottawa Senators! Some residents of Kanata are even able to walk to Sens games which is a major advantage and contributes to the exciting lifestyle in Kanata. Enjoy the exciting live hockey and be a part of that world-famous Ottawa noise that keeps the building energized.
If you are not a hockey fan, the Canadian Tire Centre has plenty of great shows from the biggest bands in the world, all-star comedians, WWE shows, and even Disney on Ice just to name a few. If you are looking for a concert in Ottawa, you can find the very best in Kanata. Some incredible upcoming concerts include Luke Combs, Justin Bieber, and Dierks Bentley. The point is, there is plenty of great entertainment in Kanata.
Kanata is also home to Landmark Cinemas Kanata 24, which is the largest movie theatre in Ottawa. There are plenty of movies to see with the whole family or on a special night out. There are also plenty of great restaurants that surround the area so make sure you grab dinner before the show. Planning for a spontaneous night out in Kanata is easy and affordable.
For some seasonal fun, you definitely do not want to miss Wesley Clover Parks' lightshow! This magical light display is the perfect activity to enjoy the Christmas season. Drive through the winding trail of incredible lights and enjoy the festive season. People drive from all across Ottawa each year to enjoy this scene but you can enjoy it in your own neighbourhood.
The entertainment in the area is one of the reasons that the Kanata housing market is so desirable. Even first-time home buyers may consider this area due to the affordable price and awesome nearby amenities.
Recreation
Ottawa is a four-season recreation city and Kanata is no exception! Ottawa is known for the amazing recreation that is offered by our various trails and natural areas but what makes Kanata extra special is the incredible infrastructure that was developed with an eye for recreation. These facilities are a special part of Kanata and you cannot find them in any other Ottawa neighbourhood. Unique activities that you can find in Kanata include Olympic-sized skating rink, Olympic quality rock climbing gym, and great local gyms.
Kanata is home to the Bell Sensplex which houses 3 NHL-size rinks and one Olympic-sized rink as well as an indoor soccer pitch. Hockey tournaments in Ottawa often find their home at the Bell Sensplex in Kanata. These hockey arenas also host great events including events run by the Sens Foundation which gives locals the opportunity to meet some Ottawa Senators players. These rinks are also great opportunities for kids to get their volunteer hours or part-time jobs working as timekeepers, goal judges or in the multiple canteens throughout the facility. Being a short drive away from an elite hockey facility like this is a great reason to call Kanata home.
The Kanata Recreation Complex is another great spot for recreation as the name would suggest. This facility houses two hockey rinks. Outside there is a splash pad in the summer and a fantastic toboggan hill in the winter. Grab a sled and some warm winter clothes and head to this facility to enjoy an exciting day of sledding!
Altitude Gym is a world-class rock climbing gym in Kanata. This gym features a massive bouldering section for every skill level. Test your knowledge and skill by working through multiple problems along the various sections of bouldering. This facility also features Ottawa's only American Ninja Warrior course. this course tests all levels of skill in climbing, parkour and free running. There are also some high rope auto-belay routes that can be fun if you are not afraid of heights. This gym is world-renowned for its impressive routes and challenges. In fact, his gym was the venue for national rock climbing championships which featured Canadian rock climbing Olympians.
If you live in Kanata you are always near some exciting recreation options. If you are looking for a healthy active lifestyle in Ottawa, this is a great neighbourhood to choose. Walking, biking and running through the streets of Kanata is always a great option. You will love living here!
Shopping
As anyone from Ottawa likely knows, Kanata is home to the Tanger Outlet Mall. Here you will find some of the best deals in all of Ottawa. There are Nike, Adidas, and Under Armour outlet stores for the athletic crowd. For fashion, you can find Saks off Fifth, Kate Spade, and Coach outlets. There are plenty of other stores too from Lids to Zumiez to Levi's to Calvin Klein. There is something for everyone and a destination location for all of Ottawa.
All of your essentials are also nearby. You can find great grocery stores and pharmacies just a short drive away. There are also big box stores for all the deals you could ever want.
Kanata also features some of the best car dealerships in Ottawa. This is great for finding your new car but it also makes getting your tires changed or having your car serviced quick and easy.
Other Nearby Communities
Kanata borders some other great communities that are still close enough to enjoy the amenities of Kanata. Some of these communities include Stittsville, Bell's Corners and Carleton Place.
Stittsville is known for some fantastic homes and is very close to Kanata. Stittsville is one of Ottawa's most sought-after locations! Stittsville is a prime location featuring great local schools, lifestyle, neighbourhood amenities, and more! There are so many reasons to want to call Stittsville home! To read more about Stittsville be sure to check out our Stittsville Blog.
Kanata Homes
Kanata has a diverse variety of homes. Condominiums, townhomes, semi-detached, single-family homes are all a part of Kanata. Many homes in Kanata have large yards and are well maintained. Living in Kanata is a badge of honour for many and they treat their community with that same honour and respect. Well-manicured lawns and well-maintained homes are a trademark of Kanata.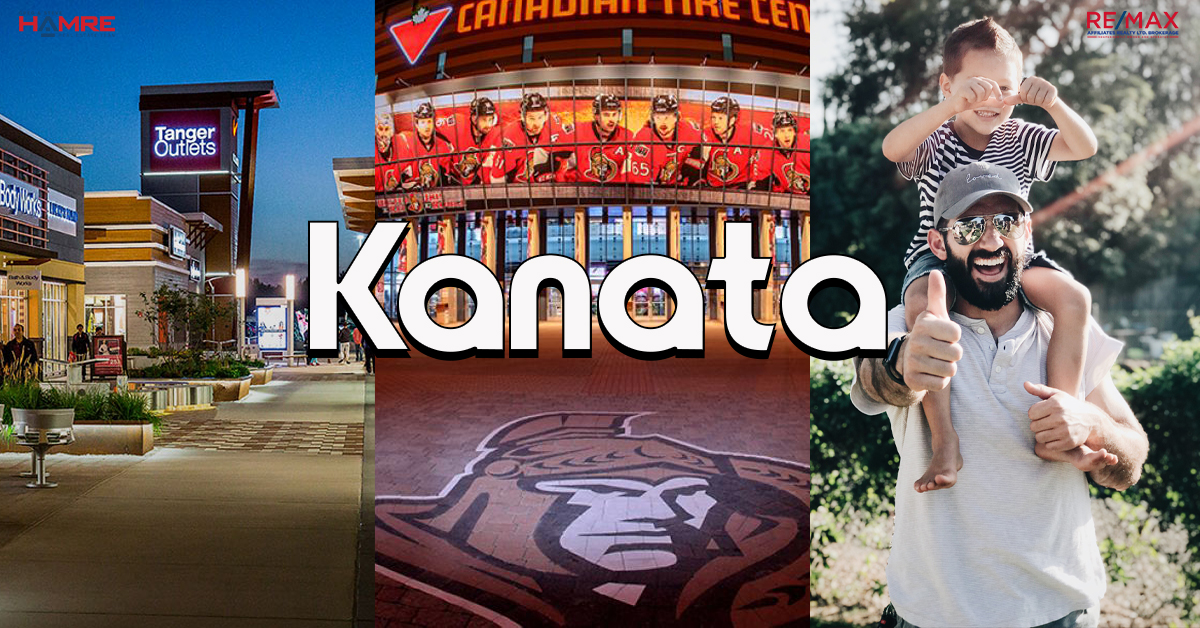 Want To Find Your Kanata Dream Home?
If you are interested in moving to Kanata or a nearby area please reach out to us we would be happy to help you find your new Ottawa home. Working with an Ottawa real estate professional can be key to securing your piece of Ottawa real estate. The Hamre Real Estate Team at RE/MAX Affiliates in Ottawa knows and loves the area of Kanata. You can browse local listings below. We would be happy to set you up on a search and alert you as soon as any new Kanata homes appear on the Ottawa real estate market. We know Kanata and we would love to help you make a move there. Please reach out to us via the contact form below.
Looking To Sell Your Home In Kanata?
If you are looking to sell your Kanata home, we would be pleased to offer our real estate services. The Hamre Real Estate Team uses an innovative marketing plan which gets our clients top dollar for their home and makes sure that we find the right buyer. The Kanata real estate market is something that Hamre Real Estate Team Agents keep an eye on every single day. We would love to help you make a move and inspire your dreams. Working in Ottawa real estate has been our dream and passion for years. Please reach out to the Hamre Real Estate Team for your personalized market update from a professional Ottawa real estate agent.
Kanata Wrap Up
In short, Kanata is a special place to call home. Since its amalgamation into the city of Ottawa until now it has become a striving community and a focal point in Ottawa life regardless of where in the city you live. From the recreation and entertainment to the shopping and lifestyle, you are going to love Kanata. Kanata is one of Ottawa's largest neighbourhoods. This Ottawa community is full of amazing lifestyle, fantastic recreation and things that you simply cannot find anywhere else in Ottawa. This article has walked you through Kanata, and told you the story of Kanata real estate, Kanata recreation, Kanata shopping and Kanata lifestyle.
Every community in Ottawa is special but Kanata is one of the most fantastic neighbourhoods in all of Ontario if not the world. Where else could you walk to an NHL Game or world-class recreation facilities from any variety of Ottawa homes? Most people simply call it Kanata but a lucky few get to call it home. If you have never been to Kanata you are going to want to visit immediately. Go see a Sens game or go shopping at Tanger Outlets. There is so much to see and do. This is our city but it is your city too and we hope that you will get to explore and enjoy it!
To schedule a showing, or to talk to us about Kanata, give us a call at (613) 841-2111 or fill out our contact form below.

To see all of our community spotlight blogs you can head here.
For more community blogs stay tuned in on our Facebook.