How To Prepare Your Home To Sell In Ottawa
Posted by Leif Olson on Sunday, May 1, 2022 at 2:22 PM
By Leif Olson / May 1, 2022
Comment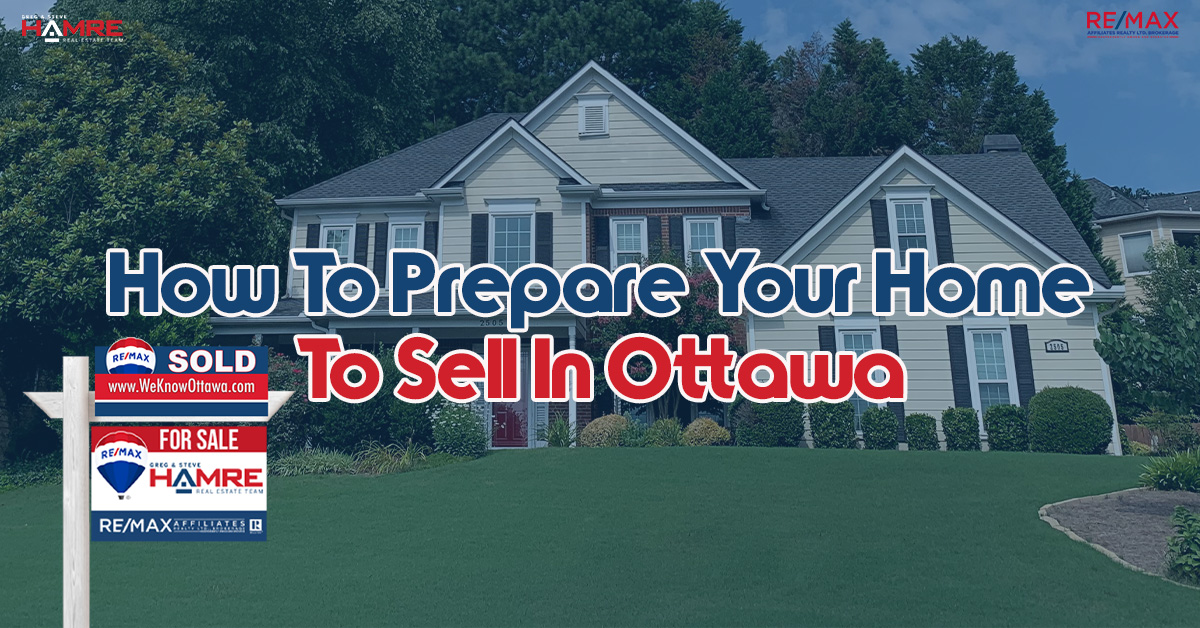 Thinking about listing your home in Ottawa but do not know where to start? The whole process can feel a bit overwhelming at first. Not to worry we have done this many times before and know exactly how to help get you started. This article will give you all the details on how to prepare your home to list and sell in the Ottawa real estate market. At RE/MAX we strive to go above and beyond to make sure homes listed with us stand above the crowd.
Inspiring Dreams is our passion at the Hamre Real Estate Team RE/MAX Affiliates Ottawa. In everything we do, we believe in helping others, striving for excellence and inspiring dreams. Part of this process is helping our clients prepare their home to be the most spectacular it can be before listing it. This article will give you key information on how to prepare your home to sell in the Ottawa real estate market. If you are dreaming of selling your home and upgrading your lifestyle, this article can help make that dream happen.
First Impressions Matter In Real Estate
Do you think first impressions matter? Imagine for a moment that you walk past a home with long unkept grass, cracked walkway, and a dusty porch. The type of home that the neighbourhood kids bike a little faster past. What would your first impression be? A clean and appealing exterior is the first step in preparing your home to list and sell in the Ottawa real estate market.
Walk out to the end of your driveway or the curb. Look at your home. Think about what a prospective buyer may notice. Is the yard clean? Are the gardens kept well? These are some of the smaller things that can make a big difference. Start with some simple landscaping. This could mean picking up sticks that may have fallen from a tree or raking up some leaves. Sweep off the front porch, and plant a few flowers in the front garden. Depending on your walkway you may need to take some weeds out of the interlock or pressure wash the area. Make sure that your home has maximum curb appeal by cleaning up the front yard and entranceway.
Confirmation bias is a concept in psychology where people are likely to search for, interpret, favour, and recall information in a way that confirms or supports one's prior beliefs or values. When a home looks unpleasant from the outside a person may think about the home unfavourably and then try to find more negative aspects to confirm their belief. The inverse can also be correct. The home looks beautiful and people will get that "good feeling" about the home. People will in turn search for more positive things to confirm this belief. Beautiful curb appeal can allow Ottawa home sellers to take advantage of the concept of confirmation bias and make it work for them.
Organize and Re-Organize
Next, come up with a plan for how you want to organize your space. Make sure to consider how you use each room and what would work best for your needs. Once you have a plan, start putting things in their new places. Clear the area and open up the space by decluttering and reorganizing. One goal could be to maximize the use of your home's square footage.
Finally, don't forget to maintain your new organization system. This is an ongoing endeavour. If you continue to live in your home while it is on the market you want to make sure that you keep up to date with the organization systems.
Clean Like You've Never Cleaned Before
Clean, scrub, dust, vacuum, and sweep like you never have before. Your home needs to be Q-Tip clean. Vacuum any carpets. Sweep any floors. Mop, Swiffer and dust any surface. Clean your windows. This needs to be the biggest clean of your life. People have different standards for cleanliness and you want to be clean enough to make even the pickiest of buyers feel satisfied that the home is cleaned and cared for.
Open Up Your Pool
If you have it, flaunt it. Ottawa Buyers love a good pool. Make sure they can see the pool and that it is in working order. Take the time to set up any patio furniture along the pool as well. This will let buyers picture themselves enjoying the space.
Depersonalize Your Home
Instead of keeping up everything that makes your house a home to you, depersonalize your decor to show new viewers that they could really see themselves making this new place a home. This may feel unnatural to you but you are looking for someone new to buy your home.
Consider using a professional stager to help with this process. Some feelings may be hurt but the home will look like the pages of a magazine soon enough.
How Does Home Staging Work?
In most cases, home staging involves a professional home stager coming in and working their magic. This is accomplished by moving or in some cases removing furniture, wall art, small appliances, or other things around the house to maximize flow and appeal. The professional Ottawa home stager will come in take a look around and assess the environment. They will then start working on moving items around.
Some quick and easy things that they may do is remove small appliances from countertops this could mean putting your trusty air fryer in a cabinet for a while. Other quick fixes could be placing some fruit in a bowl for interior photos to be taken or repositioning wall art. Decluttering is a big part of the process and can be accomplished ahead of time in part by sellers.
Stagers will work to create flow and limit dead spaces in the home. This could mean setting up an office space in an unused loft area. You do not want to waste any of your square footage. You want every room to have a defined purpose. That way buyers can say "This is where I will watch TV", "This is where I will host family dinners", etc... You want them to start placing themselves in the home in their mind which will begin to create a connection to the property and trigger them to put in an offer and ultimately buy the property.
Now You're Ready To List Your Ottawa Home
Now that your home has maximum curb appeal, is super clean and ready to go. All you have to do is call (613) 841-2111 and get the Hamre Real Estate Team in and we will do the rest to inspire your dreams and get you what you deserve for your home.
Contact Us To Get Started