Golden Triangle Ottawa
Posted by Leif Olson on Thursday, August 19, 2021 at 4:00 PM
By Leif Olson / August 19, 2021
Comment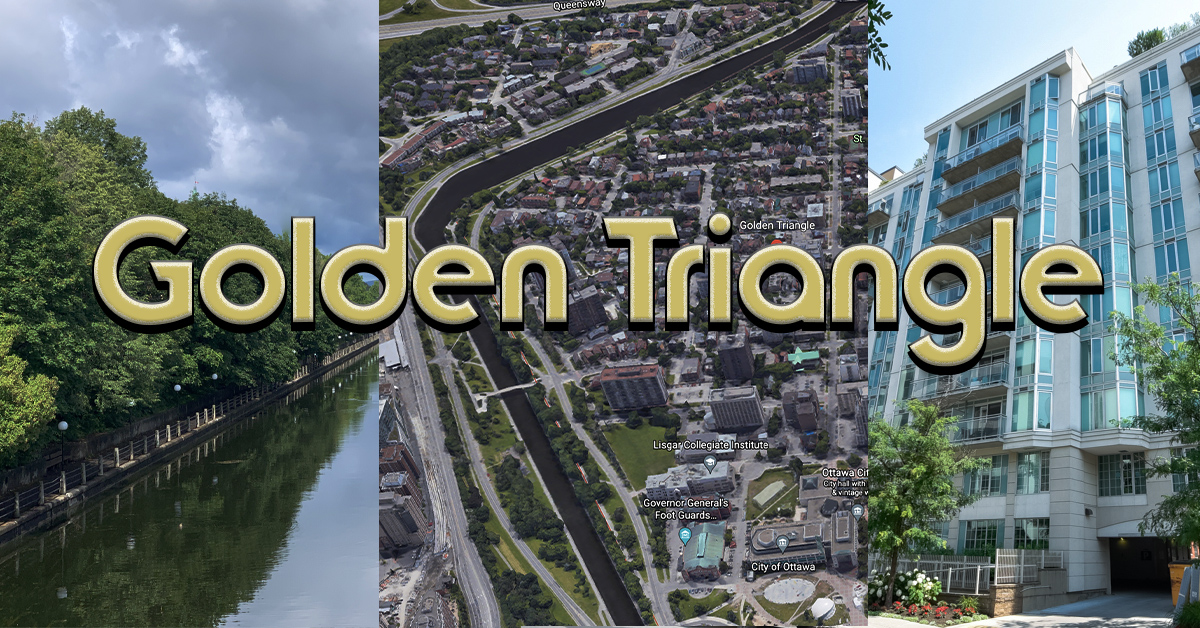 The Golden Triangle
The Golden Triangle is a special corner of Ottawa located in Centretown. Named for the geographical footprint that the neighbourhood occupies, this is the destination location in Downtown Ottawa. Footsteps from shopping, fine dining, and incredible recreation. This blog will take you through all of the amazing features that make this one of the most sought-after neighbourhoods in Ottawa.
Location
Location is everything when it comes to determining lifestyle. This location is perfect for a lifestyle that includes going out, enjoying the beautiful scenery and the heartbeat of the city. The Golden Triangle is located on the eastern corner of Centretown along the Rideau Canal. You are footsteps from Elgin Street which features great dining. You are also near the Byward Market and just across the Canal from the University of Ottawa.
The blend of Downtown Ottawa amenities and the recreation offered by the easy access to the Rideau Canal creates a special lifestyle that you could not find elsewhere.
4 Season Recreation
Bring your running shoes, your skates, your bike, your skis, and anything else you may need to enjoy 4 Season Recreation. In the summer you can enjoy the Canal by walking and biking along nearby paths.
Biking along these trails is sure to bring a sense of wonder and adventure to your life. Biking allows you to see the city from an entirely new perspective. You can also enjoy the Canal by boat, canoe, kayak, and more!
In the winter, the Rideau Canal turns into the world-famous Skateway. Enjoy skating through Downtown Ottawa and be sure to stop for a beavertail and hot chocolate to fuel up.
In addition to the recreation offered by the Canal, there are also some great parks including Minto Park and St. Luke's Park. Both are great spots for walking, playing with your dog, or just enjoying the fresh air.
Lifestyle
The Golden Triangle is known for its high-end restaurants, lively pubs, and cafes. You can find some incredible eateries along the main strip on Elgin Street. Some highlights that are within walking distance include Al's Steakhouse which is a white-tablecloth establishment that serves up classics such as steak, seafood, and martinis.
Gitanes is another great option. This high-end restaurant bolsters a menu of exquisite french cuisine. The menu features both classic and modern dishes to tantalize your taste buds.
MacLaren's is another great option for a night, albeit a very different option. This roomy sports bar offers awesome pub fare and Pool. That's right a true sports bar/pool hall right in your neighbourhood. Bring your appetite and your A-game to enjoy an exciting night.
These are just a few from the almost endless list of incredible restaurants that you can find in The Golden Triangle.
Homes
The homes in the Golden Triangle are a sight to see. From Boston Brownstones to newer condos, everywhere you look is an architectural treat. The diversity of homes means that there is something for everyone. Walking through your neighbourhood will feel like exploring a new city, it is a truly unique place to live.
There are also several embassies in the area including the embassy of Greece and of Germany. These types of architectural landmarks add to the special feeling that you will have when living in The Golden Triangle.
Come Experience The Golden Triangle
Whether to stay or just to visit, you need to see what The Golden Triangle has to offer. Take a stroll through the scenic neighbourhood, grab some great food and enjoy an amazing night.
If you want to talk about moving to the Golden Triangle, we would love to talk to you. Reach out via the contact form below!