Frightfest Saunders Farm 2023
Posted by Leif Olson on Friday, October 6, 2023 at 1:00 AM
By Leif Olson / October 6, 2023
Comment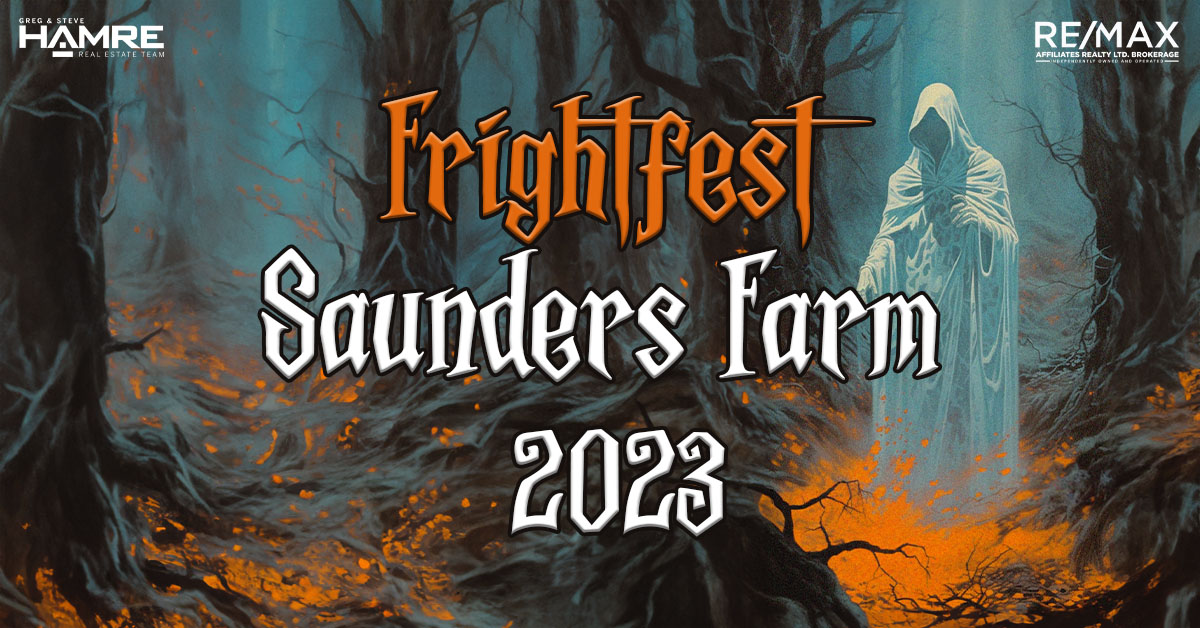 Get ready for a spine-tingling adventure at Saunders Farm, where fear takes center stage! As the #1 Haunted Attraction in Canada, Frightfest at Saunders Farm promises an unforgettable experience packed with multiple haunted attractions, mesmerizing street theatre, mouthwatering fresh food, and delectable homemade confections. Are you ready to embrace the thrills and chills of 2023's most anticipated haunted event?
A Feast for the Fearless: Food and Drinks
Before you embark on your terrifying journey through Frightfest, fuel up on the delicious offerings available on the patio. Sink your teeth into juicy burgers, savor the crisp perfection of fresh-cut fries, or indulge in the irresistible comfort of poutine. And, of course, there's no shortage of snacks to satisfy your cravings. But that's not all! Saunders Farm also serves up cold drinks, craft beer, and their very own Saunders Cider, ensuring you have the courage to face the horrors that await.
The Main Event: Immersive Haunts
Prepare to have your heart race and your nerves tested as you venture into five immersive haunts teeming with witches, goblins, and ghouls. Each of these attractions promises to be an experience like no other:
Haunted Hayride: Climb aboard if you dare for a chilling tour of the Saunders Farm grounds, where ghouls lurk in the shadows, ready to send shivers down your spine.
The Coven: Step into a witch-infested realm that will leave you both rattled and spellbound. The witches here have mastered the art of fear.
The Shambles: Enter the goriest of haunts, where genetically modified livestock with chainsaws for hooves are on the loose. Can you escape their relentless pursuit?
The Cemetery Scare Zone: Take a leisurely stroll through a sinister cemetery and crypt, but beware of the coffins you open – you might awaken something best left undisturbed.
Barn of Terror: Dr. Saunders' experiments have gone horribly wrong, and some of his creations still haunt the barn. Venture into this diabolical labyrinth only if you dare, and confront the terrifying remnants of his scientific endeavors.
The Showstopper: Ghost Town Stage
While the haunts are the main attraction, don't miss out on the eerie and exhilarating Ghost Town Stage show. Witness awe-inspiring feats such as fire and sword swallowing that will leave you both frightened and delighted. It's a performance you won't want to miss!
Location and Time
Frightfest is located at Saunders Farm at 7893 Bleeks Road in Munster, just past Stittsville.
The event runs:
September 23 – October 31, 2023
Fridays and Saturdays | 6 pm – 11 pm
Sunday – Thursday, October 22 – 26 | 6 pm – 10 pm
Sunday – Monday, October 29 – 30 | 6 pm – 10 pm
October 31 | 6 pm – 10 pm
Who Should Attend?
Frightfest at Saunders Farm is recommended for those aged 10 and above who are brave enough to confront their deepest fears. Whether you're a horror aficionado or a first-time thrill-seeker, there's something here to make your heart race and your pulse quicken.
So, mark your calendars and gather your courage for an unforgettable experience at Frightfest. Canada's #1 Haunted Attraction awaits, ready to send shivers down your spine and leave you screaming for more! Are you up for the challenge?