For The First Time in 40 years Mortgage Costs Are Less Than Rate of Inflation
Posted by Leif Olson on Monday, August 30, 2021 at 1:18 PM
By Leif Olson / August 30, 2021
Comment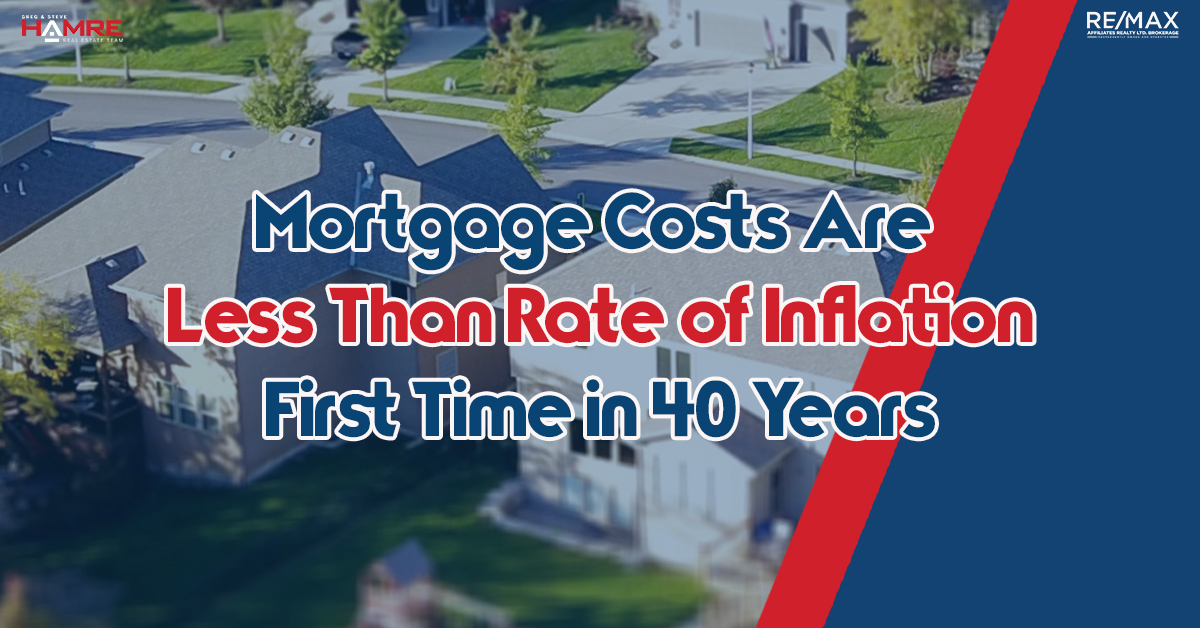 Last week we saw the headlines of a 3.7 percent inflation rate. This rate likely caught the attention of many Canadians who had not seen an increase this high since 1987. Although this news has caused concerns, there is some good news!
For the first time in 40 years, the cost of a mortgage is less than the rate of inflation. Attention is being paid to the rising cost of used vehicles, and food to name a few. However, real estate continues to be an area with a lot of potential to improve your life.
If you are reading the tea leaves or even just following basic economic knowledge then now is the time to get a mortgage. These rates are incredibly low and will likely rise in the next year.
Buyers can get a variable-rate mortgage for 1.15 percent this is about a third of current inflation rates. For those looking for a bit more security, the median discounted rate on a five-year fixed mortgage is 2.45 percent which is 125 basis points lower than the current inflation rate. The cost of a mortgage is inexpensive.
The thing that people need to realize is that the property is an asset that will appreciate with the rate of inflation. That means that while the actual property value increases your mortgage rate will be lower than inflation.
This will not last forever. Rates will eventually be risen gradually to slow down the rate of inflation. Forecasts are calling for the median five-year fixed mortgage rate to increase almost 300 basis points to 2.73 percent by the end of 2021 and crack the three percent mark in 2022.
I Already Have a Mortgage What Can I Do?
The current cheap money environment offers opportunities. Current borrowers should consider locking in at the lowest rate on their debt. For example, if a homeowner owes $400,000 on a mortgage and has a fixed-rate loan at 2.5 percent, and it would cost $5,000 to break the loan contract to get a new rate of 1.77 percent, then that homeowner could save more than $680 per month — or just over $40,000 in five years.
Borrowers with variable-rate mortgages will pay less to penalties than the equivalent of three months' interest, and either save money or get a bit of a guarantee by locking in for the next five years with an ultra-low rate.
Homeowners should avoid refinancing if the added debt does nothing to improve their overall balance sheet. An example of something worth doing is refinancing to add a new potential revenue stream. You could do something like finishing a basement suite or purchasing a condo to rent out. However, refinancing to update your kitchen in a home you don't intend to sell in the next five years may not be as wise economically.
Let's assume you buy a home this year and negotiate a $500,000 mortgage with a 5-year fixed rate of 2.0 percent. Over the course of the loan term, you will end up paying $46,000 in interest. Wait until 2022, when median fixed rates are expected to rise to 3 percent, and you'll end up paying just over $72,000 in interest, over the same period of time.
The current rates also have the advantage of making it easier for people to pay down their current debt which makes them less susceptible to the effects of rates rising in the next 3 years.
Contact us to talk about your real estate market or to be set up with a mortgage broker to help you capitalize on these historic rates.