Findlay Creek
Posted by Leif Olson on Monday, June 13, 2022 at 5:55 AM
By Leif Olson / June 13, 2022
Comment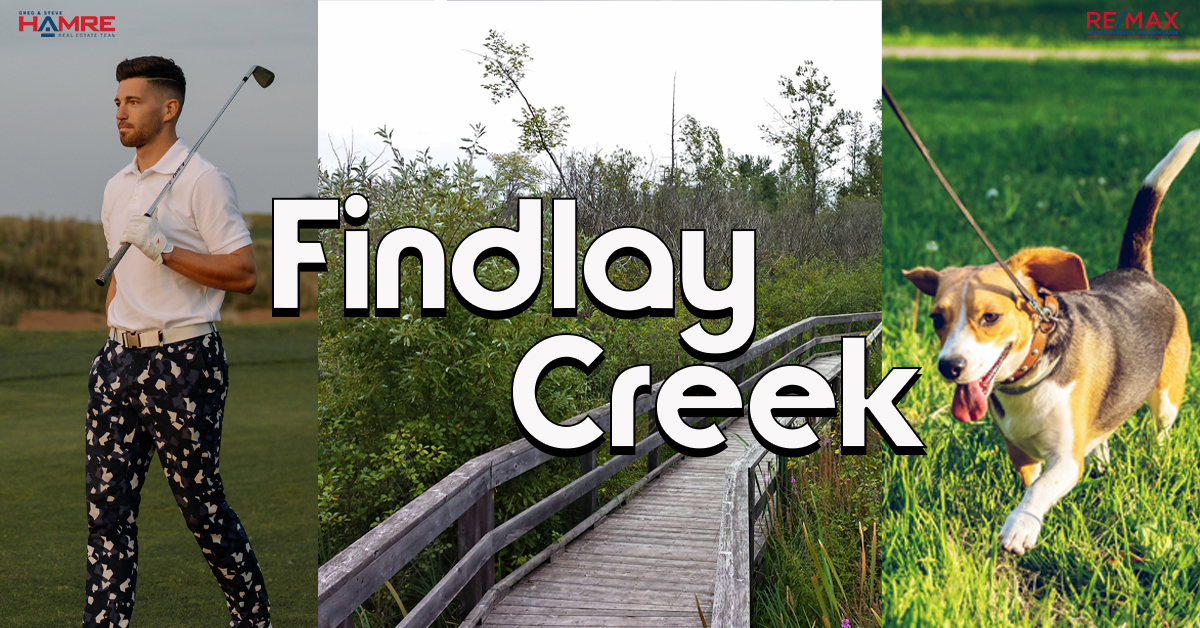 Findlay Creek
Ottawa's most searched neighbourhood on WeKnowOttawa.com is Findlay Creek! Why do so many people want to buy homes in Findlay Creek? This blog has all the details on Findlay Creek. From the style of homes for sale in Findlay Creek , to the restaurants, lifestyle and more!
This suburban neighbourhood in the South end of Ottawa is close to everything but far enough to foster its own community. Findlay Creek is one of the great neighbourhoods in Ottawa with a true community feel! Recreation, eateries, entertainment, and more! Homeowners in Findlay Creek are proud to call it home and it is easy to see why.
Findlay Creek offers diverse living options including single-family detached and semi-detached houses, townhouses and condominiums. There are newer builds and luxury homes. The diversity of choice means something for everyone.
Let's take a look at what makes Findlay creek one of Ottawa's best neighbourhoods. If you're looking to buy a home and you're interested in Findlay Creek homes for sale, make sure to check out and see what this neighbourhood has to offer!
Location
Findlay Creek is on the South end of the city of Ottawa. This is a suburban community that is near the Ottawa International Airport and surrounding rural communities such as Leitrim and other neighbourhoods like Riverside South. The neighbourhood is a perfect location for people who travel often for work or pleasure. The easy access to the airport makes travel a breeze.
Findlay Creek also has convenient access to urban areas as well as great recreation including an abundance of golf courses. The location is also about a 15-minute drive from Carleton University. The community features several schools including Vimy Ridge Public School.
The ease of transportation and access to the rest of the city allows residents of Findlay Creek to not only enjoy their community but the entire City of Ottawa
The Findlay Creek Community Association
The Findlay Creek Community Association is a volunteer group that represents the needs of the neighbourhood. This group works diligently to ensure that the community is well taken care of and remains in tip-top shape. The pride of ownership is clear in Findlay Creek and this Association is a huge part of this. This community association also helps to maintain rinks in the winter. Local skating rinks will be in impeccable shape for everyone to enjoy all season long in Findlay Creek.
The Findlay Creek Community Association also works with local businesses to offer special deals to community members. Their website and social media highlight great activities and events in the area. You never want to miss out on a great Findlay Creek Event, so make sure you stay tuned to their social media.
Additionally, the Findlay Creek Community Association has a strong neighbourhood watch program that helps to keep everyone in the community safe.
Fostering community within this neighbourhood gives the area a true sense of home at every turn. Needless to say, this association helps to improve the life of everyone who lives in Findlay Creek.
Schools in Findlay Creek
The topic every parent needs to read. There are so many great schools in Findlay Creek and the surrounding area. No matter the language and school board you require there are many great options for your children. We have the list below.
English Schools in Findlay Creek:
Sawmill Creek Elementary School (JK-8th)
Vimy Ridge Public School (JK-8th)
Bayview Public School (JK-4) - French Immersion Program
St. Francis Xavier Catholic High School (7-12th)
French Schools In Findlay Creek:
École élémentaire catholique Sainte-Bernadette (M-6ième)
Bayview Public School (M-4ième) - French Immersion Program
The Leitrim Boardwalk
Findlay Creek is home to great parks and recreation! There are plenty of opportunities for everyone. There are some great places to get out and enjoy nature, for example, The Leitrim Boardwalk takes visitors along a 500m path through this provincially significant wetland just south of the Findlay Creek community. Enjoy a quiet path along the boardwalk.
Golfing Galore
You don't have to golf to love Findlay Creek, but it helps! You will always be a short drive away from some of the best courses in Ottawa. Make sure you pack your clubs if you're moving to Findlay Creek.
There are some great golf courses surrounding Findlay Creek. There's Falcon Ridge Golf Course, Hylands Golf Club, Emerald Links Golf & Country Club and Target Golf Centre, just to name a few. This is an exciting place to get out and enjoy the game in the summer. They also offer great country clubs for dining and enjoying a quiet afternoon.
Restaurants
Findlay Creek has some tasty and delightful restaurants such as Jonny Canuck's Bar and Grill, Gabriel's Pizza, and Shawarma Byte. There are also plenty of great take-out options to enjoy a meal at home! There is an abundance of great food available for you to try in your own neighbourhood.
Rideau Carleton Casino
This future Hard Rock Casino is near Findlay Creek. This is sure to be a destination location for all of Ottawa for some great entertainment and gambling! Not to mention there will be so much great food available from the classic Hard Rock Cafe menu.
Not a fan of casino games? Not a gambler? That's fine! Hard Rock Casinos are also recognized for their superb food and atmosphere. Check out and enjoy the ambiance and dynamite feel of rock and roll.
What Variety of Homes Does Findlay Creek Offer?
Findlay Creek Single Family Detached Homes
This is one of the most common types of homes in Findlay Creek. Being one of two large categories that offer a variety of different types of structures. Single-family homes in Findlay Creek can be either attached or detached. A detached structure typically refers to a building that is physically separated from any other building or structure other than a garage. These homes are located on a single lot with no other residential structures. This is also referred to as a stand-alone structure. These homes can vary dramatically in size. Setting a budget while refining your search for a type of home will help you to refine your search and pick the style of home that is right for you.
Findlay Creek Bungalow
Bungalows are one of the most popular types of homes. This type of Findlay Creek home may be right for you if you are looking to live somewhere with fewer stairs. Many older neighbourhoods will prominently feature this type of home. Bungalows are one-story detached homes with the primary living area being contained to one floor. That means your living room, kitchen, dining room and bedroom are all on the same level. This does not mean that you cannot have a finished basement with additional living spaces. Bungalows can be quite spectacular. One added bonus of living in a bungalow is the ability to have high vaulted ceilings in the living space without impacting other areas of the home as would be the case in a two-storey home. These amazing spaces are called "Great Rooms" and can be some of the most picturesque living spaces anywhere. These are some of the things to think about when considering an Ottawa bungalow.
Findlay Creek Bi-Level/Split Entrance Home
This is a variation of a bungalow. It is entirely possible that you are living in a bungalow and do not realize it is a bi-level/split entrance. The bi-level/split entrance bungalow more effectively uses the lower basement areas by having the main level slightly raised. That means that the basement is raised above grade allowing for larger windows that can make your basement feel a lot less like a basement. Your front door would open to a foyer that is split between the two main levels. There is still less stair maneuvering required than in a traditional two-storey home but slightly more than would be necessary for a regular bungalow. Some of the advantages of this kind of Findlay Creek home include large main-level living areas and an above-grade basement that can have lots of sunlight and ventilation.
Findlay Creek One and One-Half Storey Home
These are two-level homes where about 60% of the total living area is actually on the first floor. This type of home is more cost-effective than a bungalow because it makes better use of the footprint of the building by having more square footage than a Findlay Creek bungalow on the same footprint. These homes have high pitched roofs that provide living space with slanted walls/ceilings in the upstairs bedrooms. These homes often have dormers or projections out of the roof that feature a window. These homes can be less expensive than a traditional two-storey but still have many of the same benefits. Add this type of home to your list if you are considering a two-storey home in Findlay Creek but are having trouble making the budget work.
Findlay Creek Two Storey
This is arguably the most popular type of home. Two-storey detached single family homes in Findlay Creek typically have the main living area, kitchen, dining room and a bathroom on the ground floor. The upstairs is usually reserved for bedrooms and the main bathroom. Unlike a one and one-half storey home the bedrooms do not have angled walls or ceilings. The upper level bedrooms can be quite spacious in homes like this. Residential areas in Findlay Creek are full of two-storey homes because of their ability to maximize the living space on the land. Because of their popularity, there is an abundance of different two-storey homes from many different styles to match any lifestyle and taste. These homes in Findlay Creek come in many different sizes and can range in price. If you are looking for a two-storey; you will also definitely need to select a budget to refine your search results.
Condos In Findlay Creek
There are several condominium buildings in Findlay Creek and nearby. These can range taller buildings to smaller complexes with just a few units. These are often a great and more affordable option for people looking to get into the Ottawa real estate market. Findlay Creek Condominiums can be a great option that offer a lot of benefits. Condominiums in Ottawa in general are becoming an increasingly popular option for people looking to downsize. There are often several different Findlay Creek Condos for sale. The one thing you want to consider is always the condo fees that may be associated with any given unit.
Parks In Findlay Creek
Dragonfly Park
Constructed near the Vimy Ridge Public School, Dragonfly Park is conveniently accessible for close-by neighbours and students.
Features: Basketball Court, Play Structure, Swings, Climbing Structure, Sand, GrassLand.
Diamond Jubilee Park - Parc du Jubilé de Diamant
Findlay Creek's Largest Park!
Features: Trails, Seasonal Outdoor Rink w/ Hockey & Basketball courts, Skate Park, Play Structures, Large & Creative Splash Pads, Soccer Fields, Picnic Tables & More
Butterfly Park - Parc Des Papillons
Butterfly Park offers all sorts for children to access and cool off in the summertime.
Features: Play structures, Splash Pads, Rock Climbing Wall, Open fields & more!
Creekview Park - Parc Creekview
A recreational Park in the heart of the Findlay Creek neighbourhood.
Features: Play Structure, Teeter totter, Swings, Splash Pads, Grass Fields, Gazebo / Picnic Tables
Anishà Park - Parc Anishà
A unique park built with an artistic twist. Spacious landscape with a quality shade and rest gazebo.
Features: Splash Pads, Fountains, Basketball Court, Play Structure, Swings, Teeter Totter, Benches, Picnic Tables
Tiger Lily Park - Parc des lis Tigré
Established in the community, convenient for dog walking. Surrounded by pathways and grassland.
Features: Play Structure, Swings, Pathways, Open Concept GrassLand, Tables, Benches
Turtle Park - Parc Tortue
A simple tiny water park in the middle of fairly open land, available in the summer for a rinse and a cool down.
Features: Rumor has it, that a friendly turtle of nature was once seen there.
Findlay Creek
What are you most excited for in Findlay Creek? Is it golf? The community feel? Parks and recreation? Is it the future for what's to come? There are so many reasons to love Findlay Creek. You will want to live here!
For more Community Spotlight blogs head here
Stay tuned for more blogs by liking our Facebook page!