End of Winter Home Maintenance
Posted by Leif Olson on Wednesday, March 3, 2021 at 11:30 AM
By Leif Olson / March 3, 2021
Comment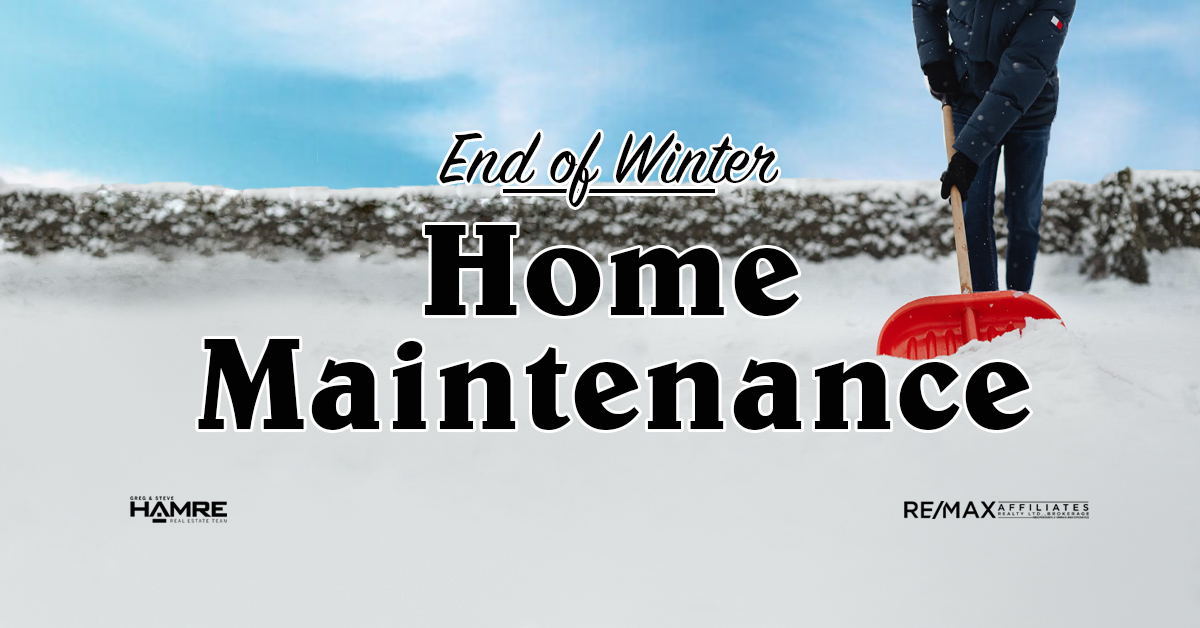 Spring is coming, but winter is still here! Are you keeping up to date on your winter maintenance tasks? This list will help keep you on track as we finish up winter and head into the spring.
1. Change Your Furnace Filters
Proper ventilation is key during the winter months. We are inside more than ever these days which means your HVAC systems are working overtime. Checking these filters more frequently will improve the quality of air. As we head into spring people tend to forget about their furnace. Until the weather really heats up you'll likely still be using your furnace into April in Ottawa. Changing these filters can limit allergens which are common in the spring.
Are you looking into buying a new furnace? Buying is always a better option than renting. Head here for more info!
2. Check Your Windows
If you notice foggy windows that start to form condensation there could be a number of problems. It may be excess humidity in the home, faulty windows or poor ventilation. You need to investigate this because it can cause mold that further compromises the window. Checking now will prevent bigger issues later. If humidity is your issue you can easily purchase dehumidifiers to clear up the problem. Faulty windows may need to be resealed or replaced depending on the extent of the issue.
3. Check Your Smoke Alarms
It is important to check your smoke alarms and carbon monoxide detectors every month. It takes only a few moments and provides you with the peace of mind that can last the whole month long. People often forget to do this. Now is a great time to get back in the routine and check if they're working.
For more fire prevention tips you can head here!
4. Plugin Safely
While we're on the topic of fire safety. One great way to avoid fires is to check your power bars and extension cords. Look for a rip or tear which can happen over the years from general use. Do not tape over it, just order a new power bar or cord. This is an inexpensive fix that can save you big time in the long run.
5. Watch for Icicles and Ice Dams
Depending on the design of your roof you may notice some icicles forming in certain areas. This can happen at the end of winter heading into spring as the temperatures rise above and then return to freezing. The ice and snow melt forming water that drips down and re-freezes as temperatures shift. Keep an eye out for them to prevent any injuries.
If you suspect that an iced has formed you will need to contact a professional to investigate. Ice dams can cause serious flooding and damage to your home. If you think that there might be one forming, be sure to contact a trusted pro.
6. Keep Clearing Your Driveway and Walkway
Snow is still falling, even if it is melting fast you want to make sure to keep your driveway clear. Properly clearing snow as it comes will make sure that you and your guests can easily access your home. Proper removal also prevents flooding that could be caused by the build-up of snow in the wrong places. It's almost spring but you still need to stay on top of snow removal for a few more weeks.
For more home-owning tips be sure to stay tuned to our Facebook.
If you're looking to get out and enjoy the last few weeks of winter you can head here for some activity ideas!