Do Decorations Matter When Selling Your Home?
Posted by Nic Hamre on Friday, December 9, 2022 at 9:50:36 AM
By Nic Hamre / December 9, 2022
Comment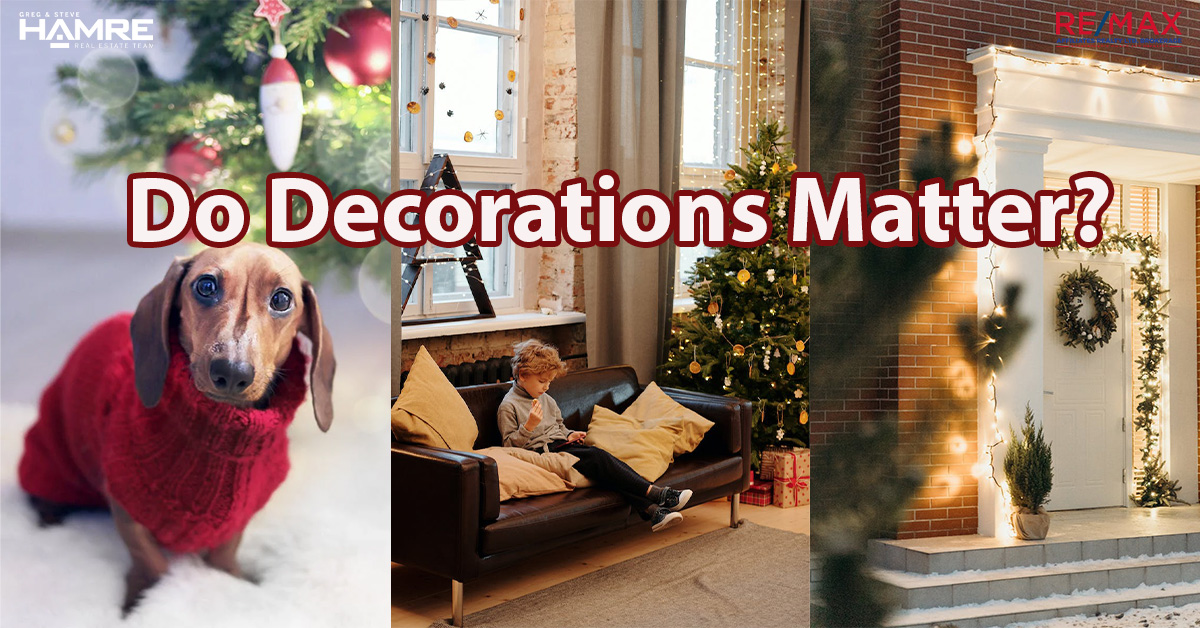 Do decorations matter when selling your home?
We think so. In fact, we think it can be very helpful and attest to the coziness and warmth that comes with the home. A festive feel is a great charismatic feature that comes with homeownership.
It's easy to kindle the feeling of excitment for Christmas. Decorations allow potential Ottawa homebuyers to envision spending the holidays there themselves or as a family. As soon as they start picturing themselves living in your home, you have their attention.
Holiday's are commonly spent in the premises of one's home. It is where memorable moments are often made. Having an emotional attachment to your home is normal for so many reasons. It's not just an investment, it's a sentimental decision and decorations can play into that process.
Typically, when you have professional stagers, it is encouraged to eliminate extensive displays of family portraits and what not. However, adapting to a seasonal and holiday atmosphere, can be fitting in the moment for those looking for a 'feel at home' moment.
If you're in the process of selling your home or considering selling your home, read down below for some tips and tricks to consider if you plan to sell your home during the holiday season.
Pictures Of Your Home
Try to take pictures beforehand. Green Grass? Even better. If possible, have the listing photos of your home taken before decorating. This will allow potential buyers the chance to see your space both with and without decorations, and also will keep the listing photos from looking outdated if your home is still on the market in the months after the holidays.
Classic - Simple - Generic
When staging your home for the holiday season, many people only think of the indoor spaces. The outdoor curb appeal matters too! You may love putting out your festive holiday inflatable decorations every year, but consider keeping those tucked away for the time being if you are actively showing your home during the holiday season, as they may not be everyone's ideal décor options.
Using lighter shade/ neutral tone bulbs and string lights to keep your outdoor décor simple, while also looking sophisticated and classy. Consider utilizing any pillars or railings on the front step/porch by wrapping them with string lights and a garland, or putting down a holiday themed doormat to help welcome prospective buyers to your home.
While you may normally go full out with decorating for the holidays, try to keep the décor simple if you're trying to sell. This will help keep your home from looking too cluttered and will allow potential buyers to see where their own decorations might fit if they are thinking of making an offer.
Keeping your décor generic will also help prospective buyers to envision themselves in your home, as not everyone celebrates the same holidays. Keeping things simple and generic will allow your home to be viewed as being festive and cozy, while also being approachable to potential buyers.
Some examples of simple, generic décor could be adding things like blankets on the end of beds or adding a festive wreath to the front door.
Showoff Space
When decorating for the holidays, it can be tempting to go all out with décor. It is important to keep space in mind when decorating, so you aren't blocking any key viewpoints or are restricting access to parts of your home that potential buyers may be trying to look at.
If you typically decorate with a large, bushy Christmas tree, consider getting something that is slimmer to help make your space appear more spacious.
Tuck Away Personal Items
While it may be tempting to pull out festive family photos from past holiday seasons and put them on display, it may not be the best idea if you're trying to sell during the holidays. By tucking personal items away, as mentioned above, you allow potential buyers to see themselves in the space, without being distracted by personal items that belong to the current owner.
Fun Fact:
January 1st consistently has the most real estate web related traffic year to date. Knowing this, folks can have a general understand of reasoning behind decoration because of the time of year. If your home has a Christmas tree with hanging coloured lights in July, most people won't be able able to reasonate.