Cross-Country Skiing In Ottawa
Posted by Leif Olson on Wednesday, January 18, 2023 at 11:11 AM
By Leif Olson / January 18, 2023
Comment

What is the best season to get outdoors and enjoy Ottawa? Many people would be quick to jump in and say, Summer. In Ottawa, Winter might just be the best season for outdoor recreation and adventures. Ottawa is a four-season recreation city from skating to sledding to skiing and beyond there is so much to enjoy.
This time of year Nordic skiing is taking over the Nation's Capital. The calm winter snow has covered the nation's capital in a blanket of skiing potential. The calm noise-canceling properties of snow give Ottawa an almost magical feeling for cross-country skiing. With trails and paths across the city, there are so many locations to enjoy from east to west and everywhere in between.
There are some other great winter activities you can find here. Today we will be highlighting the best spots to cross-country ski! We'll name some spots across the city so you can visit. If you do not have cross-country ski equipment do not worry, there are great locations to rent ski equipment from if you want to give it a try. Kunstadt sports offers rentalequipment and will make sure that you are getting the right size. Read on for the best cross-country ski trails in Ottawa.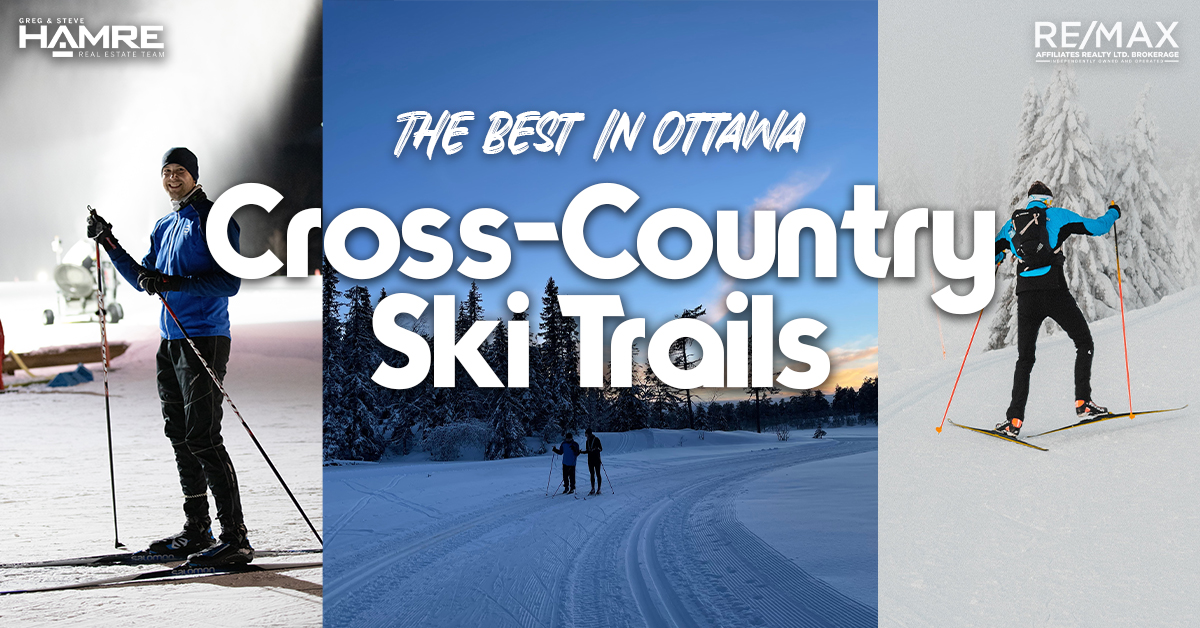 Prescott-Russell Trail Link
If you are looking for a relaxed cross-country ski spot, you could try the Prescott-Russell Trail Link. The trail has many access points from Navan, Orleans, Bradley Estates and runs all the way into Quebec. The trail is mostly flat but crosses some great Winter scenery. The trail runs along the old railway tracks and is maintained year-round. In the summer many locals use the trail for biking and running but it might be even more fun in the Winter. The trail travels along marshes, over creeks, and beside farmland and wooded areas. It isperfect for any skill level and a great spot for beginners looking to get on skis for the first time.
You can find parking along the road at several entry points, parking lots are not winter maintained but depending on the time of year you may be able to park there if you have a truck. The streets are relatively calm and not too busy. You may see a few snowmobilers, but other than that it is a fairly quiet trail. Grab the skis and find your closest access point and enjoy a quiet trail. If you're in the east end of Ottawa this is a great spot!
Mer Bleue
Staying in the east end you could check out Mer Bleue Conservation Area Loop Trail. This trail is a little more difficult, with some climbs and descents. You can access the trail on Anderson Road. This trail could be a great workout for Ottawa Nordic Skiers. The climbs will be easy for some depending on your skill level. the descents make it all worth it as you fly down the slopes.
There are several parking lots but they can become busy depending on the day and time of day. There is plenty of space to park nearby along the road as the trail actually cuts across one street. So much to explore at Mer Bleue you will be happy you tried this ski trail.
This loop offers a great opportunity for exercise and seeing some nature. Great location if you live in Blackburn Hamlet, Navan, Orleans, or Beacon Hill.
Ottawa River Pathway
Ottawa River Pathway, the eastern section goes from Convent Glen all the way to Rockliffe Park. This scenic route follows the river and provides some incredible scenery with access points all along the way. There are several parking lots including some along the Aviation Parkway. Great location for skiing if you live in Convent Glen, Hiawatha Park, Rothwell Heights, Beacon Hill, Downtown Ottawa.
Kichi Sibi Winter Trail
Kichi Sibi Winter Trail is 16 km winter trail along the Kichi Sibi Winter Trail river parkway that is free to use and welcome to all. This is a great trail for anyone from Westboro and Downtown Ottawa. Enjoy a well-groomed trail done with a professional grooming machine this is one of the best-maintained trails in all of Ottawa. Nordic Skiers from across the region will come to use this trail.
Kanata Nordic Ski
Kanata Nordic Ski is a great spot for true enthusiasts. This club offers memberships and day passes. Day passes are $10 for weekdays. Weekends are reserved exclusively for members.
Membership pricing can be found below:
A Family2 is considered to be two adults of the same household and their dependent children under the age of 23 years (as of Dec 31st of the current registration year). All family memberships must have at least one individual above 19 years old listed. Fee: $190
A Family1 is considered to be one adult and their dependent children under the age of 23 years (as of Dec 31st of the current registration year). All family memberships must have at least one individual above 19 years old listed. Fee: $152
A Couple is considered to be two members of the same household with at least one adult. Fee: $164
Adult – Individual memberships are available to anyone 19 years of age or older. Fee: $113
Kanata Nordic Ski lets you know the conditions before you head out which can make sure you aren't wasting your time heading to a bad spot. This is a perfect west-end spot for people from Kanata, Bridlewood, Stittsville, Bells Corners or anywhere else in the west end. It is also a great way to support local.
Nordic Skiing In Ottawa
Nordic skiing is defined as: "The various types of skiing in which the toe of the ski boot is fixed to the binding in a manner that allows the heel to rise off the ski." What the definition doe not mention is the fun and sens of adventure that accompanies this activity. This sport began in Norway and Sweden but has become a staple of Ottawa life. Enjoy Nordic Skiing across Ottawa this winter and let us know which ski trail is your favourite!
There are plenty more great activities to enjoy with the freshly fallen snow. For more be sure to like us on Facebook. To check out some other useful blogs click here.
Enjoy a safe, relaxing, and fun Winter, and we hope to see you soon!