Condos Are Cool
Posted by Nic Hamre on Tuesday, January 24, 2023 at 1:49:04 PM
By Nic Hamre / January 24, 2023
Comment

Condominium Lifestyle
If you're on the fence about choosing a condominium lifestyle, let us provide you with some compelling reasons to consider it. Living in a high-rise condominium in downtown Ottawa is a lifestyle change that can offer many benefits and conveniences. While it may seem similar to living in a hotel with amenities like elevators and shared spaces, it can be so much more. Imagine calling it your own home, with the added perks of urban living.
Condos are not just for city dwellers, they can be a great fit for anyone looking for a low-maintenance, practical and convenient living option. Whether you're a first-time homebuyer, a retiree, or a busy professional, living in a condo can provide you with the perfect balance of convenience and community. With proximity to the city and a wide range of options to choose from, if you're thinking of moving and selling, there's never been a better time to consider a condominium lifestyle.
Balcony… with a view?
A balcony feature can be a major selling point for many buyers, as it provides an additional space to enjoy the outdoors, entertain guests, and take in the views. When looking for a condo, it's important to consider the size and accessibility of the balcony, as well as the views it offers. A balcony with a scenic view can be a game changer, adding to the overall appeal and value of the unit. A balcony with a view can be especially enjoyable in a four-season city like Ottawa, where you can enjoy the changing seasons and take in the natural beauty of the surrounding area. Even though you may not use the balcony every day, the view will always be there, providing a sense of connection to the city and nature.
Amenities
When it comes to amenities, high-rise condominiums can offer a wide range of options to suit different lifestyles and preferences. Some condos may offer a gym, a pool, and a hot tub, while others may have a sauna or a rooftop patio. Consider if you are looking for a place to relax and unwind, or if you prefer to stay active. Many condos also have a designated outdoor barbecue area, perfect for entertaining friends and family. If you're looking for indoor entertainment, a pool table and dart board can provide hours of fun.
It's important to note that the amenities available within a building's common elements are determined by the condo board. As a unit owner, you have access to these amenities, but the condo board has the final say on what amenities are provided and how they are maintained. It's important to consider the amenities offered by the building and whether they align with your lifestyle and preferences before making your purchase.
Trash Smells?
Living in a high-rise condominium also means you have access to on-site garbage disposal facilities, which can be a major convenience. Instead of having to wait for city pickup or lugging heavy trash bags to the curb, you can simply take your garbage to the designated area within the building. This can be especially helpful for those who generate a lot of waste, such as families with young children or individuals who cook frequently. Additionally, having on-site disposal facilities can help keep the building and surrounding area clean and free from unpleasant odors.
Black Ice?…Snow Storm?
A benefit that everyone can appreciate, especially if you've experienced the efforts of clearing heavy wet snow with a shovel. Living in a high-rise condominium, in the city of Ottawa, means that you don't have to worry about the hassle of clearing snow and ice from your driveway and sidewalks.
The management company or association is responsible for maintaining the common areas, including the parking lot and entrance to the building. This means that during a snowstorm or when there is a risk of black ice, the walkways and parking areas will be cleared and salted, providing safe and easy access to your car.
Enter your car that has been sheltered and protected. This can be a huge relief, especially during the winter months when shoveling and snow blowing can be difficult and time-consuming. In addition, living in a condominium also eliminates the need to spend money on snow removal services, which can be costly, especially during heavy snowfall.
Cleaning?…Maintenance?
Another great aspect of living in a high-rise condominium is that the maintenance and cleaning of the common areas are handled by the management company or association. This means that you don't have to worry about mowing the lawn, trimming hedges, or cleaning gutters. This can save you a lot of time and energy that you can use to enjoy your leisure time. Additionally, you don't have to worry about the costs of maintaining outdoor equipment such as lawn mowers, leaf blowers, and power washers. This can be a huge financial benefit, especially if you're living on a budget or if you're not particularly handy with tools.
It can be as simple as picking up the phone and dialing. Having maintenance staff on call or available to address any maintenance issue that may arise in your unit is a huge plus. This means you don't have to spend your weekends fixing a leaky faucet, unclogging a drain, or changing a light bulb. The staff will take care of it for you, allowing you to enjoy your free time.
Consider living in a high-rise condominium if you are considering what offers a life of minimalism and simplicity when it comes to maintenance and cleaning. You can focus on the things that matter most to you, such as spending time with loved ones, pursuing hobbies, or traveling, without having to worry about the upkeep of your home.
Outdoor Space
Perhaps these are of interest? Basketball courts, outdoor hockey rinks, tobogganing hills, soccer fields, dog parks, baseball and softball diamonds, tennis courts, bike paths, trails & walking paths, the canal, the list goes on. Ottawa is known for its abundance of outdoor spaces and recreational areas, from parks and playgrounds to sports fields and bike paths. While living in a high-rise condominium can mean not having to maintain a yard, it is important to consider the proximity of these outdoor spaces to your new condo. Some residents may find that they have to travel a significant distance outside of their new condo to access parks and playgrounds for children or dog parks for their furry friends. This is an important factor to consider, especially for families with young children or pet owners. However, it is worth noting that location will always be a factor in the value of a property and the proximity to outdoor spaces can be a key factor in the decision-making process for many buyers.
Privacy
Living in a high-rise condominium can mean sharing walls with your neighbours, much like in an apartment. This means that you may occasionally hear your neighbors' activities, such as celebrations, or footsteps in the hallway. Additionally, you may hear noise from pets or loud TVs. It's important to keep in mind that this is a common aspect of condo living and something to consider when searching for the right fit.
However, it's worth noting that buyers have different social mobility expectations, and with a wide variety of condominium buildings to choose from, it's possible to find a fit that meets your needs. Our team of real estate professionals can help you navigate the options and find a condo that is the perfect fit for you. Consider even a personalized home search.
Parking
Parking can be a major consideration when choosing a high-rise condominium or apartment. Many condos come with designated parking spaces, but it's important to verify the number of parking spaces available and whether they are assigned or unassigned. If you own a car, it's important to ensure that you have a designated parking spot for your vehicle, as well as space for any additional cars or visitors.
If your condo only comes with one designated parking space, it can be challenging to find additional parking options. Some condos may offer additional parking spots in garages or on the street, but these spots may come at an additional cost, whether that's a monthly or yearly fee. It's important to factor these costs into your budget and make sure you are comfortable with the parking options available.
When looking for a new condo or apartment, it's important to keep parking in mind and take into account the availability, cost and convenience of parking options. Don't hesitate to ask the property management team or the real estate agent about parking availability and costs before making your decision.
The Housing Market in Ottawa is Constantly Evolving
This particular sector of the market excpetionally strong with current market conditions. More and more high rise buildings are being developed as appartments (rentals). With that, the demand for condo apartments is on the rise.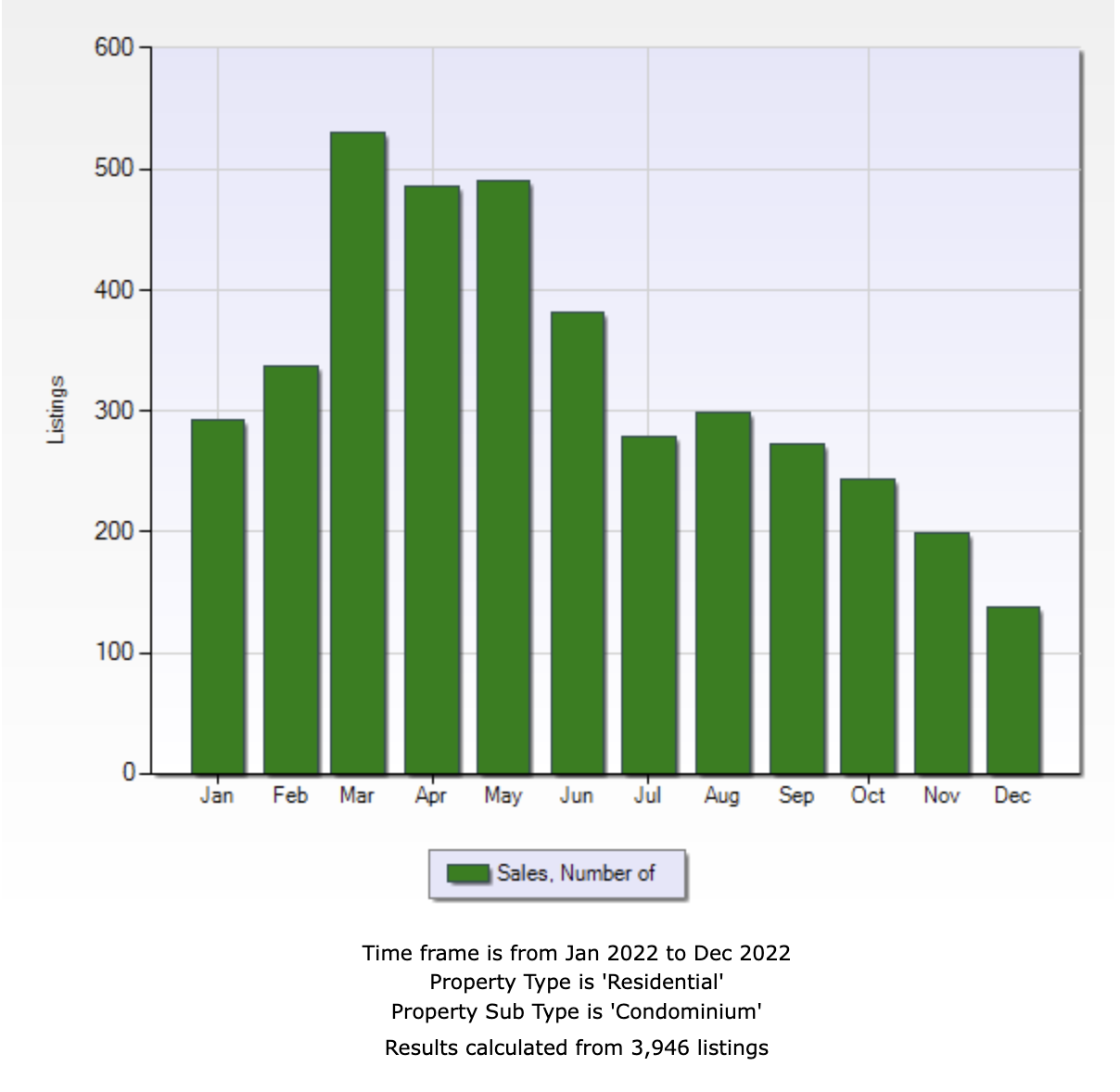 With the Ottawa Valley OPP and Statistics Canada reporting an increase in population, the need for affordable housing options is becoming more and more prevalent. Condo apartments offer a great option for those looking for a property type that is both affordable and low maintenance. This is particularly true for first-time home buyers and those looking for rental apartments.
One of the biggest draws of condo apartments is the convenience they offer in terms of location and access to public spaces. Many condos are located in the heart of the city, providing easy access to shopping, dining, and entertainment. Additionally, many condos feature amenities such as parking garages, fitness centers, and swimming pools, which add to the overall appeal of the property.
When it comes to the square footage, condo apartments are usually smaller than traditional single-family homes, but they still offer a comfortable living space. Studio apartments and one-bedroom apartments are perfect for single professionals or couples, while two-bedroom apartments are suitable for families and those who entertain guests. The Ottawa Noise, however, can be an issue for some people, but it varies depending on the location of the condo.
The Ottawa Real Estate Board and Ottawa Housing Market Report show that the price per square foot for condo apartments is lower than that of single-family homes. This is particularly true for one-bedroom apartments and studio apartments, which are currently some of the most affordable options on the market. Additionally, the Ottawa Real Estate Board reports that the lowest rates for condo buyers are for first-time home buyers, who can take advantage of the annual increase in prices.
When it comes to buying a condo apartment, it's important to work with experienced real estate professionals who can guide you through the process. They can help you find the right property that fits your budget and lifestyle. They can also provide valuable insight into the Ottawa housing market and help you understand the trends and fluctuations in the market.
The Ottawa housing market is constantly evolving, and condo apartments are becoming an increasingly popular option for those looking for affordable, low-maintenance living. With the help of experienced real estate professionals, you can find the perfect condo apartment that fits your budget and lifestyle. So, if you are thinking of buying a property in Ottawa, it's a great time to do so.
Expected Cost
When considering the cost of living in a high-rise condominium, it's important to be aware of both one-time and ongoing expenses. While the purchase price of the unit may be the initial cost that comes to mind, there are other costs to consider as well.
One of the main ongoing expenses to be aware of is monthly condo fees. These fees are typically used to cover the cost of maintaining and operating the common areas of the building, such as the lobby, elevators, and shared amenities. The amount of the fee can vary depending on factors such as the age of the building, the materials used in construction, and the level of amenities offered. It's important to understand how the fees are determined and how they are allocated, so that you can budget accordingly.
In addition to monthly fees, there may also be costs associated with unexpected repairs, broken fixtures, and other issues that arise. It's important to understand that these costs may be passed on to the residents in the form of special assessments. Therefore, it's a good idea to set aside some money in your budget for unexpected expenses.
Lastly, you should also consider the cost of insurance for your unit. The management company or association may have a master policy that covers the building as a whole, but you will still need to have insurance for your own personal property.
Common Associated Costs For Condominiums
Upfront Costs (Initial Payments)
Property Cost or Downpayment

Legal Document Fees and Property Taxes

Moving Costs
Recurring Payments (Essential Services)
Amenity Fees

Utility Bills

Mortgage Payment

Yearly Property Tax

Condo Association Dues

Rent
Note
You may not be able to decide when maintenance and repairs get done.
You may have to pay for amenities that you might never or rarely use.
Less privacy in some condominium units and possibly more noise.
Possibility of special assessment charges for unexpected repairs.