Canadian Tulip Festival Ottawa 2023
Posted by Leif Olson on Tuesday, May 9, 2023 at 11:11 AM
By Leif Olson / May 9, 2023
Comment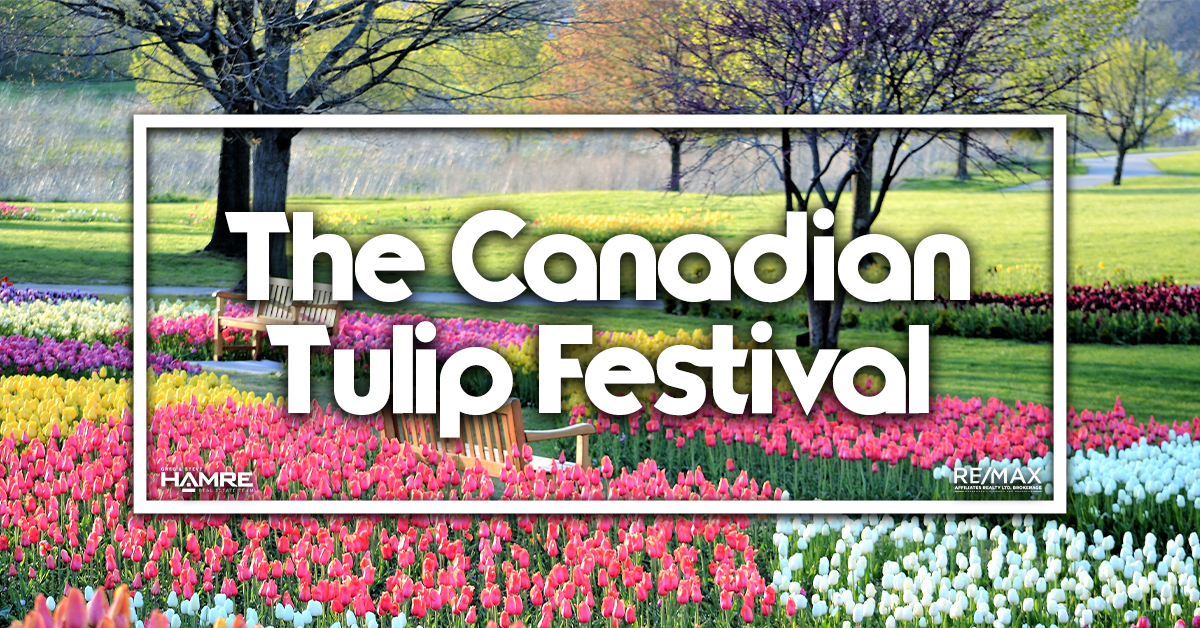 The Canadian Tulip Festival is back in Commissioners Park this year! The Canadian Tulip Festival has been recognizing the sacrifices Canadian Soldiers made during the liberation of the Netherlands since 1953!
From May 12 to 22 Ottawa celebrates its 71st Anniversary with many new activities. The beautiful world-famous tulip gardens will be open to the public to enjoy. If you are curious about the history of the Canadian Tulip Festival, the schedule for this year's event, locations, and more, you need to read this article!
History of The Canadian Tulip Festival
In 1940 the German military invaded the Netherlands in what would become a 5-year occupation of the country. In response to this invasion, the Dutch royal family was forced to flee to the United Kingdom. This safe haven did not last long as the United Kingdom eventually came under fire from German bombing raids. With much of Eastern Europe under siege, the Dutch Royal Family had nowhere left to run. Until Canada offered a helping hand.
Princess Juliana, next in line to the Dutch throne, and her daughters, the Princesses Beatrix and Irene retreated to Canada and settled in Ottawa.
In 1943 Princess Juliana was set to give birth. This posed a difficult problem for the Royal Family. That problem was that because she was in Canada her child would not be born on Dutch soil. The soon-to-be-born Princess would therefore become ineligible for the Dutch throne. The government of Canada acted swiftly to temporarily declare the room where Princess Juliana was giving birth as outside of Canadian territory. That meant for a short time a room a the Ottawa Civic Hospital was technically not part of Canada.
Princess Margriet Francisca was born on January 19, 1943. Princess Margriet was named after the marguerite, the flower worn during the war as a symbol of resistance to Nazi Germany. She was christened at St. Andrew's Presbyterian Church, Ottawa, on 29 June 1943. Her godparents included US President Franklin D. Roosevelt, Queen Mary (Queen dowager of the United Kingdom), Märtha, Crown Princess of Norway, and Martine Roell (lady-in-waiting to Princess Juliana in Canada). Margriet first stepped foot in the Netherlands in 1945 after Canadian and Allied forces were able to liberate the country.
Following her return to the Netherlands, Princess Juliana presented 100,000 tulip bulbs to Canada in gratitude for the significant role played by Canadian troops in liberating the Netherlands and for providing her family with a safe haven during the war. The following year she sent 20,500 tulip bulbs. Juliana continued to send thousands of bulbs as an annual gift. She became queen in 1948 and continued the tradition. Each year the people of the Netherlands and the Dutch royal family send thousands of tulip bulbs to Ottawa as a sign of international friendship and appreciation.
The Canadian Tulip Festival preserves the important memory of the Canadian troops' role in the liberation of the Netherlands and Europe, as well as commemorates the birth of Dutch Princess Margriet in Ottawa during World War II—the only royal personage ever to be born in Canada.
In 1953 the inaugural Canadian Tulip Festival was held in Ottawa at the suggestion of world-renowned photographer Malak Karsh. This year marks the 71st Canadian Tulip Festival.
Activities
Tulip Legacy Walking Tours
10am-6pm daily.
$10 per person, children 12 and under are free. Tours run every 15 minutes.
These tours walk you through the Tulip Displays in Commissioners Park and tell you the story of the Canadian Tulip Festival and the surrounding area. Learn the stories behind statues in the park and more. This tour is guided by professional Tulip Festival experts.
Tulip Markets
10am – 10pm daily.
Shop 'til you drop at Commissioners Park and enjoy a taste of the ByWard Market without leaving Festival grounds! Take the Tulip Festival home with you by purchasing tulip bulbs to create your own unique display at home.

Tulips at Night
8pm – 10:00pm daily. Stroll the lit garden beds at night and see tulips in a different light. Sunset does not mean that the Tulip Festival ends. The gardens will be illuminated for your enjoyment from 8pm to 10pm every night of the festival.
Movies in the Park
Matinees start at 2 pm and evening movies start at 7 pm daily. End times will vary based on the selections for the evening.
Some of the movies that will be shown for matinees include Spider-Man Into The Spiderverse, The Lorax, Shrek, and more! For the evening movies, you can watch fan favourites like Top Gun, 21 Jump Street, or the Imitation Game. Access to movie screenings is absolutely free.
Ghosts of the Glebe Walking Tour
8pm – 9:30pm daily. $20 per person, children 12 and under are free. Tours run every half hour.
For those brave enough to face the supernatural, there are walking tours where guides will show you Ghosts of The Glebe! Be careful, you never know what mysteries you may unravel as you are guided through local supernatural hot spots or locations where legends of ghostly spirits reside. The Ghosts of the Glebe walking tour is presented as a 45-minute four-person play.
Blacklight Boardwalk
8pm – 10pm daily. See the park like a pollinator.
Have you ever wondered what a bumblebee sees when looking for flowers to polinate? This blacklight tour gives you that insight. The tour also illuminates the flowers in a way that you may have never seen before, making for some interesting photo opportunities.
Battle of the Atlantic Sound & Light Show
Every night from 9:15 pm to 9:25 pm on our Blacklight Boardwalk
Witness the tale of two courageous Canadian Naval ships in the midst of the Second World War. And these stories aren't just to be heard, they're to be experienced. By combining storytelling with dramatic sound and lighting effects we will create a stunning spectacle on the waves of Dow's Lake. Become immersed in the heroic stories of HMCS Haida, HMCS Ottawa, and their crews. Watch as these pieces of Canadian history are brought to life all around you. This 10-minute show is free for everyone.
*Please note this show contains flashing lights, sudden noises, and water explosions.
You may get wet. Viewer discretion is advised.
Location Of The Canadian Tulip Festival 2023
Parking For The Ottawa Tulip Festival
There is very limited parking at Commissioners Park. The Dows Lake parking lot is likely going to be unavailable due to construction. Paid parking is available at the Experimental Farm. Additional lots can be found on Preston street and Champagne Avenue. It is approximately a 5-20 minute walk depending on the lot you choose. Accessible street parking can be found on Dows Lake Road. Accessible placard must be visible or cars will be ticketed. Use Google Maps to search for additional parking in the Festival area.
Transportation To The Ottawa Tulip Festival
Taxi, Uber and OC Transpo are all great options to get to the park. If you are taking a Taxi or Uber, please ask them to let you off on Carling Avenue to avoid traffic delays. Some street closures will make travel around the Dows Lake Pavilion difficult.
The Tulip Shuttle will be making stops between downtown Ottawa hotels and attractions and the Festival grounds. For a small fee, you can have one-way or round-trip transportation.
The Tulip Shuttle runs every day of the Festival (May 12th – 22nd). Every hour on weekdays, and every half-hour on weekends. The shuttle makes numerous stops around the area to ensure you can get exactly where you need to go.
The cost is $15 for a one-way trip and $25 for a round trip.
Please be advised schedule times are expected to vary. Check the scheduled stop times below to find when the Tulip Shuttle will be by to pick you up!
Westin Ottawa – first stop 10:00 am, last stop 6:00 pm
ByWard Market – first stop 10:05 am, last stop 6:05 pm
Chateau Laurier – first stop 10:10 am, last stop 6:10 pm
The Lord Elgin – first stop 10:15 am, last stop 6:15 pm
Canada Agriculture and Food Museum – first stop 10:30, last stop 6:30
Dow's Lake Pavilion – first stop 10:35 am, last stop 6:35 pm
Canadian Tulip Festival Ottawa 2023
In conclusion, the Canadian Tulip Festival is an iconic event that celebrates the beauty and history of the tulip flower annually, as well as the strong relationship between Canada and the Netherlands that was forged during World War II.
Each year, thousands of tulips bloom in vibrant colours throughout Ottawa, creating a breathtaking sight for visitors and locals alike. Along with the stunning floral displays, the festival also offers a wide range of activities including movie screenings, tours, and live entertainment. Whether you're a flower enthusiast or simply looking for a fun springtime activity, the Canadian Tulip Festival is definitely worth a visit. It's a true celebration of international friendship, Canada and Spring and it's sure to leave a lasting impression on all who attend.