Bluesfest Ottawa 2023
Posted by Leif Olson on Tuesday, July 4, 2023 at 1:11:45 PM
By Leif Olson / July 4, 2023
Comment
It's that time of year again! Ottawa Bluesfest is here! The 2023 Ottawa Bluesfest lineup is considered to be one of the best and most star-studded in years. Featuring music from more genres and artists from around the globe. There is certainly something for everyone to enjoy this year. Whether it's a fan favouritie and icon like Shania Twain, rapper turned movie star Ludacris, or certified rock stars like the Foo Fighters just to name a few.
Click for the full RBC Stage Headliner Lineup for RBC Bluesfest 2023, featuring a Spotify music player to sample music from all the artists!
Ottawa is the place to be for Bluesfest 2023. This article will tell you the lineup, schedule, location, and everything you need to know for RBC Bluesfest 2023.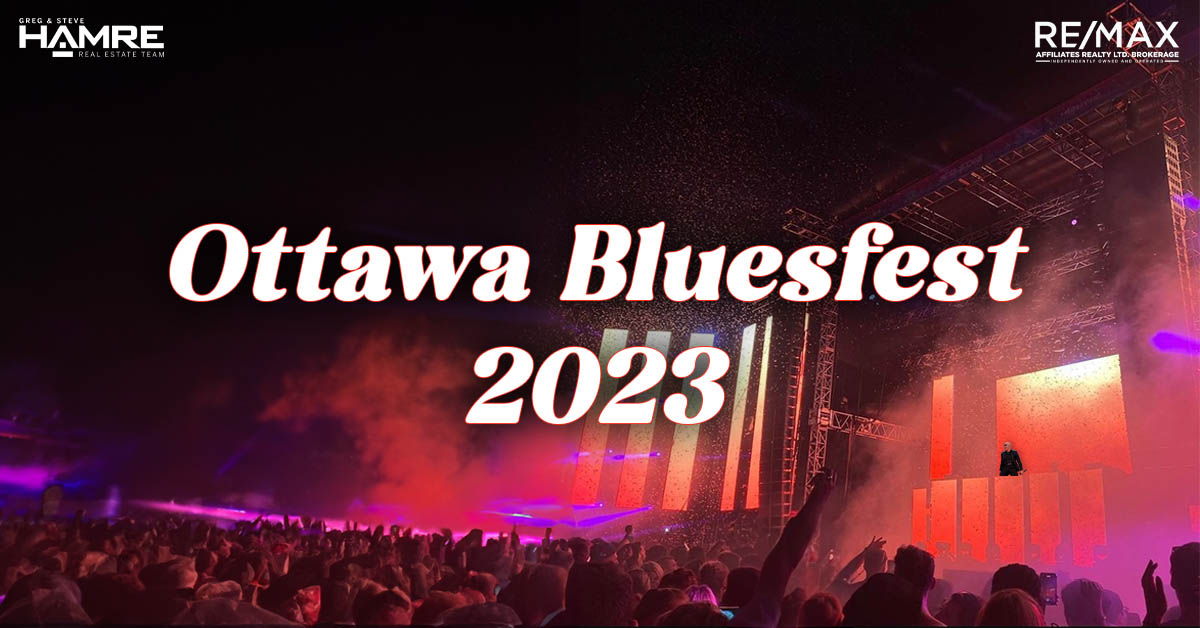 Location
Ottawa Bluesfest 2023 will be held at Lebreton Flats near the Canadian War Museum. The festival is located just off of the Sir John A. MacDonald Parkway between Booth and Preston Street and the Ottawa River. There will be nearby OC Transpo Access from Booth Street. There is a Ottawa Bluesfest bike parking locker also located off of Booth Street. Most of the stages are located outside however there is one stage inside of the Canadian War Museum.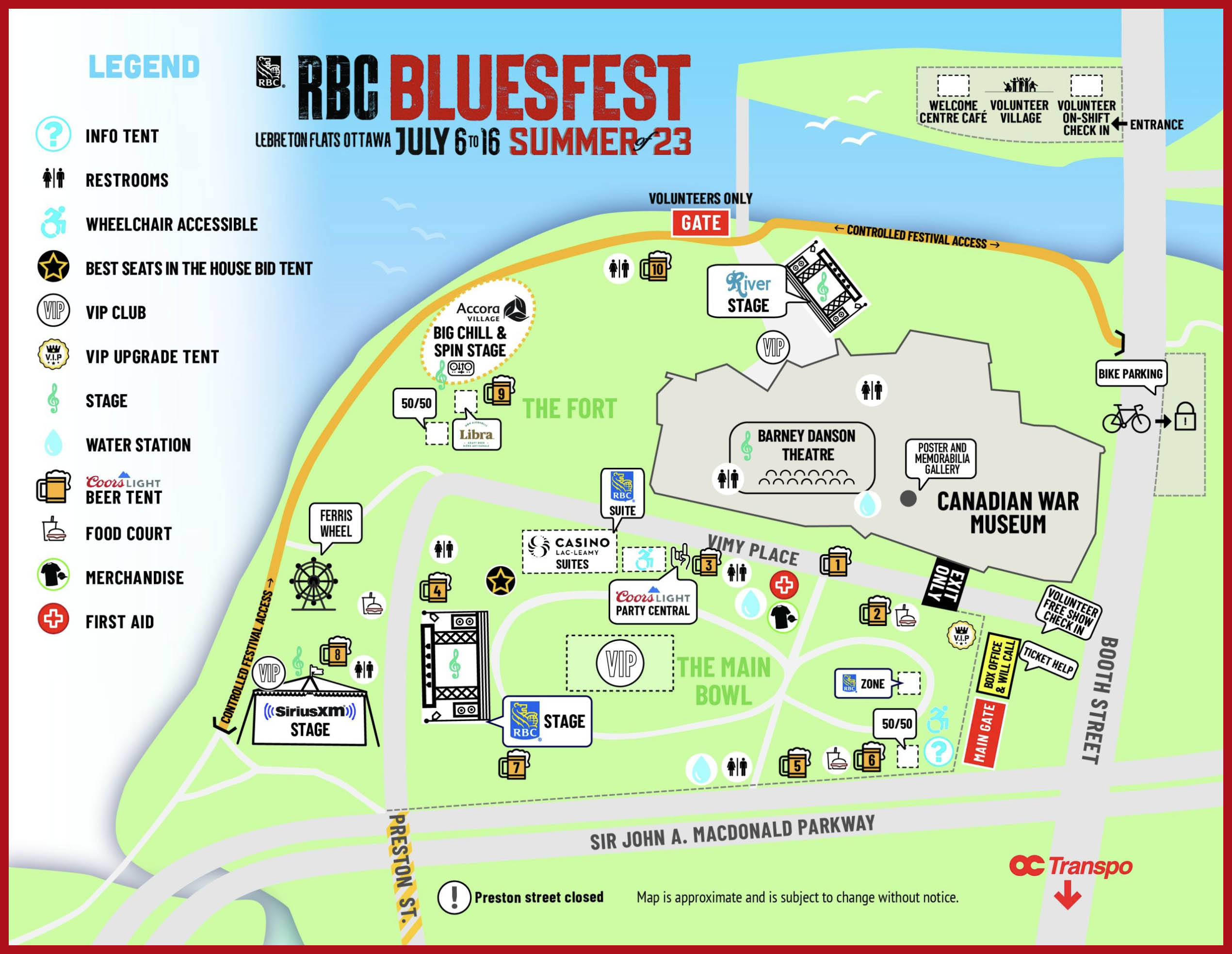 Parking
According to RBC Bluesfest: the festival site is located in an area with minimal street parking, and road closures nightly are implemented for the safety of pedestrians. It is highly encouraged that festival goers take transit, walk, cycle, or be dropped off near the site.
There is no public parking available in the Canadian War Museum underground parking garage. No prepaid passes will be issued for this lot.
The site is not accessible to vehicular traffic after 5 PM due to road closures for the safety of our patrons.
Offsite parking is available to purchase in advance for $15 per day. The lots are approximately a 15-minute walk from the festival.
-> Passes provide access to Les Enterprises Marc Dubé lots at 59 rue Wellington and 50 rue Montcalm in Gatineau, QC. Spots are assigned first-come, first-serve.
-> The lots are accessible to pass holders from 4 PM on all festival days. If you arrive earlier your pass will not be valid.
-> Pass must be printed and displayed on the dashboard when the vehicle is parked in the lot.
-> There are NO in/out privileges.
-> Overnight parking IS permitted, but vehicles must be removed by 7 AM on weekdays and 10 AM on weekends. Vehicles not removed by then will be towed.
You can also check out Parkopedia and the City of Ottawa for more information about transportation and parking options in the area. RBC Bluesfest does not operate the lots listed by these services and has no knowledge of rates/availability; they are listed here as a courtesy only.
RBC Ottawa Bluesfest Lineup - RBC Stage Headliners
July 6th - 9:00pm - Headliner: Shania Twain July 7th - 9:30pm Headliner: WeezerJuly 8th - 9:30pm - Headliner: Robert Plant & Alison KraussJuly 9th - 9:30pm - Headliner: Death Cab For CutieJuly 12th - 9:00pm - Headliner: Foo FightersJuly 13th - 9:30pm - Headliner: Mumford and SonsJuly 14th - 9:30pm - Headliner: Charlotte CardinJuly 15th - 9:30pm - Headliner: PitbullJuly 16th - 9:30pm - Headliner: The Smile
Full Ottawa Bluesfest Lineup 2023
Below is a listing of confirmed 2023 RBC Bluesfest acts. Artists are listed by-day in alphabetical order.
July 6: bbno$, Brea Lawrenson, Dax, J.C, John Németh, Lindsay Ell, Melissa Lamm, Mikhail Laxton, Mimi O'Bonsawin, Rise Ashen, Shania Twain, Son Little
July 7: Billy Talent, Digging Roots, Emily Jean Flack, Jupiter & Okwess, Melo Griffith, PUP, Rise Ashen, Southern Avenue, Tank & The Bangas, The Jesse Greene Band, Thundercat, Weezer
July 8: Aspects, BADBADNOTGOOD, Blackie and The Rodeo Kings ft. Daniel Lanois and Suzie Vinnick, Gabrielle Shonk, Matthew Chaffey, Nesrallah Artuso Project, Raul Midón, Rise Ashen, Robert Plant & Alison Krauss, Steven Taetz, Sugaray Rayford, The Texas Horns
July 9: ALAMUSIC, Alan Doyle, Bran Van 3000, Death Cab for Cutie, Dawn Tyler Watson, East Coast Experience, Emmanuelle Querry, Guy Belanger, Jack Barksdale, Taming Sari, Tegan and Sara, Youngtree & The Blooms
July 10 - CLOSED
July 11 - CLOSED
July 12: Adrian Sutherland, ALAMUSIC, Black Joe Lewis, Foo Fighters, Katie Tupper, Lime Cordiale, MONOWHALES, My Son The Hurricane, River City Junction, White Reaper
July 13: ALAMUSIC, Amos The Transparent, Angelina Hunter Trio, Ash Ravens, Avery Raquel, Cam Kahin, Declan McKenna, Lloyd Spiegel, Loviet, Mumford & Sons, Sudan Archives, The War On Drugs
July 14: Allison Russell, Amanda Jordan, BeatScience, Charlotte Cardin, Fleet Foxes, FLETCHER, Michelle Treacy, Neha Sin, Pony Girl, Rich Aucoin, Sauce Boss, Sussex
July 15: Abby Stewart, BeatScience, Billianne, Boston Levi, Drew Nelson, GRAE, HOROJO Trio, Joe McDonald, Julia Jacklin, Ludacris, Pitbull, TJ Wheeler
July 16: Alvvays, Avenoir, BeatScience, Eazy Finesse, Koffee, Megan Jerome, Miss Emily, Paragon Cause, Steph La Rochelle, The Smile
What Can You Bring Into Ottawa Bluesfest 2023?
Permitted:
Cell phones
Food, small meals (please bring your food in small plastic bags or reusable containers - no glass containers of any kind will be permitted)
Sealed or empty reusable water bottles (we have filling stations!)
Small backpacks, bags, and purses. Small = no larger than 12" x 12" x 6". Diaper bags and bags specifically required for medical purposes will be allowed - ALL BAGS WILL BE SEARCHED!
Blankets and beach towels, sunscreen, hoodies or rain ponchos
Personal cameras without removable lenses. See Camera Policy
Medication in its original packaging. Prescription medication must match the name of the person bringing it into the festival
Narcan spray (no needles). First aid and security personnel are equipped with naloxone and trained in administering it safely. Report any usage of naloxone immediately to first aid so the patient can receive further medical assessment.
Baby strollers (for kids)
Small collapsible lawn chairs, small handheld umbrellas
Registered service animals who are supporting a person with a disability and trained to do so.


Not Permitted / Will Be Confiscated
Weapons, gang colours, or contraband
Bags over 12" x 12" x 6" in size
Bicycles inside festival grounds. Valet bike parking is available by the bike path along the Ottawa River
Professional photography equipment, video equipment, or audio recording devices (without a media/photo pass) including but not limited to: GoPros, any detachable zoom lenses, monopods, selfie sticks, stands, tripods - See Camera Policy for details
Laser pointers, lighting devices, glow sticks, etc.
Drones or any other remote flying devices
Musical instruments, horns or noisemakers
Walkie-talkies or radio equipment
Skateboards, roller blades, scooters, carts or personalized motorized vehicles (except accessibility devices such as wheelchairs)
Illegal substances or drug paraphernalia
Alcohol. Beer, wine, spirits, and non-alcoholic beverages will be sold inside the festival gates
Pets. Registered service animals trained to assist a person with a disability are permitted
Hard-sided coolers or glass containers
Unauthorized vending of products or services
Guerilla marketing
Flyers, handbills, posters, stickers
Fireworks or explosives
Beach balls, soccer balls, baseballs, footballs, etc.
Squirt guns or water toys
Paint or permanent markers
Tents
Megaphones
Non-collapsible chairs
NO Banners or flags (no poles)
Get Ready!
Ottawa Bluesfest is just around the corner! Start listening to your favourite Bluesfest performers now so that you can sing along to all their songs. Plan your rides to get there an back safely. Ottawa Bluesfest 2023 could be the concert event of the summer and you are not going to want to miss it! We'll see you at Lebreton Flats!