6 Activities For Thanksgiving Weekend
Posted by Leif Olson on Friday, October 8, 2021 at 9:32 AM
By Leif Olson / October 8, 2021
Comment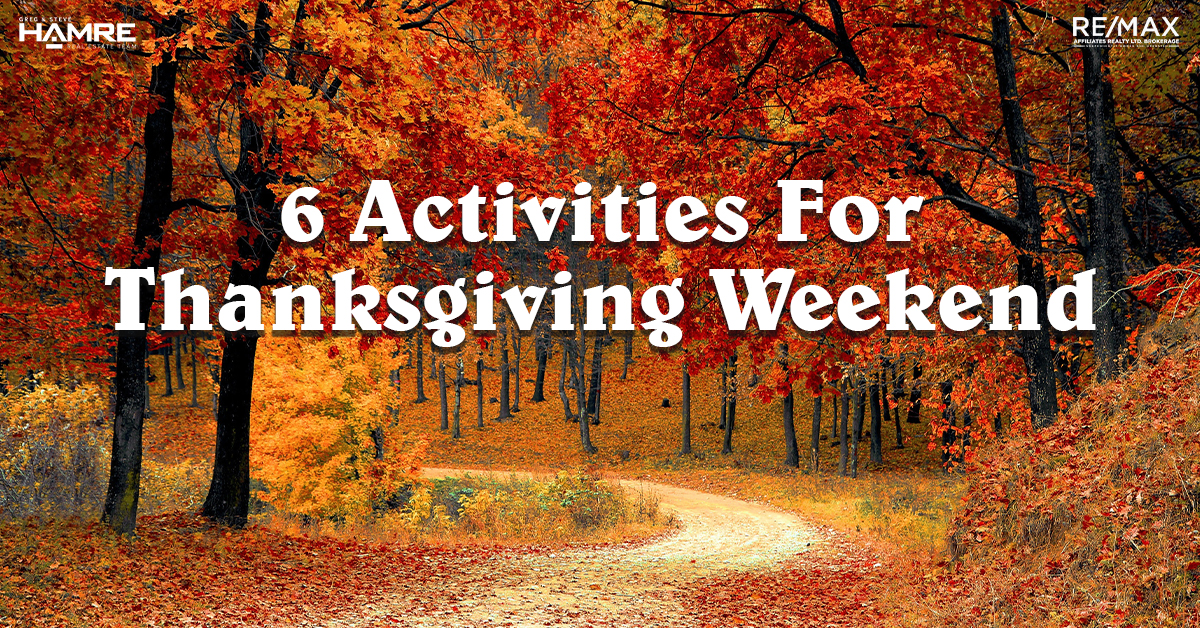 Thanksgiving is just around the corner! Summer has shifted into Fall, the air is cooler and leaves are bright beautiful colours. Ottawa is absolutely beautiful in Autumn. Here are 6 Fall activities to enjoy this long weekend in Ottawa!
Read along and start planning your weekend activities.
1. Fall Hike
Ottawa is surrounded by great hiking opportunities! There are some awesome spots to enjoy the Fall leaves and amazing sights as you hike along peaceful trails. Some great spots to see the Fall scenery:
- Eagle's Nest Lookout
This spot is an easy hike up a gravel path and offers spectacular views. The drive from Ottawa is also incredibly scenic. Bring your camera and be prepared for some incredible views from atop the mountain.
-Carbide Willson Ruins
This hike is a popular favourite in Gatineau Park. Waterfalls, lakes, hills, and scenic ruins. Add this hike to your list this weekend!
These are just a few examples but there are so many exciting hikes near Ottawa. You can check out our list here!
2. Play Football
This is a classic American Thanksgiving tradition but why not give it a shot in Canada. If you have a few people who want to play you could get a little touch football game going. If you only have one other person to play with, try playing some catch.
Football and the Fall go perfectly together. The weather in Ottawa this time of year is great for tossing a football around.
3. Pumpkin Carving
This may seem like an activity exclusive to Halloween but that is not true. Although it is perfect for gearing up for Halloween. It can also be done throughout the month as a fun activity that can challenge you creatively.
It may cause a bit of a mess but that's half the fun right there. Try to carve one of your favourite cartoon characters into a pumpkin for an added challenge. Jack Skellington is always a favourite.
4. Warm Drink + Good Book
Name a better combination, we'll wait.
Grab a warm beverage that may or may not be pumpkin flavoured and curl up with a good book. Sit by a window and take in the Fall atmosphere as you dive into a good read. This activity can be incredibly relaxing and is a good opportunity to unwind this long weekend and get ready for whatever is next.
5. Downtown Shopping Spree
Beautiful buildings, Fall leaves, and Fall fashion finds. It's all available in Downtown Ottawa. Get on your best Fall outfit and head Downtown for a shopping spree. The must-go-to shopping spot in October is of course: The OVO (October's Very Own) store at Rideau Centre.
You could also get a jumpstart on your holiday shopping. Start checking people off your Christmas list early and save yourself from stress in December!
6. Watch Some Movies
Fall brings in some cooler weather which also offers an opportunity to huddle up at home and enjoy a festive movie. This could be something spooky, something with a Fall setting, or have nothing to do with Fall at all. A movie night can be a great way to spend some family time together this Thanksgiving weekend. Dim the lights, get some good snacks and enjoy the film.
What are your plans for Thanksgiving?
For more blogs like this be sure to LIKE US ON FACEBOOK.
Enjoy the weekend!