5 Reasons To Move To Ottawa
Posted by Leif Olson on Wednesday, July 21, 2021 at 11:33 AM
By Leif Olson / July 21, 2021
Comment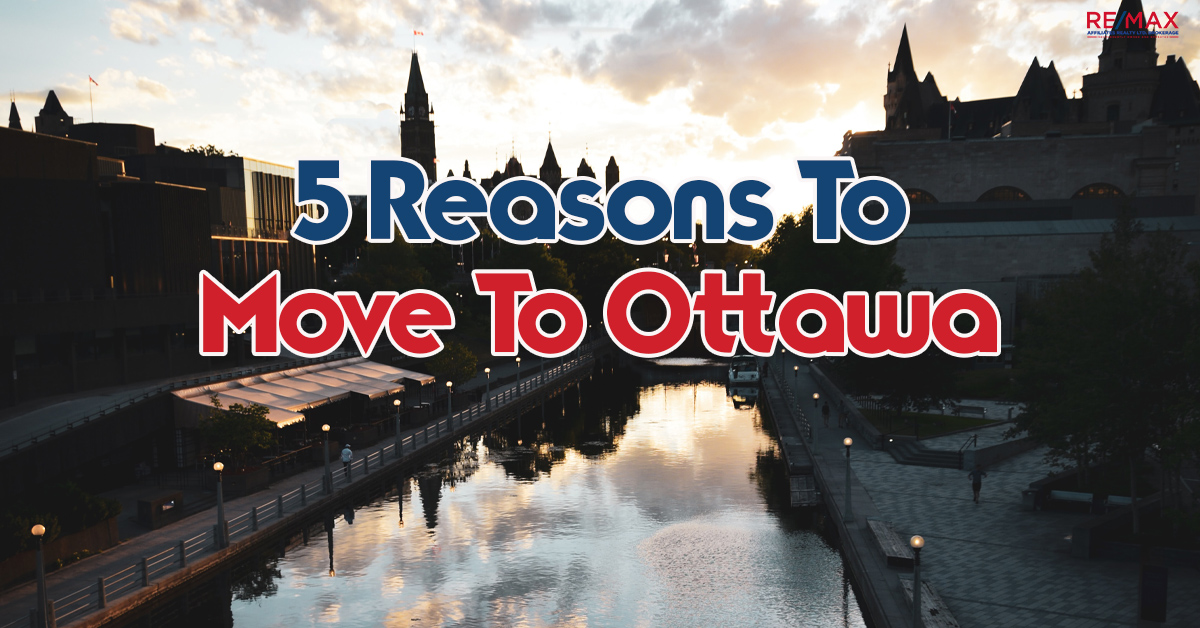 There are so many reasons to call Ottawa home. For young professionals and retirees alike Ottawa is the perfect location to own a home. From economic stability to lifestyle and accessible entertainment you will fall in love with Ottawa.
Here are 5 Reasons To Move To Ottawa.
1. Affordability in a Major City
Ottawa's average sale price year to date for homes is far lower than other major Canadian cities. Let's compare!
Ottawa Average Sale Price Year To Date: $561,701
Toronto Average Sale Price Year To Date: $1,089,536
Vancouver Average Sale Price Year To Date: $1,172,858
Ottawa real estate is nearly half the cost of other major Canadian cities. It is also less expensive than smaller cities such as London, Hamilton, and Kitchener to name a few.
That is astounding! Ottawa offers the amenities and lifestyle of a major city but continues to be more affordable. This means you will get more homes for less money and in better locations than other major Canadian cities. Imagine living downtown, with 4 bedrooms in a major North American city for under 1 million dollars. It is virtually impossible anywhere but Ottawa.
2. High-Income Opportunities
Among major cities included in RE/MAX's Housing Affordability in Canada Report, Ottawa had the highest average household income. This number was almost $30k more than the average in Toronto.
The average home in Toronto costs double the average home in Ottawa however average income is higher in Ottawa. This is another great reason to call Ottawa home. Ottawa can clearly provide great job opportunities. This is due in part to the large number of government jobs in the Nation's Capital.
Opportunity awaits in Ottawa!
3. More Discretionary Spending
In Ottawa, people spend on average 19% of their income on their mortgage. Compare this to Toronto where people spend 47% of their income on their mortgage. In smaller cities such as London, Windsor, Oshawa, and Hamilton you will see people spend 24-30% of their income on their mortgage.
Living in Ottawa means more money for doing the things you love. This gives you flexibility in other areas of your life such as vacations, nights out, and home upgrades.
4. Less Expensive Hockey Games
While the Ottawa Senators are far superior to other NHL Teams and boast a bright future with young stars like Brady Tkachuk and Tim Stützle, their tickets are inexpensive. The average price for a ticket to a Leafs game in Toronto is $125.59 CDN, the average Habs ticket costs $115.13 CDN, the average ticket to a Sens game is $66.72 CDN.
Living in Ottawa means you can watch twice as much live hockey as you can in Toronto. Sens tickets are less expensive than any other Canadian NHL Team.
5. Variety of Options
The diversity of housing options in Ottawa is incredible for a major city. The ability to live downtown in a freehold or townhome as opposed to the highrise condominiums you may be looking at in Vancouver or Toronto to have access to the same amenities. The condominiums are still available in Ottawa but your options are much more diverse.
Eateries, coffee shops, live entertainment, and recreation are all at your doorstep in Ottawa, no elevator required. The wide range of neighbourhoods across Ottawa also offers different lifestyles to find what suits you best.
To start your Ottawa home search please reach out via the contact form below or try out our innovative home search tool here.