5 Fun Fall Things To Do In Ottawa
Posted by Nic Hamre on Tuesday, October 4, 2022 at 11:00 AM
By Nic Hamre / October 4, 2022
Comment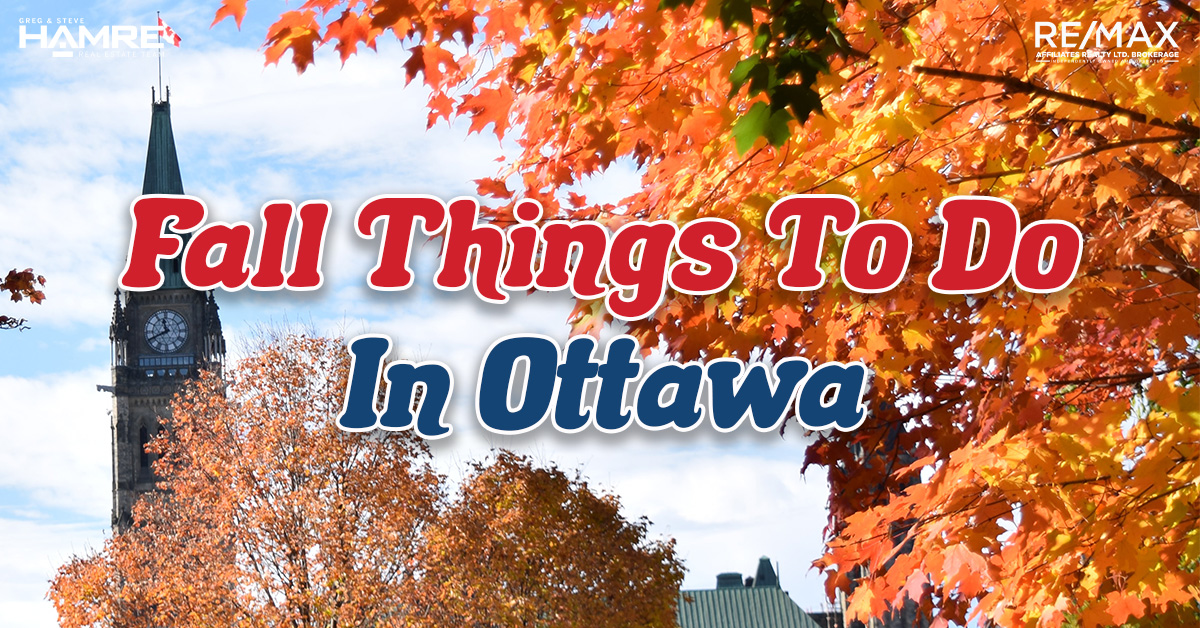 Can you smell it in the air, or hear the crunch of freshly fallen leaves beneath your feet? Fall has arrived in the Nation's Capital and there is so much to be excited for this Autumn in Ottawa. The beautiful orange hues have filled the trees and sweater weather has definitely arrived. The change in seasons opens the door to new experiences and activities that are unique to Fall. Ottawa is truly a four-season city and this is one season that you definitely don't want to miss. Here are 5 fun things to do if you live in Ottawa This Fall!
Visit Nordik Spa
Nordik Spa - Let's be honest… There's never really a bad time to consider the spa as a way of relaxing. Whether that be taking time to yourself, kindling your couple's relationship or even letting your hair down with a friend. Enjoy the warm and cold experiences. From the large open hot tubs to cold pools and cold waterfalls there are unique experiences to enjoy. You can also relax by trying one of the saunas or steam rooms, you could even get a massage.
The spa in the fall time comes with that cozyyyy feeling. Scenic travel upon arrival, perhaps a coffee or tea for the ride. Consider this as a way of slowing down your day or giving the opportunity to someone else. Nordic Spa is located in Chelsea and offers stunning views of the Fall foliage during the day. There are several dining options available and many delicious menu items to indulge on during your visit. Take a moment for yourself this Fall and relax at Nordik Spa
Fly Over Gatineau Park (Ottawa Avation)
Could you imagine soaring high above our beautiful city and the Fall colours from an airplane? This isn't Top Gun but you will feel like Tom Cruise when you soar through the sky and see the spectacular views of the Gatineau Hills. Consider booking a flight to get the chance to fly above some of our nation's landscape! You could schedule a family plane ride for $65 per person with 3 passengers or $80 per person for 2 passengers. The tours run 7 days a week and are easy to book online. Tours last about 20-25 minutes of airtime and are sure to leave a lasting impression on you as an unforgettable experience. This is arguably the best time of year to do it. The foliage across Gatineau Park is simply beautiful.
Trails / Hiking
Just a classic. Ottawa has many trails and many are within Ontario's Greenbelt including Green's Creek, Stony Swamp Trail or Jack Pine Trail.
The Greenbelt comprises 20,000 hectares (49.5 Acres) of green space, including farms, forests and wetlands. It was created in the 1950s to protect the rural land bordering the Capital from urban sprawl. It has since become the largest publicly owned greenbelt in the world. Ontario Greenbelt as a whole is made up of 800,000 Hectares of land (1,976,840 Acres). Greenbelt got its name from the belt of green forestland with which it was surrounded and from the belts of green between neighbourhoods that offered easy contact with nature. You may likely be surrounded by greenbelt areas in your exhsisting neighbourhood and you may not even know it.
Beyond that, Gatineau being near the exterior of the city of Ottawa, has several mountains with additional trails and some challenging hikes. Some perfect Fall hikes in Gatineau Park include Carbide Willson Ruins Trail, Pink Lake and if you are more adventurous you could try Luskville Falls Trail. These are just 3 of many beautiful trails that wind through the forested hill of Gatineau Park. Each trail offers its own unique scenery and advantages.
There are trails suitable for everyone. Some happen to be pet friendly, some do not. This time of year with Fall weather, you don't have to be skeptical of heat waves, snowfalls, black ice all you to watch out for are falling leaves. Fresh air is healthy and so is exercise, that's no secret. Put on your best hiking sweater, get your steps in and enjoy nature at its finest.
Celebrate Oktoberfest with Locally Brewed Beer
The German festival is now a worldwide phenomenon celebrating Bavarian culture and flowing pints of beer.
Oktoberfest began as a wedding celebration more than 200 year aho when Bavaria's Crown Prince Ludwig married Princess Therese of Saxony-Hildburghausen on Oct. 12, 1810. The wedding was celebrated with multiple days of drinking, feasting and horse races. The celebration then became an annual event and celebrated late Spetember while following through into Octbober.
Here is a list of 13 top breweries in Ottawa:
Choose your favourite or enjoy another classic. October is a great time for a tasty brew.
Farm Activities
There are so many awesome farm activities you can enjoy in Fall. From picking apples to spooktacular haunted houses or tractor rides there is so much to enjoy at local farms in Ottawa. Enjoy Fall however you like best and support local! Here are some great options in Ottawa that you can easily enjoy.
Proulx Maple & Berry Farm (Skreamers + Pumpkin Fest)

Les Vergers Villeneuve and Blueberry Farm (Wine + Cider)

Millers Farm & Market (Tractor Wagon Rides + Corn Maze + Garden Centre)

Saunders Farm (FrightFest + Pumpkin Days + Saunders Cider)
So many outdoor activities to choose from. If you have grown up in the Ottawa area and surrounding areas, you have likely experienced one of these fall farm activities before. If you haven't you're missing out! These farms offer various activities that often present unique and seasonal activities. Note they are extrmely family oriented.
What are your favourite Fall activities? Reach out to us with any questions about Ottawa and enjoying Fall here. With so many activites to choose from these are only 5 of an almost endless list. Enjoy your Fall!