5 April Events In Ottawa
Posted by Nic Hamre on Wednesday, April 12, 2023 at 9:16:30 PM
By Nic Hamre / April 12, 2023
Comment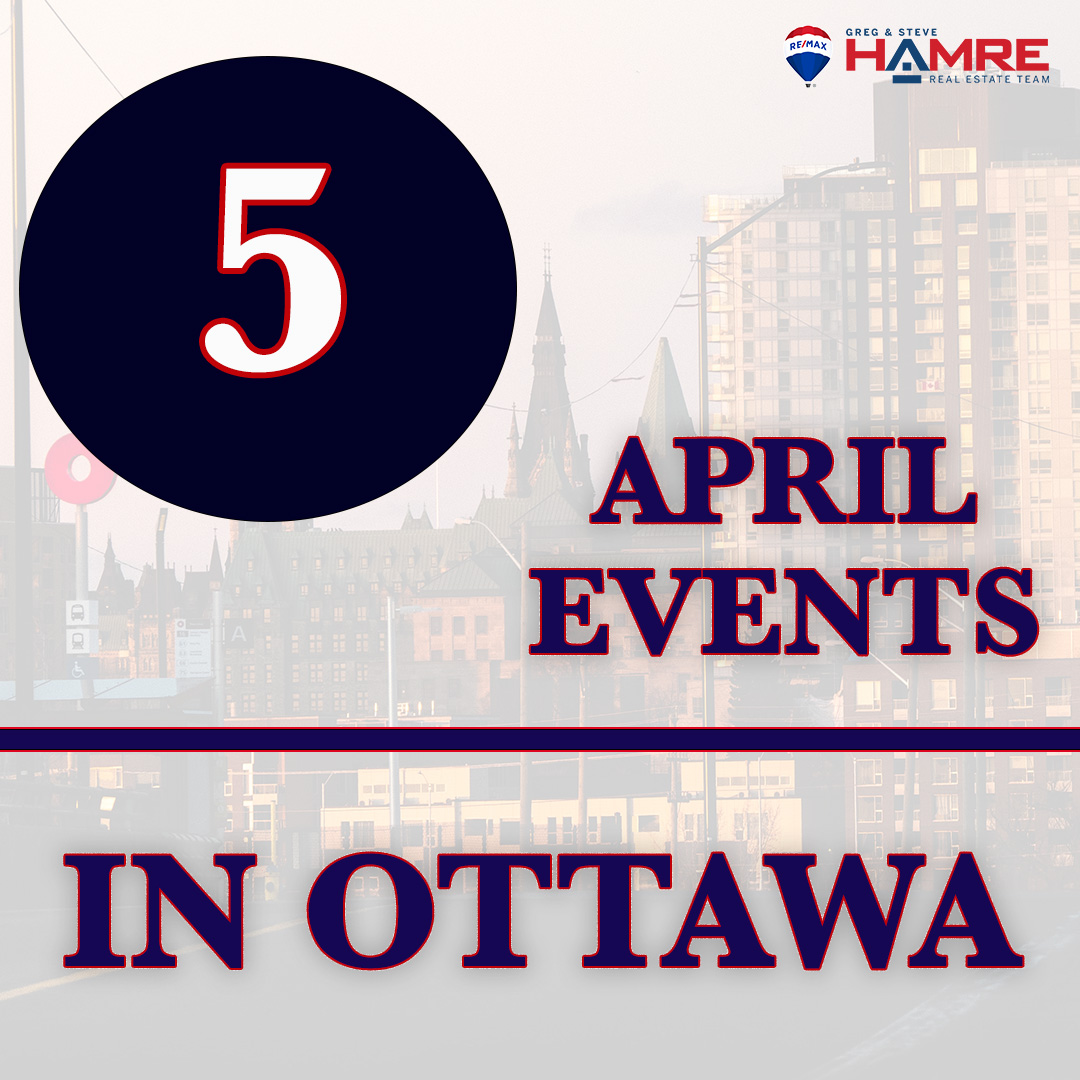 Brace yourself for an electrifying April filled with thrilling events! Whetheryou'rea fan of stand-up comedy or music concerts, an admirer of outdoor festivals or food events, you're in for a treat this month. Hold onto your hats as Kevin Hart rolls into town to tickle your funny bone with his latest comedy show, "Reality Check," at the illustrious Canadian Tire Centre. And with the weather warming up, it's time to kick off patio season in style with some delightful outdoor dining and drinks.
Outdoor enthusiasts get excited as the Ottawa Cottage Life and Backyard Show welcomes you to explore the latest trends in outdoor furniture, green solutions, gardening, and landscaping.For country music lovers, the Canadian Tire Centre will play host to Lee Brice as he rocks his "Beer Drinking Opportunity Tour" to the cheers of his devoted fans. But wait, there's more! The Ottawa PoutineFest and Potato Palooza will satisfy your poutine cravings with a variety of delicious flavors that'll make your mouth water.
All of these action-packed events are happening right here in Ottawa in April. We are excited for the great days that lay ahead.
Patio Season
Patio season is among us - Have you seen the upcoming weather? They are calling for highs of 23 degrees - starting Thursday, April 13th 2023. Most can agree that better weather just comes with a better mood. Don't quote me on this but I think that's scientifically proven.
Some restaurants started as early as 2 weeks ago for their patio season debut. This weather is different. Ottawa historically has patios open up in later spring season and continues throughout the entirety of the summer. With many establishments to choose from, we anticipate plenty of good times and memories to be had this year. Why not, right? Celebrate the blooming weather as you please.

Superstar Comedian - Kevin Hart
Kevin Hart is coming to town to crack some jokes. The American comedian & actor has been on Ottawa soil before, where he did a past tour in 2018 "Irresponsible Tour" at the CTC where he will be performing again with his latest one "Reality Check." Tickets are available online and a large crowd is to be expected. Hart, is recognized as a funny and humoristic comedian that buzzes with energy on the daily. This has led to his success in the industry as a well recognized entertainer. Ottawa is pleased to have his talents shared locally.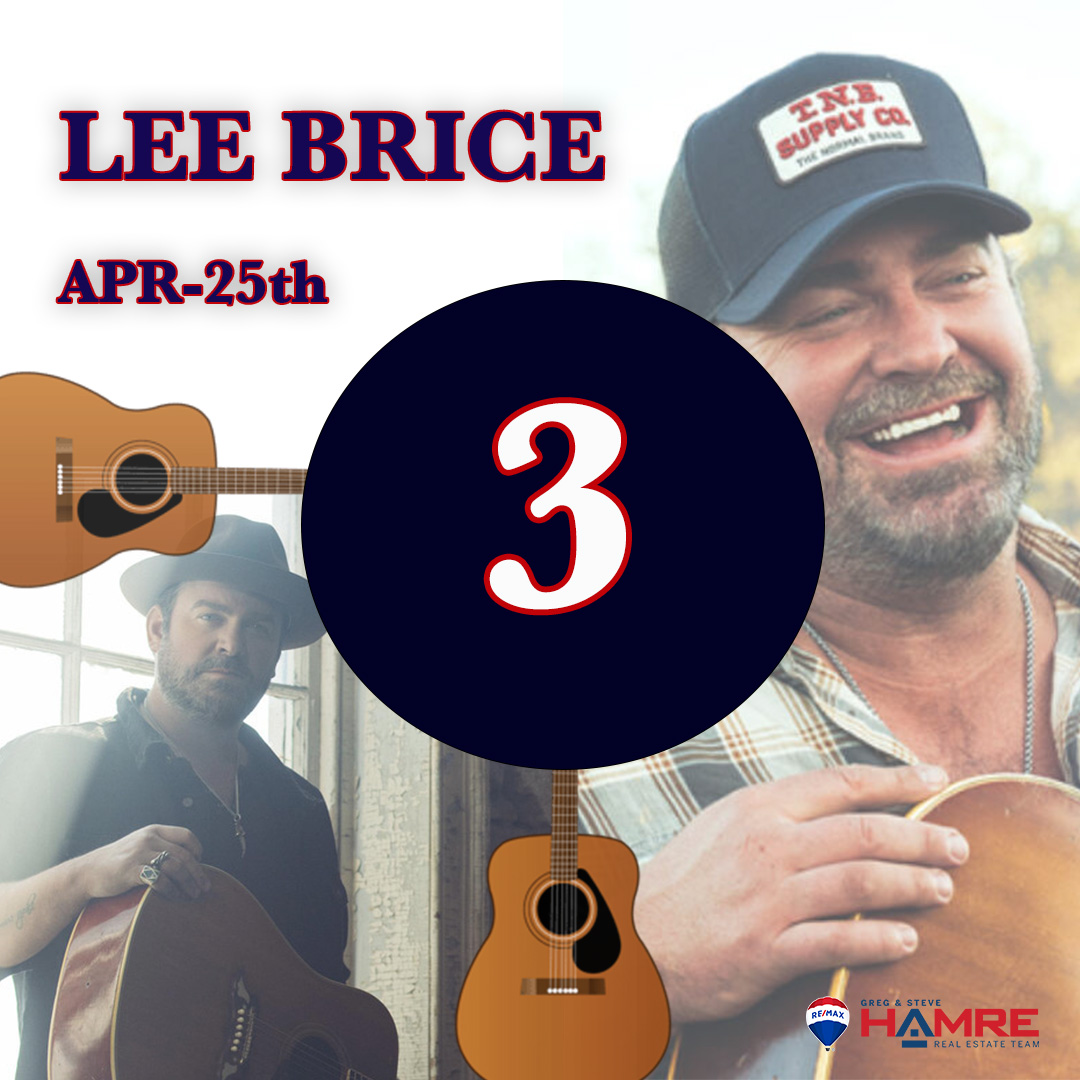 Country Music Star - Lee Brice
Giddy up, Ottawa! Country music star Lee Brice is coming to town on April 25th for his 'Beer Drinking Opportunity Tour.' He'll be performing at the Canadian Tire Centre, and you can join him and everyone else looking to jam out to some good ol' country music.
Lee Brice is a talented singer and songwriter known for hits like "I Don't Dance," "Rumor," and "Hard to Love." He's been making music for over a decade and has won multiple awards for his work, including ACM awards for Song of the Year and Single Record of the Year, I'd say that's pretty darn good.
The 'Beer Drinking Opportunity Tour' is named after Brice's latest single, which has been a hit with fans and critics alike. The tour will take Brice across Canada, with stops in cities like Abbotsford, Kelowna, Edmonton, and Winnipeg, before culminating in a performance in London, Ontario. Additionally, making the stop in Ottawa before heading to Kingston, Ontario.
But the highlight of the tour for Ottawa residents will undoubtedly be Brice's appearance at the Canadian Tire Centre, home of the Ottawa Senators. This venue is one of the largest and most popular in the city, and it's sure to provide an unforgettable experience for Brice's fans!
Mark your calendars for April 25th and get ready for a night of great music, good company, and plenty of beer. Lee Brice is sure to put on an amazing show, and it's an opportunity you won't want to miss.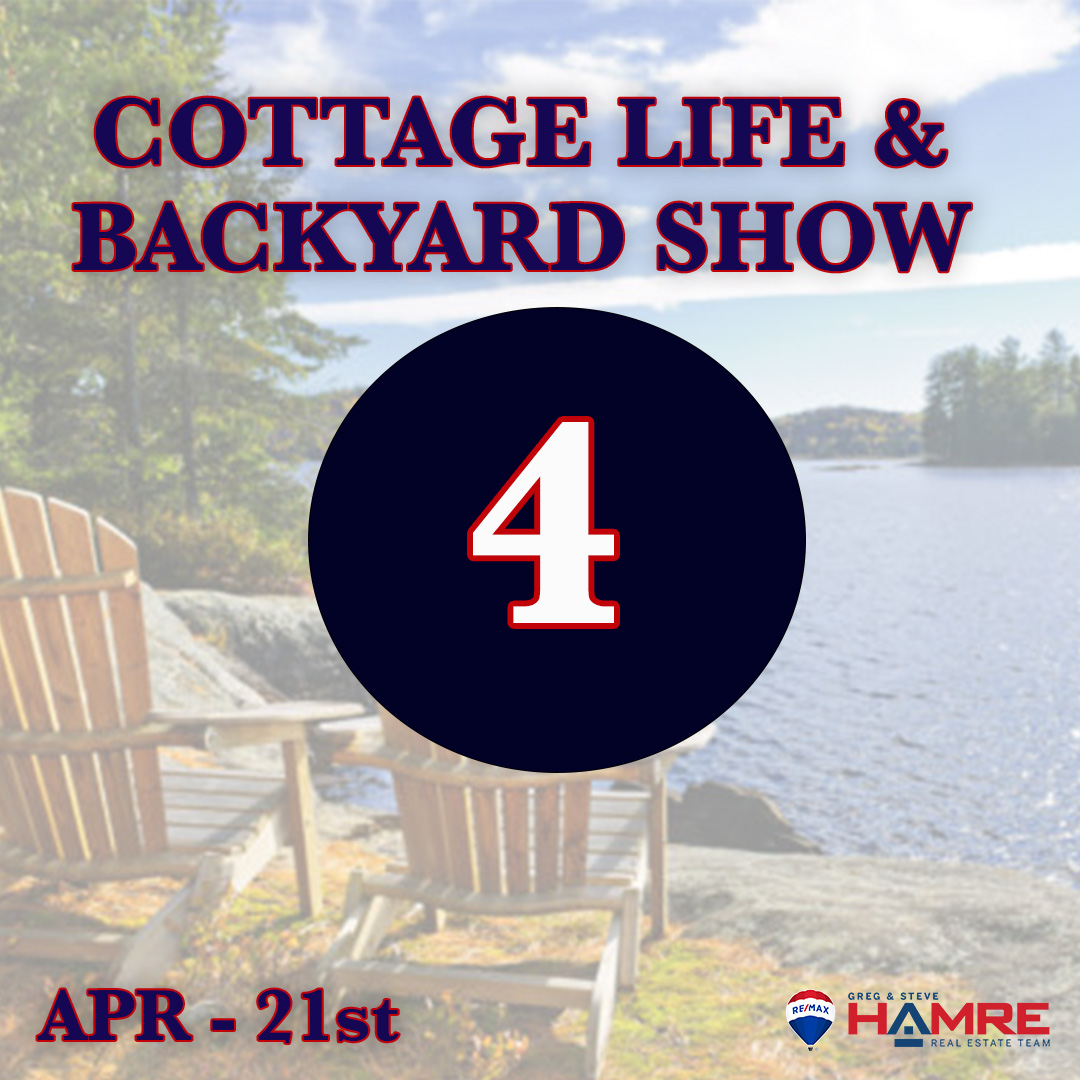 Ottawa Cottage Life & Backyard Show
If you're about that cottage life, then you won't want to miss the Ottawa Cottage Life and Backyard Show! This annual and zestful event draws visitors from all over the Ottawa and greater Ottawa areas and beyond, and some of us will be there to take in all the exhibits and activities.
Whether you're interested in learning about the latest trends in outdoor furniture, perhaps about innovative green solutions, wanting to view some docks, picking up some tips on gardening and landscaping, or simply browsing the many exhibitors and displays, the Ottawa Cottage Life and Backyard Show has something for everyone. You may even find things fitting for your home in Ottawa or the next upcoming waterfront property you want to buy in the Ottawa areas.
With so many fellow outdoor enthusiasts in attendance, it's a great opportunity to connect with like-minded individuals and share your love of all things outdoors.
I mean, who doesn't like cottage people? Cottage people are people who love spending time in nature, away from the hustle and bustle of city life. They appreciate the peace and quiet that comes with living in a rural setting, and they relish the opportunity to escape to their cottage or cabin whenever possible.
Cottage people are often passionate about outdoor activities like fishing, hiking, and boating, and they take pride in maintaining their property and keeping it in top shape. They may also enjoy hosting friends and family at their cottage, whether for a weekend getaway or a full-fledged vacation.
Canadian cottage people tend to be friendly and outgoing, and they enjoy the camaraderie that comes with being part of a tight-knit community. They may attend local events and festivals, or participate in activities like fishing derbies and bonfires. You can also network and engage with builders, contractors, and those able to tell you about the upcoming and available products associated with cottage living around Ottawa. These types of folks will be there, will you?
If you do plan on attending the Ottawa Cottage Life and Backyard Show, maybe you'll run into a Hamre Real Estate agent. Some of us will be there, and we hope to see you there too!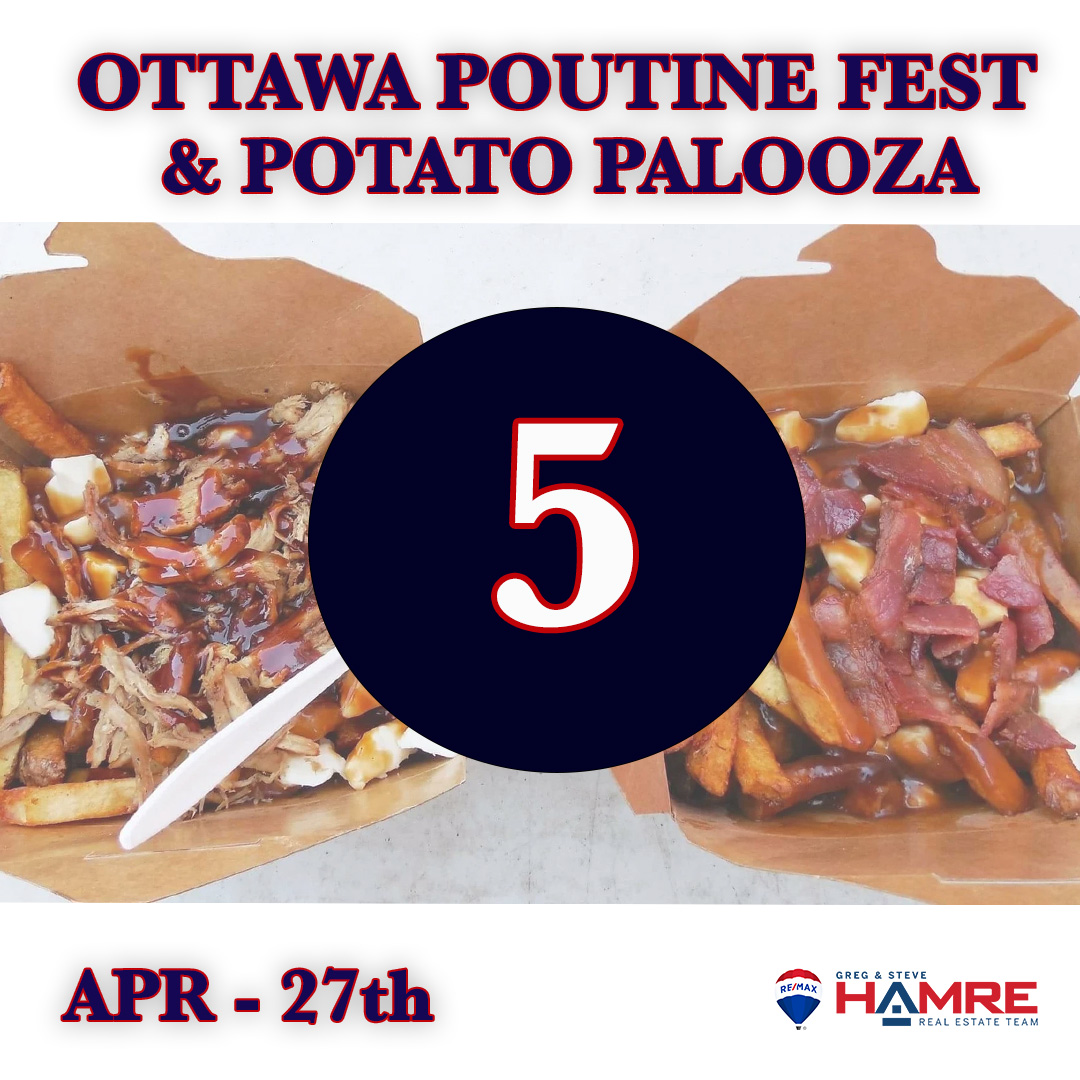 Ottawa PoutineFest & Potato Palooza
When people think of Canada, some people think poutine…Are you looking for a deliciously cheesy and gravy-filled experience?
Look no further than the Ottawa Poutine Festival and Potato Palooza, an annual food festival held at Poutine Plaza in Ottawa City Hall. Featuring dozens of vendors serving up traditional and exotic variations of Canada's national dish, this festival has something for every poutine lover out there.
Whether you're a seasoned poutine connoisseur or just looking to try something new, the Ottawa Poutine Festival has got you covered. From classic cheese curds and gravy to more unique toppings like pulled pork and kimchi, the festival offers endless variations of this beloved dish.
But the Ottawa Poutine Festival isn't just about the food. The festival also features a poutine eating contest, the King of Poutine Competition, and plenty of fun activities for kids, including balloon animals and face painting.
Poutine may have originated in Quebec, but it has quickly become a beloved Canadian food and can now be found at festivals across the country, as well as in the US and UK. So if you're a fan of this cheesy, gravy-filled treat, consider marking your calendar for the next Ottawa Poutine Festival and Potato Palooza.