Stay Ahead of the Game: Expert Tips for the Ottawa Spring Market
Posted by Nic Hamre on Monday, May 8, 2023 at 5:26:14 PM
By Nic Hamre / May 8, 2023
Comment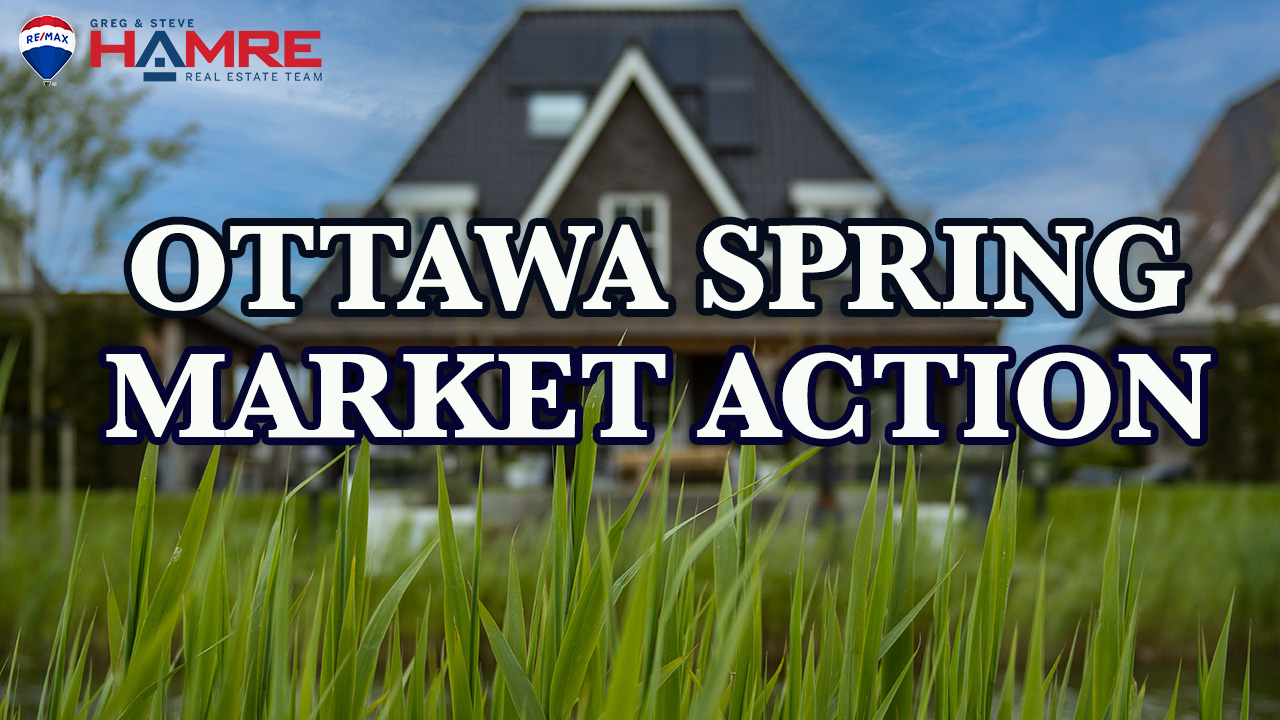 The 2023 Ottawa Spring Housing Market is busy with a lot of action. The Hamre Real Estate team can attest to that, while continuously winning on all sides of this market.
Historically, the real estate spring market in Ottawa tends to pick up and can turn on a dime with some buyers and sellers coming out of hibernation. In real estate, time is cruel. In just the past year, the market has shown that to be true as always.
Market trends change, they vary between a balanced market, a buyers market and a sellers market. We are seeing the signs of a sellers market. Meaning the sellers are able to leverage their positions in different ways depending if the sale of their home is being managed professionally.
*If selling is of serious consideration... you need to know that these trends do not last forever and that we are nearing the tail end of the spring market. If you are thinking of selling, these trends tend to favour your postiton at the moment. Contact Us Today
Sellers Market Must Knows
A sellers market is upheld by buyer demand. Ottawa has a healthy market as it has always had fair overturns. Basically, if your home has been on the market for a while during this spring market and you haven't taken these steps, it might be time to take action:
Ensure that your listing pictures are up to date and don't show any signs of seasonal changes that might turn off potential buyers.

If your home hasn't had any showings in the last month, it could be a sign that it's time to revisit your marketing strategy or make some changes to the property itself.

If you haven't received any offers in the last 30 days, it's worth considering whether the asking price is appropriate or if there are other factors that might be impacting the sale.

Regular communication with your realtor is essential to staying on top of market trends and making informed decisions about your listing. If you haven't been in touch, it could be time to schedule a check-in and discuss your options.
To succeed in a competitive real estate market, it's important to focus on what you can control, when you can control it. Preparation and coaching are essential during various stages of a transaction, and successful agents possess traits such as knowledge, experience, and empathy to manage challenging situations. These fundamentals, along with other requirements, help maintain leverage in a competitive market. Ultimately, the goal is to achieve two things: obtaining top dollar for your home and ensuring a positive real estate experience for the seller.
Gathered Evidence & Ontario Real Estate Board Statistics

Resale market in Ottawa is still showing a steady upward trajectory
Average prices have increased by 13.9% in four months since the market low in December 2022
With less than two months of inventory, the market is back in seller's market territory
The time it takes for freehold homes to sell decreased from 34 days to 27 days, and for condos, it went down from 39 days to 33 days compared to last month. This means that homes are selling faster now than they were before.
Buyers Must Knows - In a Sellers Market
Experienced real estate professionals understand the challenges that come with buying or selling a home in a competitive market.

In a seller's market, it's crucial for buyers to be prepared and act fast in order to secure a dream home.

We recommend getting pre-approved for a mortgage before beginning your search, so you can move quickly when you find a property you want/love.

In a competitive market, it's common for homes to receive multiple offers, so it's important to make a strong and competitive offer right from the start.

Consider offering a larger deposit, waiving certain contingencies, or including a personalized letter to the seller to make your offer stand out.

Don't be discouraged if you don't win the first property you bid on – stay patient and persistent, and keep looking for opportunities that meet your needs and budget. At Hamre Real Estate, we can help you do that.

Ultimately, success in a competitive real estate market requires a combination of preparation, strategy, and perseverance. With the right mindset and support, you can find a dream home in even the most challenging market conditions.We do this for others all the time.
...Buyers also need to keep in mind that sellers want to obtain top dollar for their home, and sometimes this means pricing the home higher than its actual value. It's essential to work with an agent who knows how to negotiate effectively and can help you get the best deal possible. Additionally, while empathy is important, buyers shouldn't let their emotions get in the way of making a smart investment. It's crucial to remain level-headed and make decisions based on facts and data, rather than getting swept up in the excitement of the market. At Hamre Real Estate, we get that the goal is to find a home that meets your needs and budget, and working with the right agent can help you achieve that. If you are outside of the Ottawa market, we can connect you with an agent that gets it too.
The information provided covers the time sensitivity of market trends. Still, everyday people are moving in Ottawa, and homes come and go. Sometimes it all comes down to finding the right home at the right time, which can stir up emotions depending on the outcome of the house hunting process. Winning in the real estate market isn't something that can be accomplished overnight, and not everyone comes out on top. That's why it's important to work with a winning team that can guide you through the process and help you achieve your real estate goals.