10 Best Cities For Real Estate Growth in 2023
Posted by Nic Hamre on Friday, December 30, 2022 at 10:45 AM
By Nic Hamre / December 30, 2022
Comment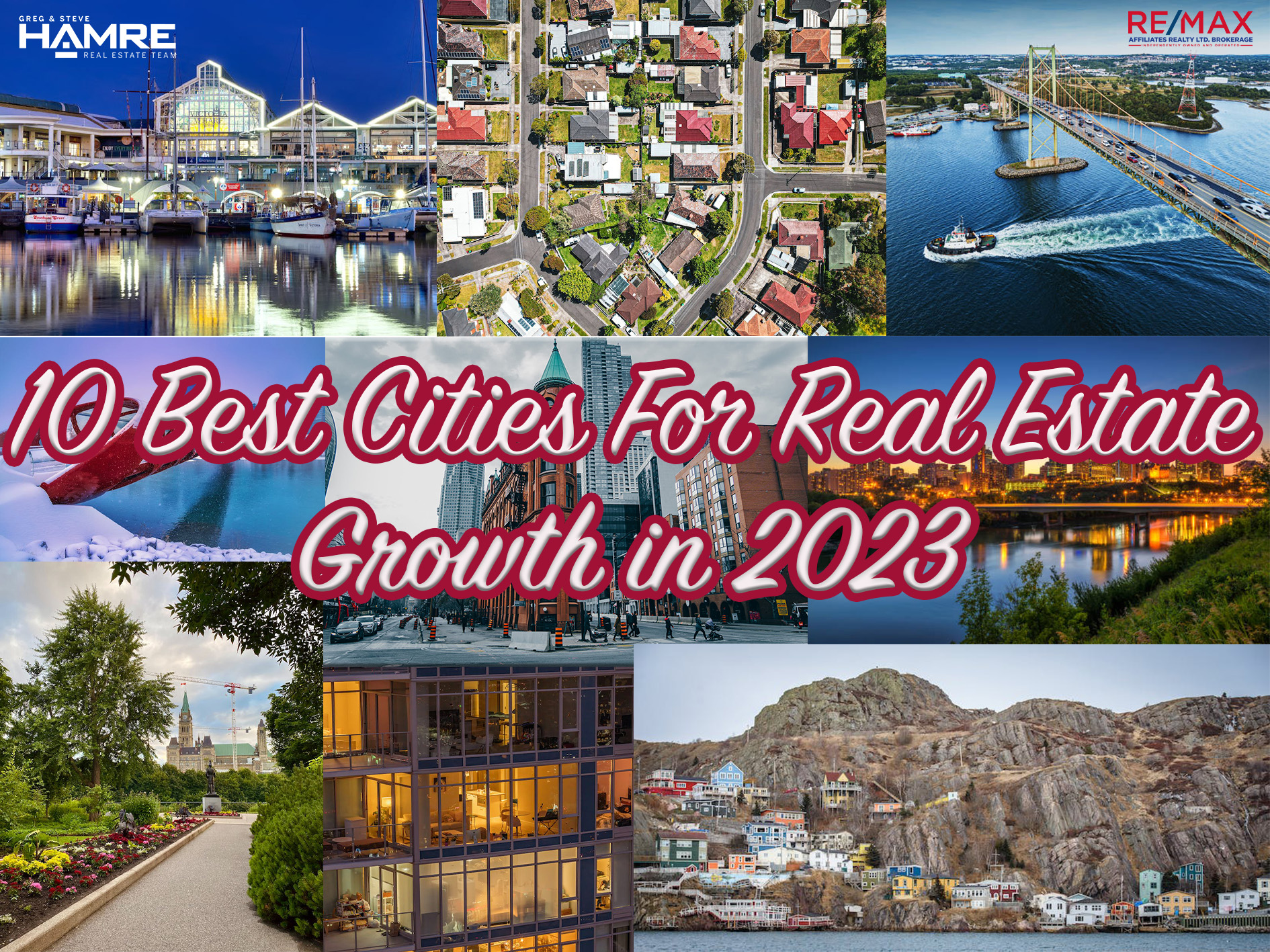 Canadian Cities Housing Market Outlook - Forecasted Price Increases 2023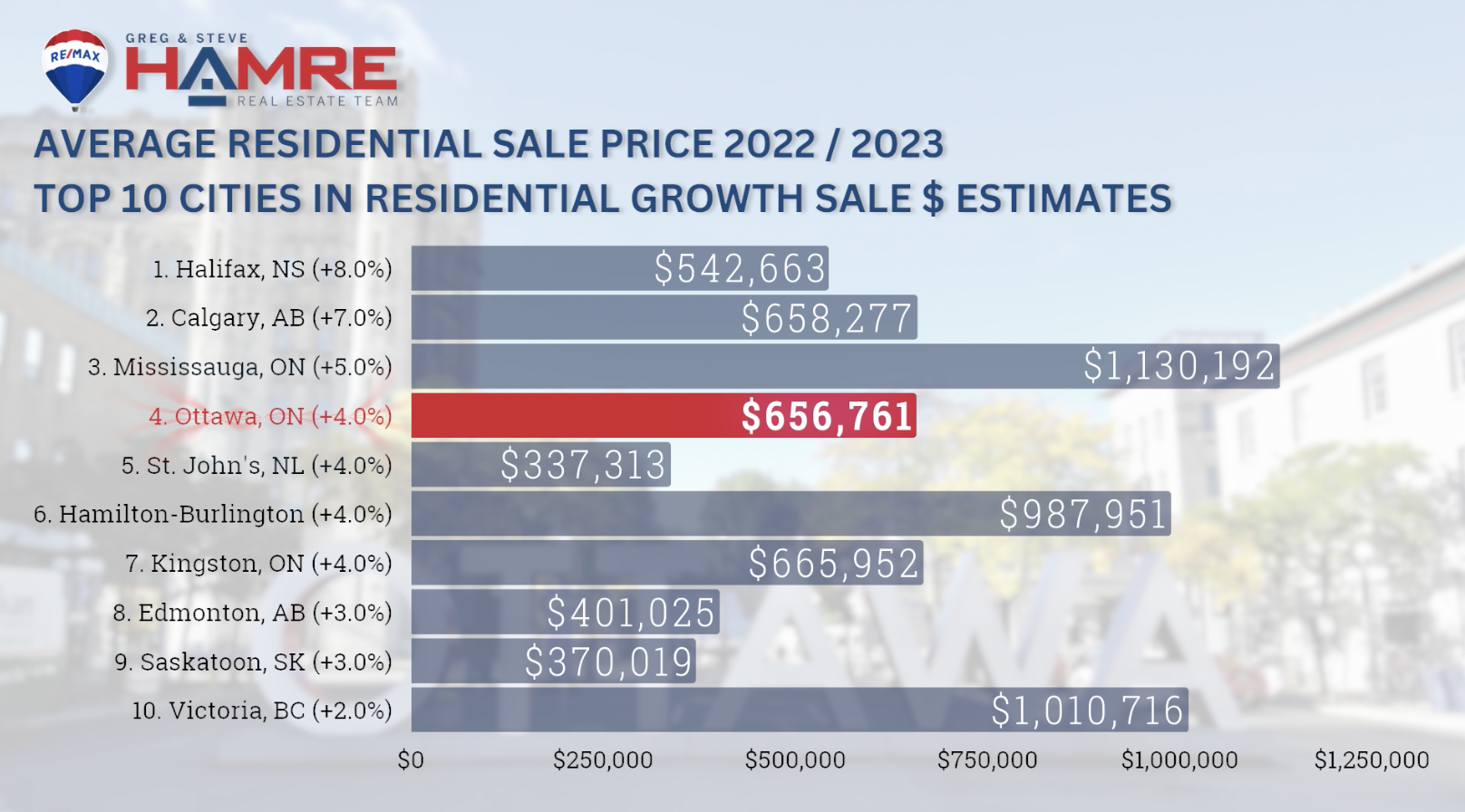 Why do buyers think Ottawa?
Ottawa makes the nation's Top 5 on the list above with understanding that there are many contributing factors that impact Ottawa's growth in the residential housing market. With an anticipation of a + 4% increase in price from today's average residential home cost.

Ottawa, the nation's captial, is located in eastern Ontario, near the border with Quebec. Ottawa has characteristics which are unequivocally gainful for the city's function in society. Characteristics such as, employment, education, infrastructure, healthcare institutions and various other support systems. These economic factors present unique opportunities to invest in lifestyle, well-being, and financial returns that go beyond its governmental entities and admirable landscape. Of course, this data is assembled for an annual average price increase prediction. However, it is considerable to allow buyers to recognize the opportunity to invest in the Ottawa real estate market beyond the 2023 price predictions.
Ottawa is a destination city and is among five other canadian cities in to have made the world's Top 100 'Best Cities' rankings. The city of Ottawa has a population of over 1 million people, making it the fourth-largest city in Canada and it is only increasing in numbers. It is known for its multicultural and diverse population, with a variety of cultures and languages represented in the city. Ottawa is known for its many cultural attractions, including the National Gallery of Canada, the Canadian Museum of History, and the Canadian War Museum. The city is also home to a number of post-secondary institutions, including the University of Ottawa and Carleton University, which attract a large number of students and young professionals. In fact, many of whom are foreign students that intend to stay in the country after school, perhaps Ottawa. The housing market in Ottawa has remained strong in recent years, with demand for housing outstripping supply in some areas. The city has a variety of housing options, including single-family homes, townhouses, and apartments, with prices ranging from affordable to high-end. Overall, Ottawa is a thriving city with a strong economy and a diverse range of cultural attractions, making it an attractive destination for both tourists and residents.
Ottawa welcomes the ability to better or even readjust lifestyle. The Ottawa Real Estate Market has always held a fair market of stability when compared to Canada's other major cities. The Hamre Real Estate Team, with three generations of experience, has been able to withhold a reputation of exceptional customer service while navigating clientele through all different market forecasts. Once again, closing off the year of 2022 as one of Ottawa's most elite Real Estate Teams.
Are you considering buying or selling? Are you a first time home buyer? Who do you want to work with?
The housing market is arguably the most accurate form of investment. Reacting to the major variables of basic supply and demand, the valuation of residential homes is established by buyers in three differentiating forms. The Cost evaluation approach, the direct comparison, and the income approach. Without stating the obvious being, how much someone is willing to pay for it. With 7 total federal hike rates occurring over the year of 2022, affordability was a limiting issue for many. What once seemed like considerable inventory to purchase for some, slowly became inaccessible because of unaffordable mortgages and inflation. It is no secret that Ottawa has an inventory and supply issue with builders batteling time and resources. Naturally, the demand is fluctuating based in type of housing product. The Greater Ottawa Regions offer a variation of products across the macro markets from luxury to regular housing or city and rural living, Ottawa is where many are proud to call home.
RE/MAX Affiliates Canadian Housing Market Outlook 2023
The market is predicted to go up another 1.5% overall in 2023
73% of Canadians believe that owning a home is the best long term investment

70% of Canadians own a home
17% of Canadians that don't own a home want to own a home